Ethereum Classic has shown some nice performances today moving by about 10% of its worth upwards. Nevertheless, no matter impressive this may appear to be one important thing to determine is the continuity of this form. Currently, this performance has taken the value of ETC/USD to a $26.750 price level. Now, let's consider what to expect from this market.
Ethereum Classic Current Price: $26.750
Ethereum Classic Market Cap: $3.7 billion
Ethereum ClassicTotal Supply: 210.7 billion
Ethereum Classic Rank: 21
Important Price Marks:
Ceiling Marks: $24.560, $25.300, $26.750
Floor Marks: $24.100, $23.500, $23.000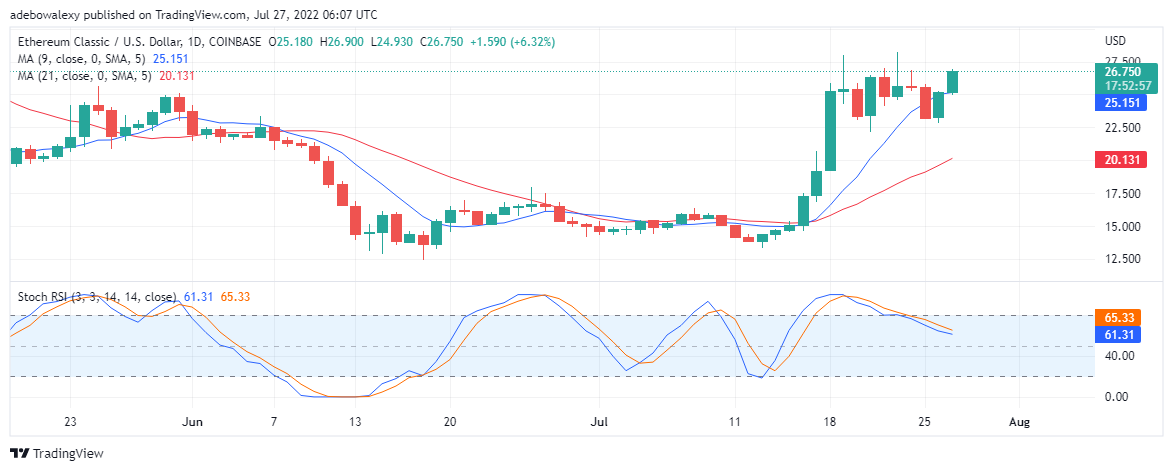 ETC/USD Value Prediction: Ethereum Classic's Uptrend Seems to Be at its End
ETC/USD daily chart shows signs of exhaustion at this point. The MA: Moving Average lines, though now under the price candles, yet its like price candles may soon be trapped in between these lines. Consequently, when this happens the price of Ethereum Classic may range or dip at this point.

Also, the Stochastic Relative Strength indicator affirms the sign of weakness. We can see from this indicator that its lines are sloping downwards already. However, the distance between these lines as it plunges tells that value of this crypto may still pull back upwards. The combination of these signs predicts that indecision is about to set into the market. Most likely the value of this crypto may soon range sideways.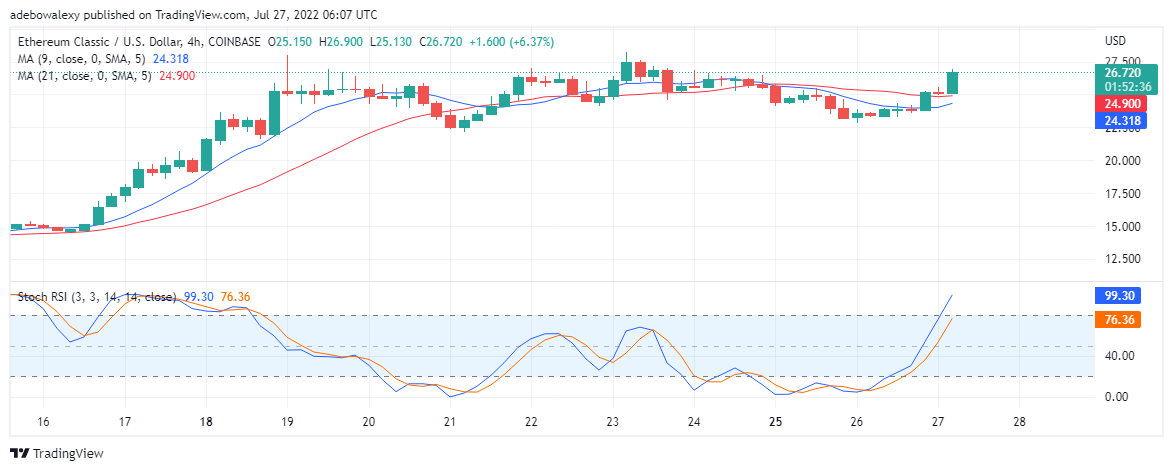 ETC/USD Value Prediction: End to Uptrend Confirmed
A shorter ETC/USD time frame of 4 hours, further shed light on the afore drawn inference of an end to the uptrend. Here it can be perceived that the MA lines are now closer to the price of candles. However, if these lines should cross each other here price may shoot up perhaps a bit higher. Be that as it may, more conclusive evidence of an end to this trend is drawn from the SRSI indicator lines.
The SRSI lines have reached the highest point in the oversold region and did indicate that the strength of the uptrend is at its end. Therefore the highest possible point that this crypto can reach is around $28.
Battle Infinity – New Crypto Presale
Presale Until October 2022 – 16500 BNB Hard Cap
First Fantasy Sports Metaverse Game
Play to Earn Utility – IBAT Token
Powered By Unreal Engine
CoinSniper Verified, Solid Proof Audited
Roadmap & Whitepaper at battleinfinity.io