The cryptocurrency market is down again after modest recovery nearly a week ago. Its total cap has fallen by 4% in the past 24 hours, to $915 billion. This represents a 3.5% drop in the past week and a 20% fall in a month. The vast majority of coins have fallen by similar amounts within similar timeframes, yet the ongoing downturn raises the chances of a big rebound. In this vein, we've put together a list of the 6 best crypto winter coins to invest in right now.
6 Best Crypto Winter Coins to Invest In
1. Battle Infinity (IBAT)
Battle Infinity (IBAT) is a new play-to-earn games platform running on Binance Smart Chain. It launched its presale yesterday, with IBAT available at a price of $0.0015. The sale will run for a further 90 days, and will receive 28% of IBAT's total maximum supply of 10 billion IBAT.
Based in India, Battle Infinity is developing a metaverse in which users can participate in a variety of difference games. This includes, for example, the IBAT Premier League, in which players users build their own fantasy sports team comprising real-life athletes, winning points based on the performance of selected players.
The platform also plans to include other games in the future, as well as competitive staking, its own decentralised exchange, and an NFT marketplace. It has serious ambitions to become a rival to pre-existing platforms such as Axie Infinity, and given the scope of the project, there's every chance it could be big soon enough.
2. Aave (AAVE)
AAVE is down by 13% in the past 24 hours, but up by 6% in the past week. At $66.99, it's also down by 12% in a month.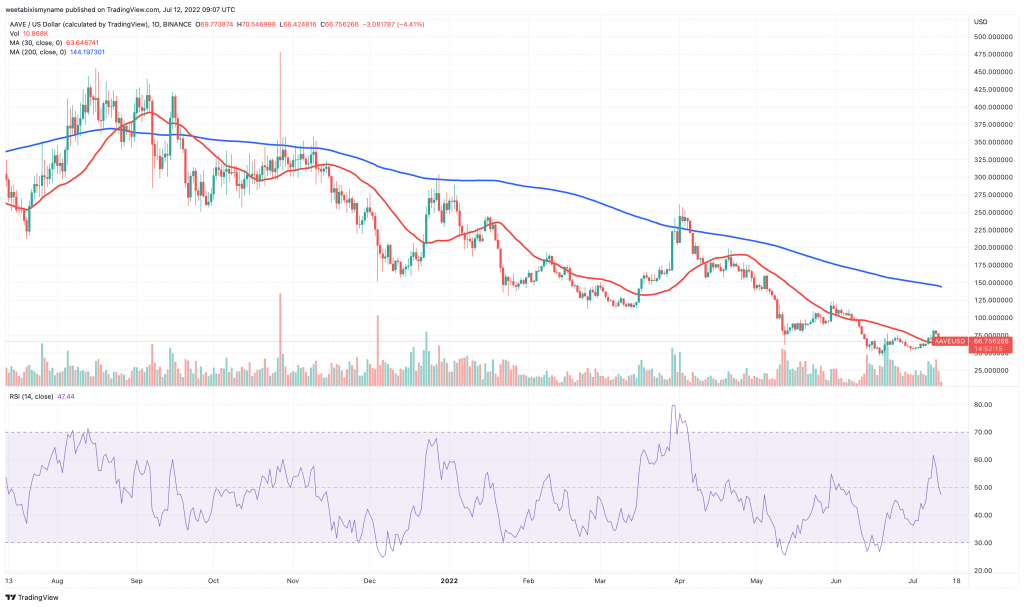 AAVE's indicators have hinted at a recovery in the past few days. Its relative strength index (in purple) rose to 60 over the weekend, signalling good momentum. It has since subsided to under 50, but with AAVE benefitting from some good news recently, it could return to growth very soon.
In particular, DeFi platform Aave has revealed plans to launch its own stablecoin, known as GHO. This will be collateral-backed and pegged to the US dollar, and would work in a way not too dissimilar from DAI. That is, it will be a decentralised algorithmic stablecoin, and it will attract more usage of Aave. This is undoubtedly bullish for AAVE, given that it will be used as collateral for GHO.
1/ Calling all GHOsts 👻 

We have created an ARC for a new decentralized, collateral-backed stablecoin, native to the Aave ecosystem, known as GHO.

Read more below and discuss your thoughts for the snapshot (coming soon)!👇https://t.co/P7tHl9LbBe

— Aave (@AaveAave) July 7, 2022
Aave remains the second-biggest DeFi platform in the ecosystem, according to DeFilLlama. Based on the Ethereum blockchain, it accounts for $5.7 billion in total value locked in, most of which comprises funds deposited for lending. This figure could rise substantially in the coming months, which is why AAVE is one of our 6 best crypto winter coins to invest in at the moment.
3. Lucky Block (LBLOCK)
At $0.00082479, LBLOCK is down by 5% in the last 24 hours. It has also fallen by 10% in a week and by 22% in the last 30 days.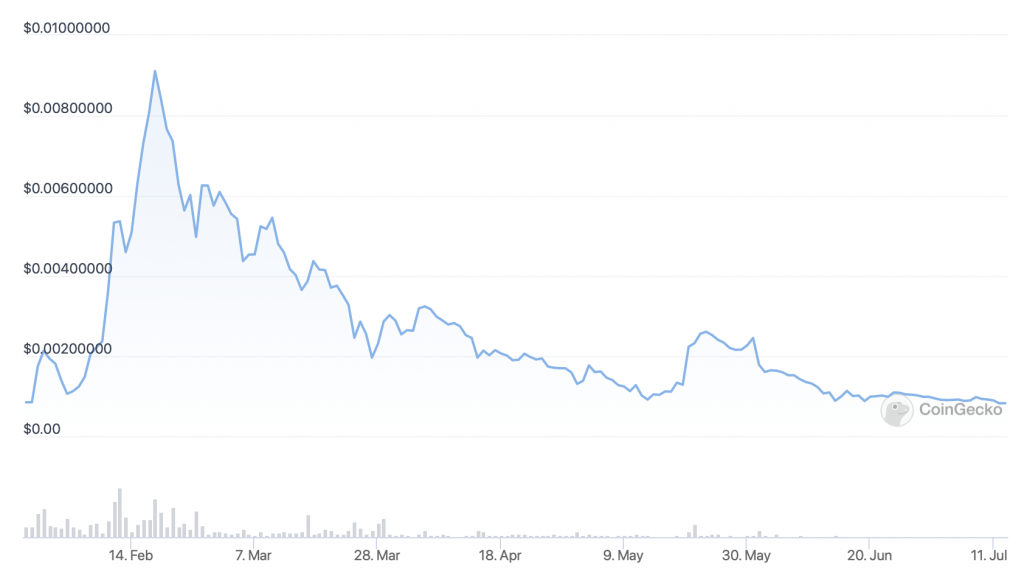 LBLOCK is down by 91% since its all-time high of $0.00974554, set in February. Historically, such declines have meant market bottoms, although the current macroeconomic environment could mean that it takes a while before things begin rising again.
Nonetheless, LBLOCK is well-positioned to capitalise on an improvement in market sentiment. It has just confirmed a new exchange listing: MEXC Global. Based in Singapore, this international exchange will open trading for LBLOCK from August 1st, opening the altcoin's market to greater liquidity and interest.
Official Announcement – #CEX listing confirmed! 📣

Exchange: @MEXC_Global ✅
When? 1st of August 🗓️

With 24-hour trading volumes of more than $700 million, MEXC is a significant player among centralised exchanges.

More listings will follow soon – stay tuned! 📣#crypto pic.twitter.com/DNpj4A8sSu

— Lucky Block (@luckyblockcoin) July 11, 2022
And it's likely that more exchange listings are on the way for LBLOCK, given that an ERC-20 version of the coin will soon be launching. On top of this, Lucky Block began conducting regular prize draws at the end of May, awarding $1 million to two winners. Such draws now guarantee a minimum payout of at least $50,000, although this can rise much higher if enough tickets are purchased.

4. Bitcoin (BTC)
BTC is down by 4% in the past 24 hours, falling to $19,756. This means it's also down by 2.5% in a week and by 30% in a month.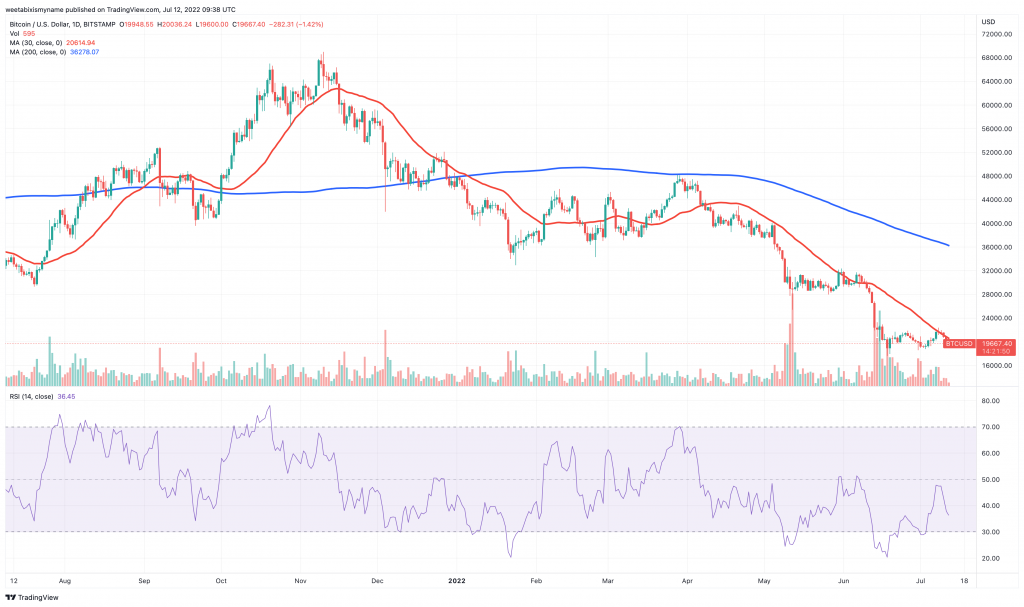 BTC's indicators continue to show that the market is overselling the original cryptocurrency. Its RSI is close to 30, while its 30-day moving average (in red) is as far below its 200-day average (in blue) as it has been for a long time.
In other words, pretty much every available indicators suggests BTC has hit its market bottom. This includes the stock-to-flow and realised price indicators. Of course, with the global economy going through a period of unprecedented strain, we may not see another bull market for a while yet.
All indicators at extreme levels (S2F, 200WMA, RSI, Realized price etc).
– generational buying opportunity?
– or "this time it's different": structural break with last 13 years? pic.twitter.com/ZqONFs34fE

— PlanB (@100trillionUSD) July 2, 2022
That said, BTC is the best-placed cryptocurrency to surge at some point in the future, if only because it has historically lead all bull markets. It also continues to attract more institutional investment than any other coin, as well as attract more ownership in countries with severe inflation problems. This is why it's easily one of our 6 best crypto winter coins to invest in now.
5. Ethereum (ETH)
Speaking of undervalued coins, ETH is currently $1,058, representing a 7.5% fall in the past 24 hours. It's also down by 30% in a month, and by 78% since its all-time high of $4,878 from November.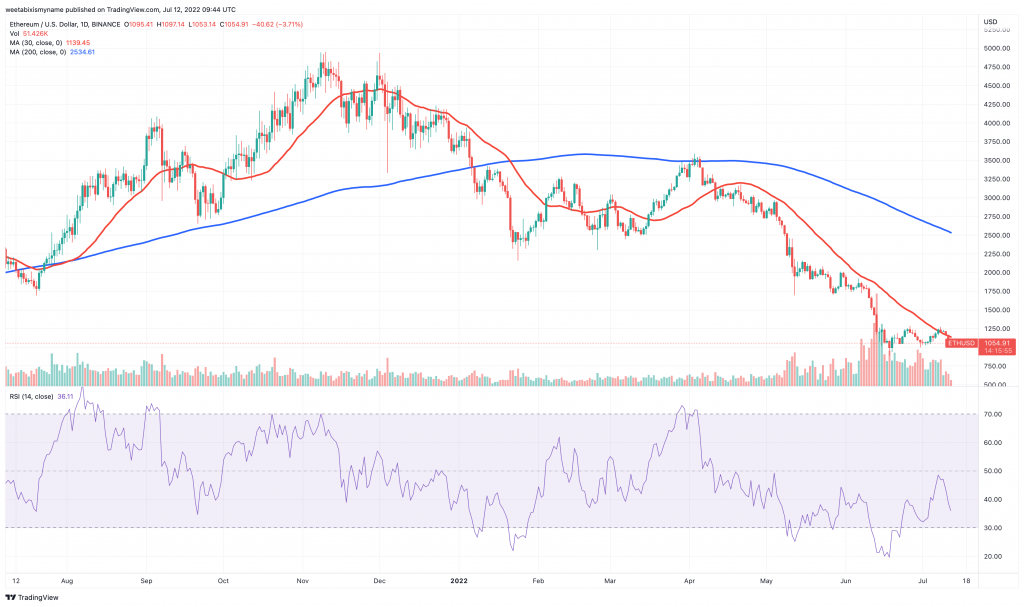 ETH's indicators also reveal severe under-appreciation right now. Yet it's arguable that the altcoin is even more undervalued than BTC, if only because Ethereum is due a massive upgrade later this year.
The Ethereum Merge is one of the most powerful catalysts in crypto history, and it is quickly approaching

As we reach the endgame for ETH under the proof of work regime, let's address 10 important characteristics of post-Merge, proof of stake ETH:

(0/11)

— VivekVentures.eth 🦇🔊🐼 (@VivekVentures) July 10, 2022
This is the Merge, through which Ethereum will make the transition to a proof-of-stake consensus mechanism. This will enable it to become more energy efficient and, over time, more scalable, something which will increase its usability.
Congratulations to the #Ethereum community on a successful Merge on the Ropsten testnet.

There is over $22.78B in value staked and ready for the upcoming main-net Merge to Proof-of-Stake.

This represents 12.8M $ETH = 10.78% of supply.

Live Chart: https://t.co/PDQg3lCJCl pic.twitter.com/GiFI3BtSKa

— glassnode (@glassnode) June 8, 2022
On the one hand, the successful completion of the Merge will boost investor confidence in ETH massively. On the other, the introduction of staking will increase demand for the altcoin, and with 10% of ETH's supply already staked on the PoS Beacon Chain, the cryptocurrency could become deflationary. When you add the fact that Ethereum is already the biggest blockchain by total value locked in, it's easy to see why ETH is one of our 6 best crypto winter coins to invest in.
11/ At the current stake amount, the Ethereum network will be paying out ~600,000 ETH per year, instead of 4,850,000 under the current PoW model, or 88% less in "sell pressure"! At the same time, stakers will still be earning ~4.6% in their staked ETH, a nice return to attract.

— eric.eth (@econoar) June 10, 2022
6. DeFi Coin (DEFC)
At $0.113198, DEFC has fallen by 4% in the past day. This is on top of falling by 10% in the past week and by 50% in the last 30 days.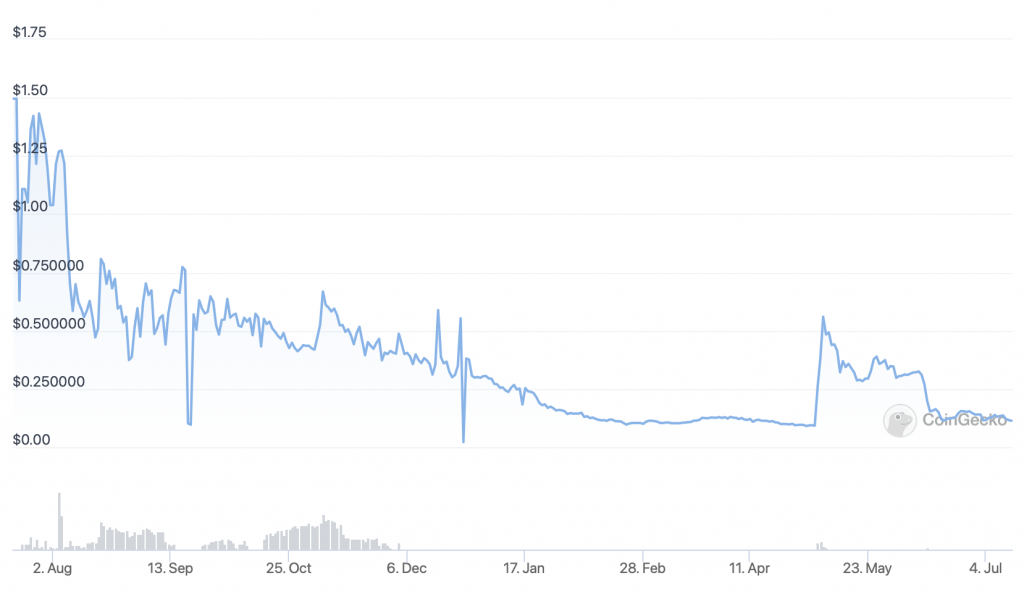 DEFC is also down by 92% since its ATH of $1.57, set in last July. However, it has spiked on several occasions since then, and it remains a good prospect for further surges during the ongoing crypto winter.
For the uninitiated, DEFC is the native token of the DeFi Swap decentralised exchange. Aside from token swaps, DeFi Swaps also provides yield farming and liquidity provision, making it one of the better DEXes out there. According to CoinGecko, it currently lists 17 coins and 45 trading pairs.
Capital at risk
Read more: