The cryptocurrency market continues to suffer as a result of rate-hike and Celsius-collapse fears. Its total cap cap is down to $909 billion, a loss of 9% in 24 hours. Pretty much every major coin is falling along with the market, with most top-1oo cryptocurrencies experiencing double-digit losses. Of course, the flip side of such a steep selloff is that at least some coins are setting themselves up for a big rebound. We take a look at some of them in this list of the 5 next cryptocurrency to explode.
5 Next Cryptocurrency to Explode
1. Bitcoin (BTC)
BTC is down by 9%, at $20,379. It's also down by 35% in the past week, as well as in the past month.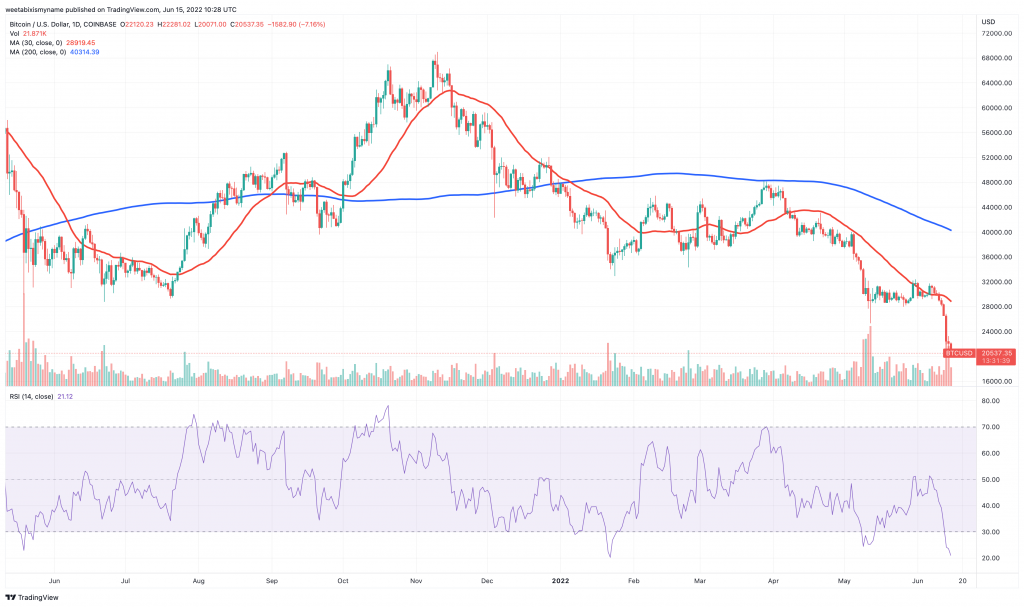 BTC's indicators show a marked downturn. Its relative strength index (in purple) is almost touching 20, while its 30-day moving average (in red) is moving downwards again. Together, they amplify the sense that traders are overselling BTC right now.
Things obviously look pretty grim for BTC. However, it really is the only coin to buy during a bear market. This is largely because a new bull market won't begin without BTC surging first. This is what happened at the end of 2017, at the end of 2020, and it's what will happen again.
This is largely because Bitcoin is the original cryptocurrency, with strong network effects and high security. It also enjoys more real-world use than its rivals. Institutions hold around $28 billion in BTC, while banks have been slowly increasing their involvement with the cryptocurrency in recent months. Then there are the nations which turn to BTC during periods of very high inflation (e.g. Turkey and Argentina), as well as those that make it legal tender (El Salvador and the Central African Republic).
2. Ethereum (ETH)
At $1,064, ETH is down by 11% in the past 24 hours. It has sunk by 41% in the past week and by 50% in the past month.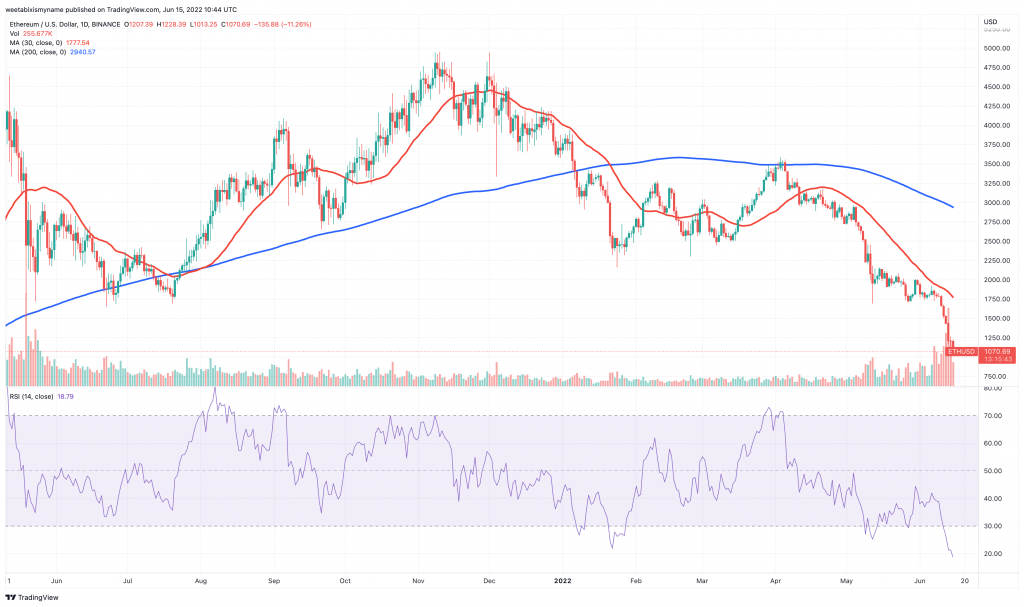 ETH's chart is nigh-on identical to BTC's. In other words, a purely technical analysis suggests ETH is just as good (or bad) a bet as BTC right now. Given that its RSI has touched 20, technical analysis would suggest a significant rebound soon.
Turning to its fundamentals, ETH is one of the best-placed altcoins to recover following a return to more hospitable macroeconomic and market conditions. This is largely because Ethereum is in the process of shifting to a proof-of-stake consensus mechanism. This will make it less energy intensive and, over time, more scalable.
Congratulations to the #Ethereum community on a successful Merge on the Ropsten testnet.

There is over $22.78B in value staked and ready for the upcoming main-net Merge to Proof-of-Stake.

This represents 12.8M $ETH = 10.78% of supply.

Live Chart: https://t.co/PDQg3lCJCl pic.twitter.com/GiFI3BtSKa

— glassnode (@glassnode) June 8, 2022
Due at some point in late summer, the 'Merge' will massively boost investor confidence in Ethereum. Likewise, the implementation of staking will increase demand for ETH, which will obviously be necessary for staking. And with 10% of ETH's supply already staked on the PoS Beacon Chain, the cryptocurrency could even become deflationary. This is why it's one of our 5 next cryptocurrency to explode.
11/ At the current stake amount, the Ethereum network will be paying out ~600,000 ETH per year, instead of 4,850,000 under the current PoW model, or 88% less in "sell pressure"! At the same time, stakers will still be earning ~4.6% in their staked ETH, a nice return to attract.

— eric.eth (@econoar) June 10, 2022
3. Avalanche (AVAX)
AVAX is $15.09 right now, representing a fall of 7.5% in the past 24 hours. It also represents a 39% drop in the past week and a 58% fall in the last 30 days. That said, AVAX has just showed some signs of recovery, rising by 2.5% in the past hour.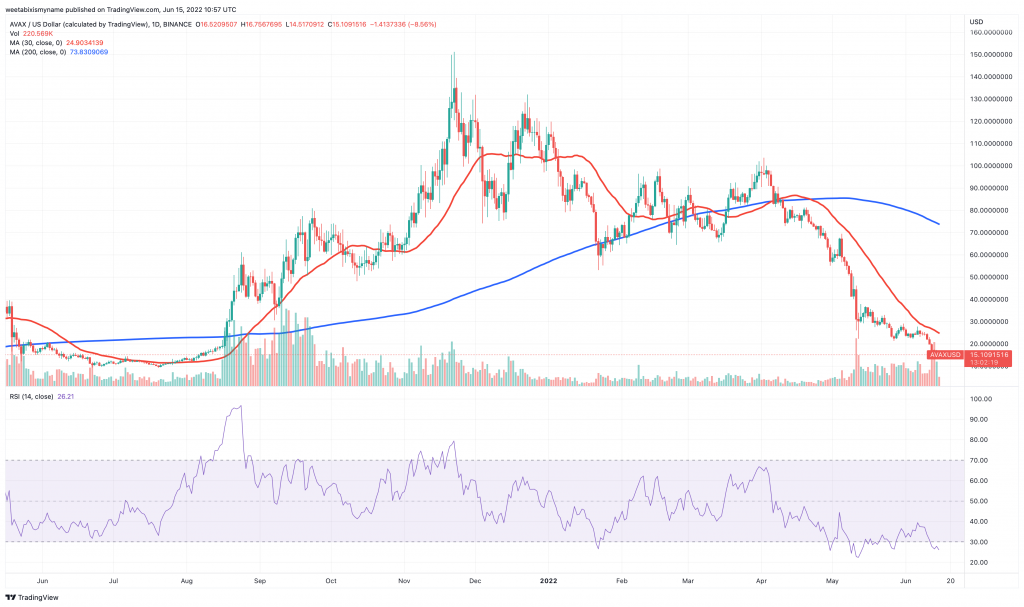 Again, AVAX's indicators would signal a comeback if taken in complete isolation. Of course, with systemic and macroeconomic factors making the current downturn particularly bad, we may not see a recovery that quickly.
Nonetheless, AVAX is one of the most promising altcoins around. Its native platform, Avalanche, raised $350 million at a valuation of around $5 billion in April. This follows a $230 million raise from last September. Such rounds indicate that has the resources to continue growing, with Avalanche already the fifth-biggest platform in crypto in terms of total value locked.

On top of this, Avalanche launched a $290 million incentive programme in March, aimed at developingmetaverse applications on its network. This paves the way for further growth, and again, suggests that AVAX is steeply undervalue. This is why it joins our list of the 5 next cryptocurrency to explode.
Introducing Avalanche Multiverse, an up to $290M incentive program focused on accelerating the adoption and growth of Subnets. Multiverse is focused on supporting new ecosystems, including blockchain-enabled gaming, DeFi, NFTs and institutional use cases. https://t.co/R5euxSV5hx pic.twitter.com/PHpET78P6L

— Avalanche 🔺 (@avalancheavax) March 8, 2022
4. Polygon (MATIC)
MATIC is down by 10% in the past day, at $0.379283. It has also lost 38% in the past week and 48% in the past month.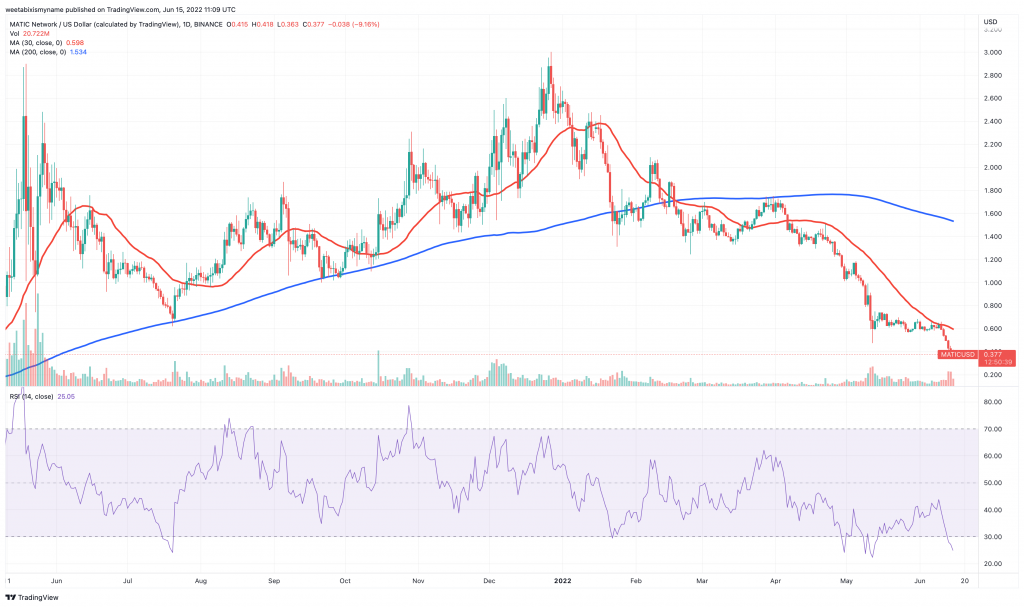 Everything that has been said about the technicals of the coins above can be said about MATIC's. The market has oversold it massively relative to its past history, so it 'should' rebound at some point.
MATIC's fundamentals support this view. It's the native token of scaling solution Polygon, which is Ethereum's biggest layer-two network. And with a total value locked in of $1.7 billion, it's also the sixth biggest platform in general.
Importantly, it continues to grow, even with the difficult conditions. In May, Facebook's parent company Meta announced that it's launching digital collectibles via Polygon's platform, opting for the layer-two solution instead of Ethereum itself.
Looking to flaunt your NFT collection on @Instagram? @Meta launches digital collectibles #poweredbyPolygon!

Select creators and collectors can now showcase their NFTs to a wider audience.

Know more: https://t.co/Kzgm1EYoOd pic.twitter.com/EU9FjtoJgA

— Polygon – MATIC 💚 (@0xPolygon) May 9, 2022
More generally, it's worth pointing out that Polygon's ecosystem now comprises more than 19,000 dapps. This is highly impressive, yet Polygon is likely to continue growing even after Ethereum shifts to proof-of-stake. This is because the 'Merge' won't initially make Ethereum much more scalable, so increased demand for Ethereum will increase demand for capacity on Polygon.
1/ Some of you #0VIXChads out there may be wondering why we chose @0xPolygon. There are actually a number of reasons.

Today we'll give you the full story. Of course, you already know that the #Polygon ecosystem is huge and currently has over 19,000 dApps. But that's not all… pic.twitter.com/WRGO0tSjvo

— 0VIX (@0vixProtocol) June 14, 2022
5. Chain (XCN)
At $0.091821, XCN is up by 48% in the past 24 hours, making it one of the few top-100 coins to have enjoyed a rally in the past day. It is, however, down by 43% in a week and by 47% in a fortnight.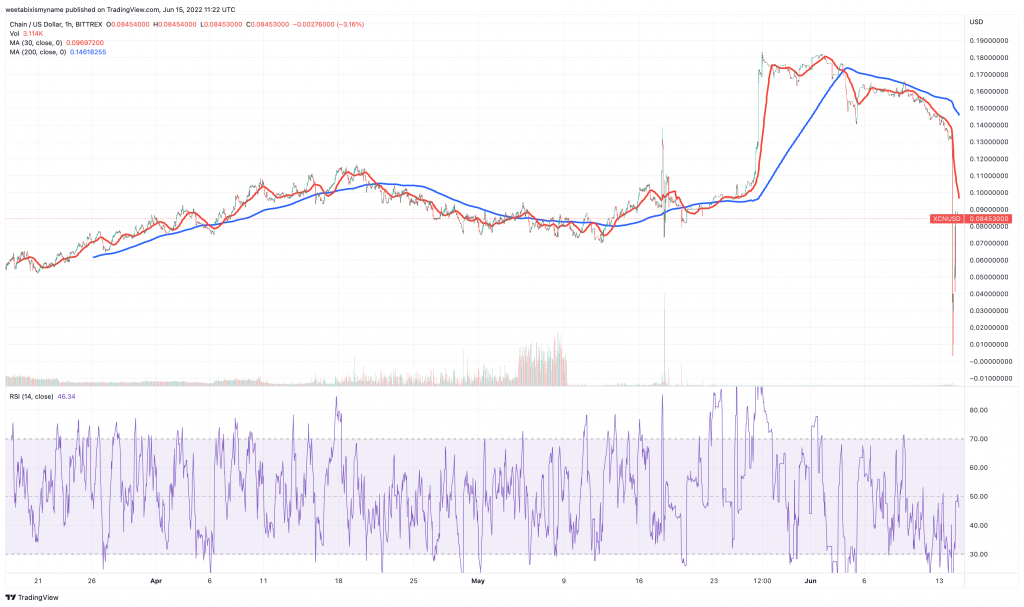 Based on Ethereum, XCN is native token of the Chain smart contract platform, which underwent a rebrand in March. This why it has been rallying in recent weeks, with the new XCN coin attracting listings from major exchanges (e.g. KuCoin, Huobi, Gate.io). Other bullish pieces of news include May's opening of bridge to Binance Smart Chain, which has increased its market's liquidity.
#XCN can now be bridged and deposited via @BNBCHAIN using Huobi, Gateio, and Kucoin exchanges. Access low fees & fast block times with #BNBCHAIN $XCN. pic.twitter.com/a9ImS2UfsU

— Chain (@Chain) May 19, 2022
Other recent good news includes the fact that it partnered with FTX owner Alameda Research, which will provide support of various kinds as it develops its blockchain-as-a-service platform. Chain also launched its own DAO at the end of last month, something which has also increased demand for XCN. This is why it's one of our 5 next cryptocurrency to explode.
@Chain is excited to announce that the Chain DAO has launched. The Chain Governance and Staking modules are now live for #XCN holders. #ChainProtocol

Find out all the details below:https://t.co/kDNjSK8Qev

— Chain (@Chain) April 22, 2022
Your capital is at risk.
Read more: