Since its inception, the DeFi sector has generated a lot of hype. DeFi coins proving to be a potential investment option.
The concept of having an open finance market with minimum involvement of centralized financial intermediaries in order to enable faster transactions, more transparency, and less paperwork has won over the world.
To make the best investment decision, it is now more important than ever to maintain track of the best performing DeFi assets, their use cases, and future potential.
To help you with this, here is a list of some of the best performing DeFi coins currently.

The Top 5 DeFi Coins in Last 24 Hours
Celsius Network (CEL)
Celsius (CEL) is an all-in-one banking and financial services platform for cryptocurrency users.
It was launched in June 2018 and offers services such as loans and wallet-style payments, besides prizes for depositing cryptocurrency. Platform users get paid on a monthly basis and earn interest on their investments. When utilized as a payment currency, Celsius' native token, CEL, serves a range of internal purposes, including increasing user payouts.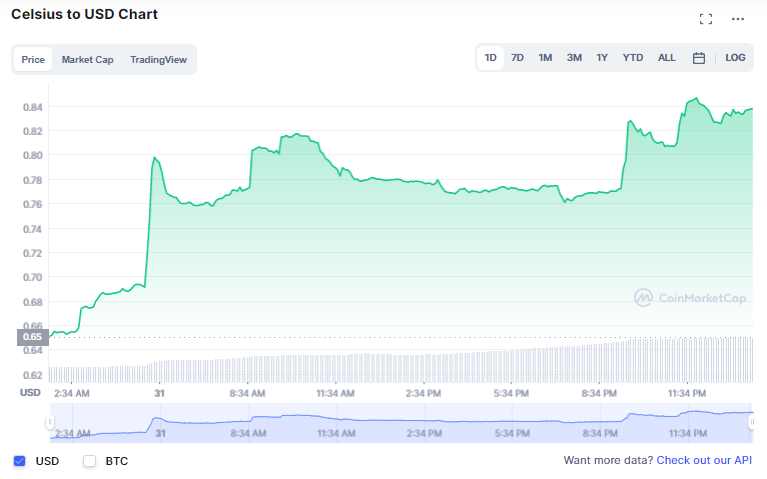 Celsius aspires to beat banks at their own game by providing financial services on terms that traditional institutions no longer provide.
These include higher rates of return on savings and deposits,  simpler loan conditions, and automated rewards for each customer. Penalties are also removed, as are bank-style fees.
The current CEL price is $0.84, with a 24-hour trading volume of $6 million. The market capitalization is currently $199 million. With a maximum quantity of 695 million CEL coins, there are 238 million CEL coins in circulation.
Your capital is at risk.
SushiSwap (SUSHI)
SushiSwap (SUSHI) is an automated market maker (AMM), which are decentralized exchanges that generate markets for any given pair of tokens using smart contracts.
SushiSwap began as a fork of Uniswap in September 2020. It intends to expand the AMM market while also introducing new features not seen on Uniswap, such as higher rewards for network participants via SUSHI, the company's in-house coin.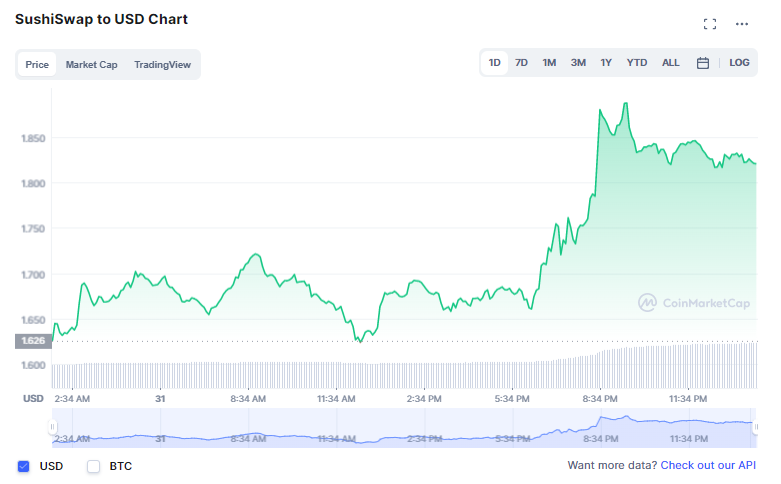 Its core focus is DeFi traders and affiliated companies hoping to capitalize on the rise in project tokens and create liquidity.
With a 24-hour trading volume of $221 million, the current SUSHI price is $1.82. SUSHI is up by 12.93% in the last 24 hours. The current market capitalization is $231 million. SUSHI coins have a total supply of 127 million, with a maximum supply of 250 million.
Your capital is at risk.
Aave (AAVE)
Aave is a decentralized lending system that allows anyone to lend and borrow cryptocurrencies without having to involve a middleman.
Aave calls itself an open source liquidity protocol that helps users earn interest on supply and borrow of assets. Users can put their digital assets into "liquidity pools," which the protocol can then utilize to lend money out.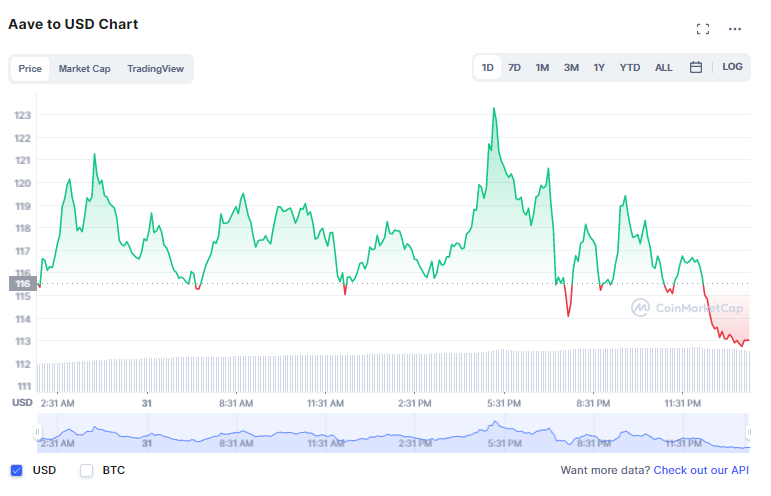 Aave was built on top of the Ethereum blockchain, and all of the network's tokens are ERC-20. It has since grown to encompass Avalanche, Fantom, and Harmony, among others.
The current Aave price is $112.84, with a 24-hour trading volume of $422 million. The market capitalization is currently $1.56 billion. A total of 13.8 million AAVE coins are in circulation, with a maximum supply of 16 million.
Your capital is at risk.

Curve (CRV)
Curve is an Ethereum-based decentralized exchange liquidity pool that aims at making stablecoin trading as efficient as possible.
Launched in January 2020, Curve offers an exchange liquidity pool designed on Ethereum. It is best known for low-slippage stablecoin trading, lesser risks, a low-fee algorithm designed specifically for stablecoins, and supplemental fee income.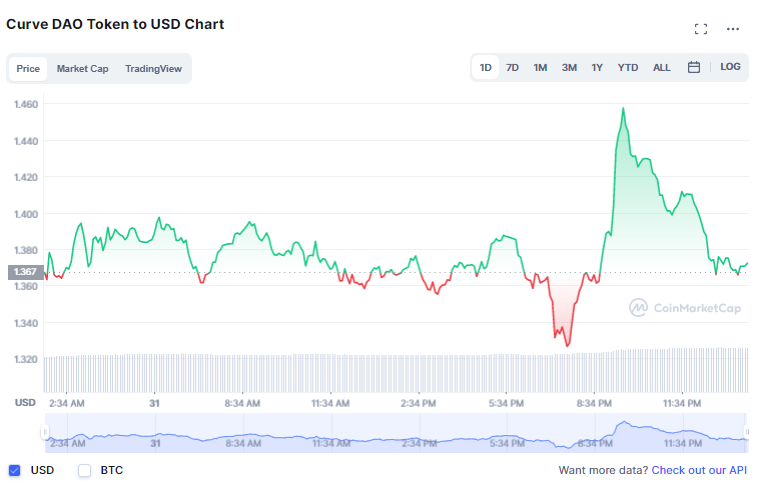 The seven Curve pools that presently allow swaps for a wide range of stablecoins and assets are Compound, PAX, Y, BUSD, sUSD, ren, and sBTC.
Today's Curve DAO Token price is $1.37, with a $167 million 24-hour trading volume. The current market capitalization of the token is $628 million. There are 458 million CRV coins in circulation and a maximum supply of 3.3 billion CRV coins.
Your capital is at risk.
Uniswap (UNI)
Uniswap calls itself the largest project on Ethereum to build DeFi apps and tools.
It is an automated crypto exchange with its own governance token, UNI. The uniqueness of the platform is that it is totally decentralized. Users have complete control over their funds as well.
Because Uniswap is open source, anyone can clone the code and use it to create their own decentralized exchange. Users can even list tokens for free on Uniswap. It employs "automated liquidity protocol," a new trading technique.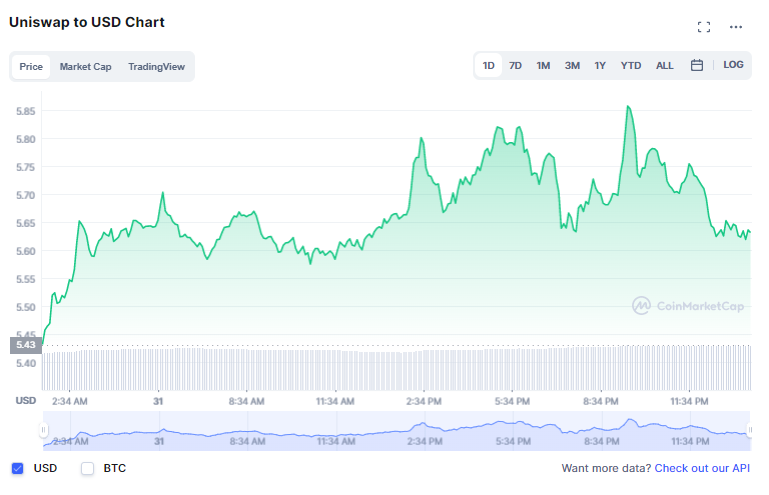 The current Uniswap price is $5.63, with a 24-hour trading volume of $189 million. The market capitalization is currently $4.04 billion. The total quantity of UNI coins is 718 million, with a maximum supply of 1 billion.
Your capital is at risk.
What is the Best Place to Buy DeFi Coins? 
If you want to buy DeFi coins with a high return on investment, eToro is the best place to go. The popular crypto exchange is well-regulated and secure, and has a reasonable fee structure. To begin your trading career, all you need is a $10 deposit.
eToro's Smart DeFi Portfolio
eToro also has a copy portfolio tool that allows traders to duplicate the trades of the platform's most successful investors. You may also utilize the smart DeFi portfolio to keep tabs on your assets and current events in real-time.
Uniswap, SushiSwap, AAVE, and other leading DeFi assets are available through eToro's smart DeFi portfolio.
Your capital is at risk.
Read more:
Lucky Block – Our Recommended Crypto of 2022
New Crypto Games Platform
Featured in Forbes, Nasdaq.com, Yahoo Finance
LBLOCK Token Up 1000%+ From Presale
Listed on Pancakeswap, LBank
Free Tickets to Jackpot Prize Draws for Holders
Passive Income Rewards – Play to Earn Utility
10,000 NFTs Minted in 2022 – Now on NFTLaunchpad.com
$1 Million NFT Jackpot in May 2022
Worldwide Decentralized Competitions
Cryptoassets are a highly volatile unregulated investment product. No UK or EU investor protection.