As the crypto market recovers from its bearish run, penny cryptos are finally on the radar of investors looking for low-risk assets to buy. In this roundup, we explore the best penny crypto coins for big profits.
1. Lucky Block (LBLOCK)
Our top choice for the best penny crypto coins for big profits is Lucky Block's native token, LBLOCK.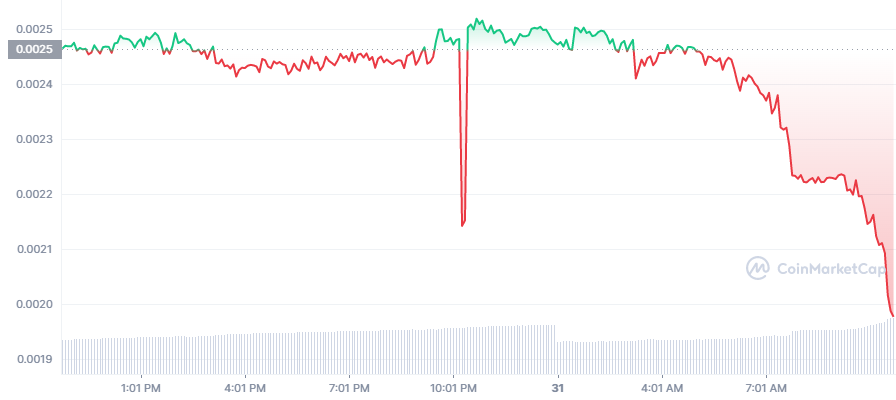 Lucky Block launched its much-awaited ticket draw sales yesterday. So far, over 23,000 tickets have been sold. This represents the first-ever crypto draw. Players stand a chance to win up to $2 million in prizes.
To partake in the first-ever jackpot, LBLOCK holders have to purchase tickets at $5 apiece. Users who also hold $500 worth of LBLOCK tokens or more in their wallets are eligible for a free ticket. In addition, users can send postcards to Lucky Block for a chance to win a free ticket.
Interested users can buy their tickets by visiting the jackpot website, the web app, to stand a chance to win prizes. The Lucky Block web app was launched yesterday. Additionally, investors can now buy Lucky Block on the website using fiat via crypto wallets.
Lucky Block first-ever jackpot and NFT draws will take place at https://t.co/oUTItNdaVC 📽️

Date: 31st of May 2022 🗓️

Time: 8pm BST ⏰

Special live with @SwaeLee! 🚀

Get your draw tickets now at https://t.co/MwJipbK6by 🎟️ pic.twitter.com/RhpE6GsQDX

— Lucky Block (@luckyblockcoin) May 30, 2022
American rapper and superstar Swan Lee will draw and announce the winning ticket for the Lucky Block NFT draw. The winning ticket will be chosen by the state-of-the-art Chainlink Verifiable Randomness service for the jackpot draw.
MARKETING ANNOUNCEMENT: International Superstar @SwaeLee will be picking the winner for the NFT lottery and sharing it with his 10m + Instagram audience and nearly 1m twitter Audience over the next 36 hours 🦾

How exciting is it?! Go and show him some #LuckyBlockArmy love! pic.twitter.com/pgTBxlTwf5

— Lucky Block (@luckyblockcoin) May 30, 2022
Proving how widely accepted Lucky Block is, two new ambassadors have joined the Lucky Block army. Savannah Marshall and Lerrone Richards have come onboard to join other existing ambassadors: Dillian Whyte and Florian Marku.
I'm proud to announce that I'll be joining @luckyblockcoin as an Official Brand Ambassador! 🚀🤞

Lucky Block's first draw is coming on the 31st of May at 8PM BST! ⏰ Go and buy your ticket for the chance to win $1,000,000!

Go to https://t.co/HMf3bcL7Ak #LuckyBlockMillions

— Savannah Marshall (@Savmarshall1) May 30, 2022
Lucky Block strives to revolutionise the gaming industry. Its popularity originates from its user investment structure, governance votes, and the possibility of long-term holders profiting from jackpot winnings.
At press time, LBLOCK trades at $0.0020. The crypto asset has seen an uptrend of 100% in the last seven days.
2. Stellar Lumen (XLM)
Stellar Lumen (XLM), the crypto asset that powers the Stellar payment network, is next on our list of best penny crypto coins for big profits.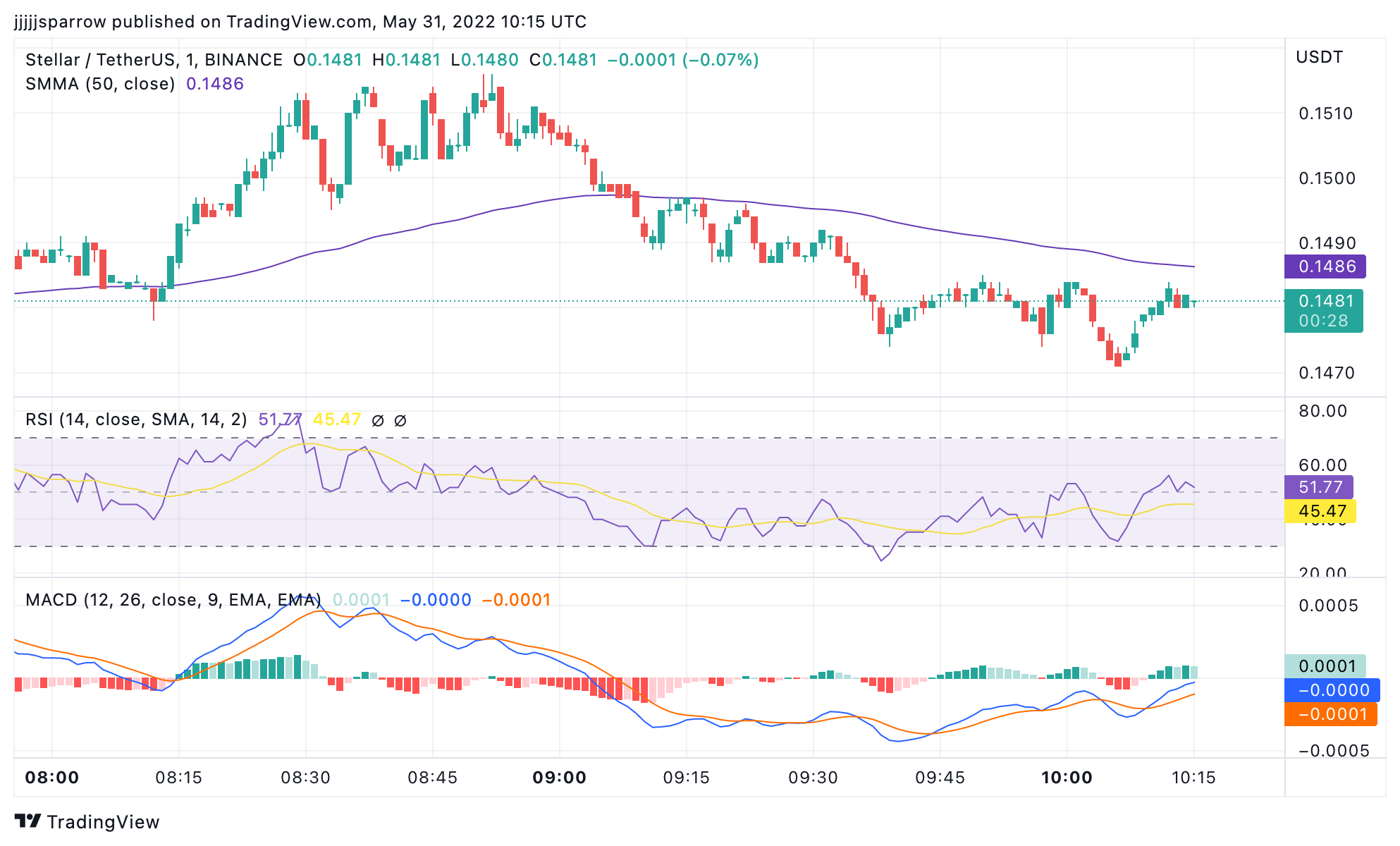 Stellar's payment system relies on an open-source project that is community-owned and distributed. The payment network offers users access to financial systems, enabling them to send money worldwide at a low cost and on time.
Stellar Lumen was created to complement existing assets and cryptocurrencies. Users can construct digital representations of any asset as a Stellar token. These tokens can then be used to make blockchain transactions and redeemed at any moment for the primary asset.
The Stellar Development Foundation (SDF) has partnered with Mercado Bitcoin, Latin America's largest exchange. As a result of this partnership, the duo are set to build one of the nine projects chosen for the LIFT Challenge Real Digital.
The project is a collaborative environment run by the Central Bank of Brazil (Bacen) in collaboration with the National Federation of Associations of Central Bank Servers (Fenasbac) to explore use cases for a Central Bank Digital Currency (CBDC). SDF joins CPQD and ClearSale as the Mercado Bitcoin LIFT Challenge consortium members.
Stellar Lumen currently trades at $0.14. However, the digital asset has slumped by 21.8% in the last month. The recent dip offers investors an ideal opportunity to buy Stellar Lumen and rise with the market. XLM ranks 26th on global crypto charts with a $3 Billion market cap.
3. Dogecoin (DOGE)
Next on our best penny crypto coins for big profits list is Dogecoin (DOGE).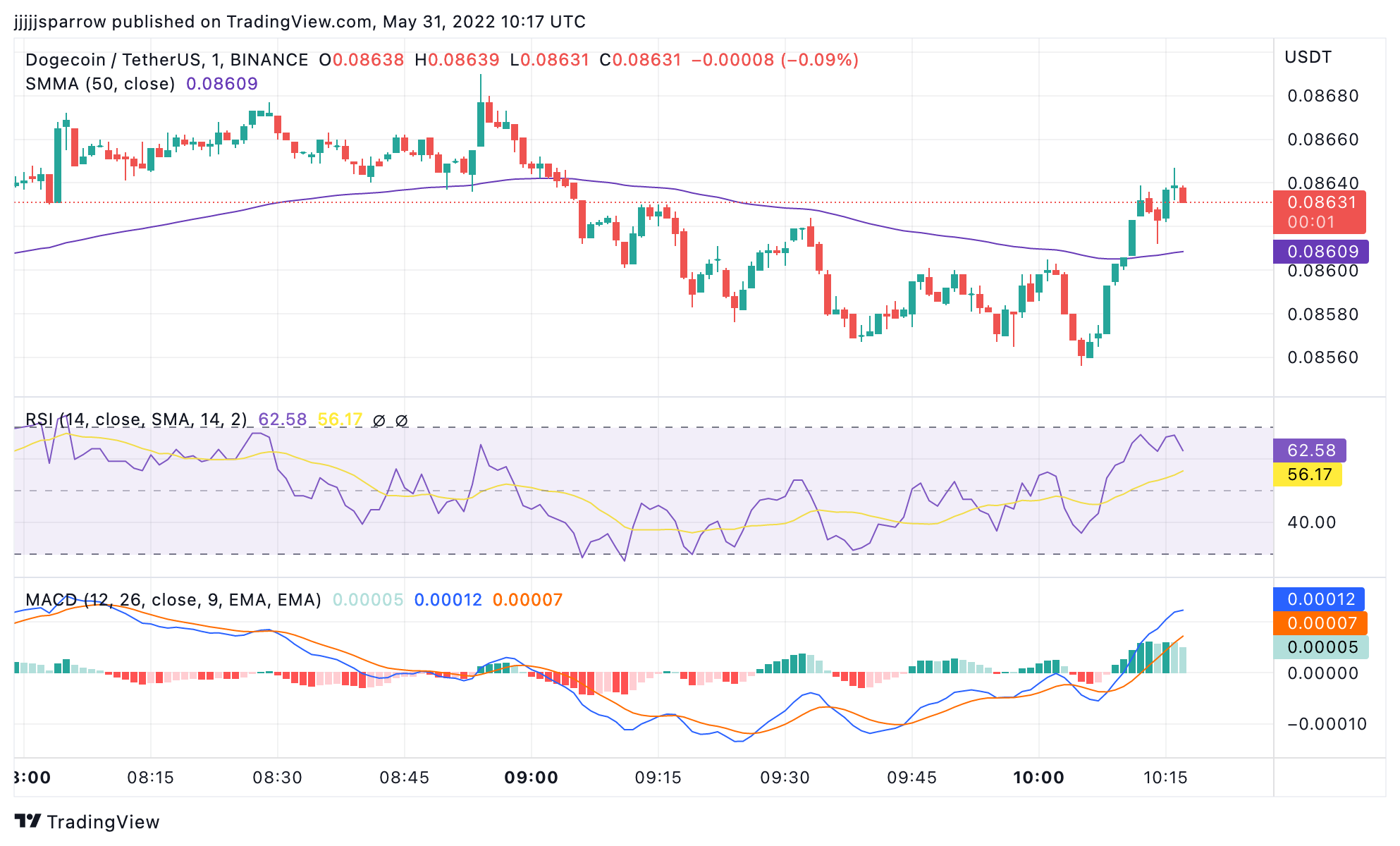 The cryptocurrency was created as a joke. Unlike Bitcoin, which has a limited quantity, Dogecoin has no restriction on the total amount of coins available. Every minute, 10,000 new DOGE coins are minted.

DOGE has grown in popularity to become one of the most valuable cryptocurrencies in market capitalisation. Although each coin is only worth a few cents, Dogecoin topped $50 billion in 2021.
Gucci, the luxury fashion house, will start accepting crypto payments, including Dogecoin, in select areas as part of its ongoing cryptocurrency experiments.
The trial was slated to begin this month in select US stores, with plans to expand to all of the company's North American locations by the summer. The move is a big endorsement of the currency from a well-known luxury brand.
Dogecoin is currently trading at $0.86. The meme coin has seen a downtrend of 37% in the last month. The relative strength index (RSI) of Dogecoin is at 62.58, signifying that the asset is in the underbought zone. Investors can take advantage and buy Dogecoin at this dip and keep it for the long term.
4. Cardano (ADA)
Cardano's token ADA comes next on our best penny crypto coins for big profits list.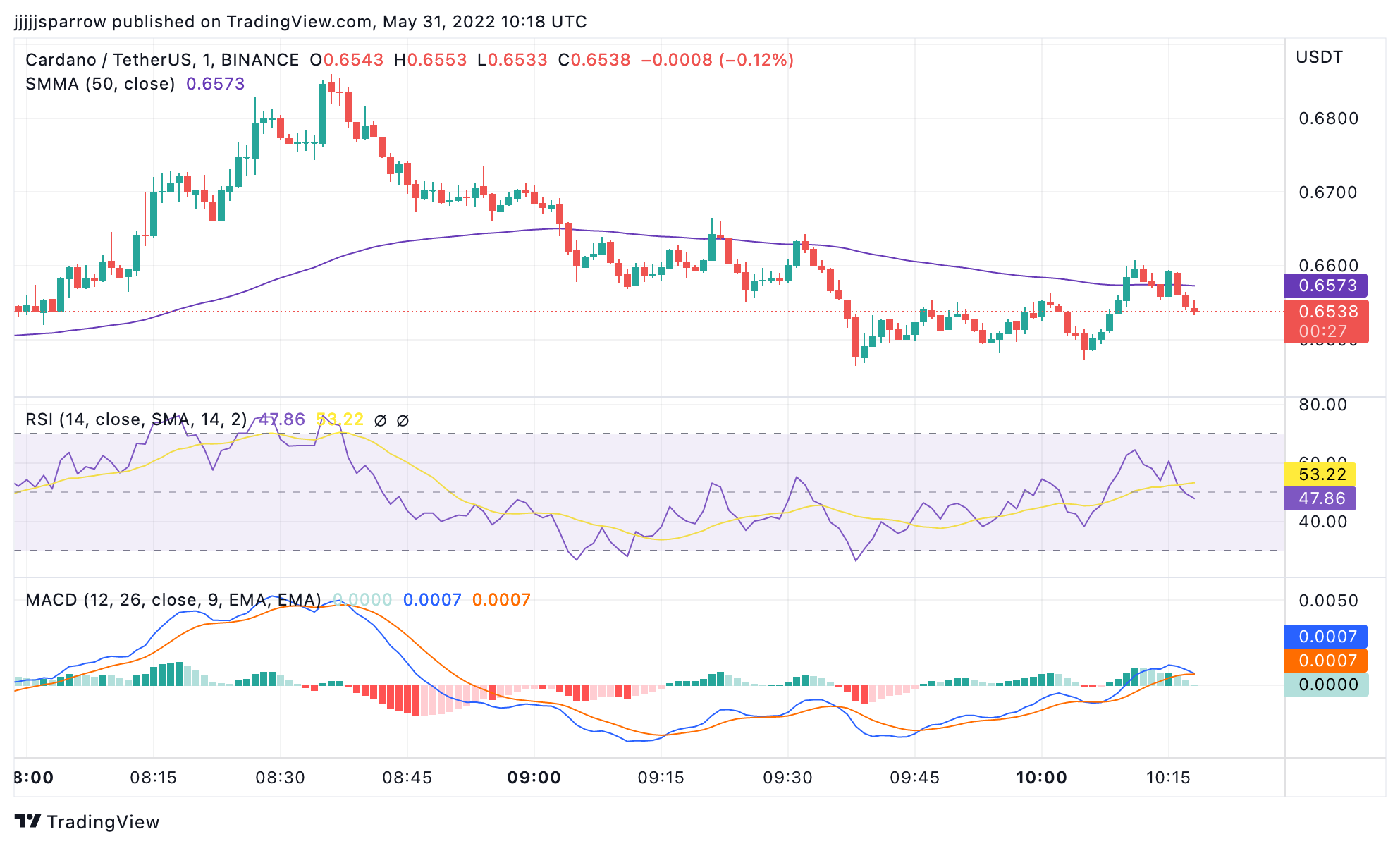 Cardano approves transactions quickly using the Ouroboros proof-of-stake (PoS) consensus mechanism. This blockchain aims to build a scalable decentralised network that can validate transactions swiftly and effectively while using as little energy as possible.
The Cardano Settlement Layer (CSL) and the Cardano Computing Layer (CCL) are Cardano's two levels. Cardano's Ouroboros consensus technique validates transactions in the CSL, which holds the account and balance ledger. Smart contract operations do all computations for blockchain apps in the CCL layer.
Input Output Honk Kong (IOHK), the company behind Cardano, has announced the launch of its Project Catalyst Fund9 in June. This statement came after the company announced the winners of the Fund8 round.
NEW BLOG: Today we're delighted to formally announce the launch of #ProjectCatalyst's Africa-focused Ariob Incubator program, in collaboration with @iceaddis, a pan-African business incubator, and accelerator hub🌍 https://t.co/c1pQrNWsus

— Input Output (@InputOutputHK) April 6, 2022
The project is expected to generate 1,000 ideas. IOHK has already contributed $16 million in ADA ecosystem incentives and grants to the effort. Administrators of Project Catalyst Fund9 also stated that the project would significantly increase engagement and strengthen the Cardano Network.
At press time, ADA's price is $0.65. The crypto asset has seen a 30-days slump of 35.3%. For investors who want to buy Cardano, this downtrend presents an opportunity to buy the asset and rise with the market. ADA currently ranks 8th on the global crypto chart. The digital asset also commands $17 Billion in Market Cap.
5. The Sandbox (SAND)
SAND rounds off our list of the best penny crypto coins for big profits.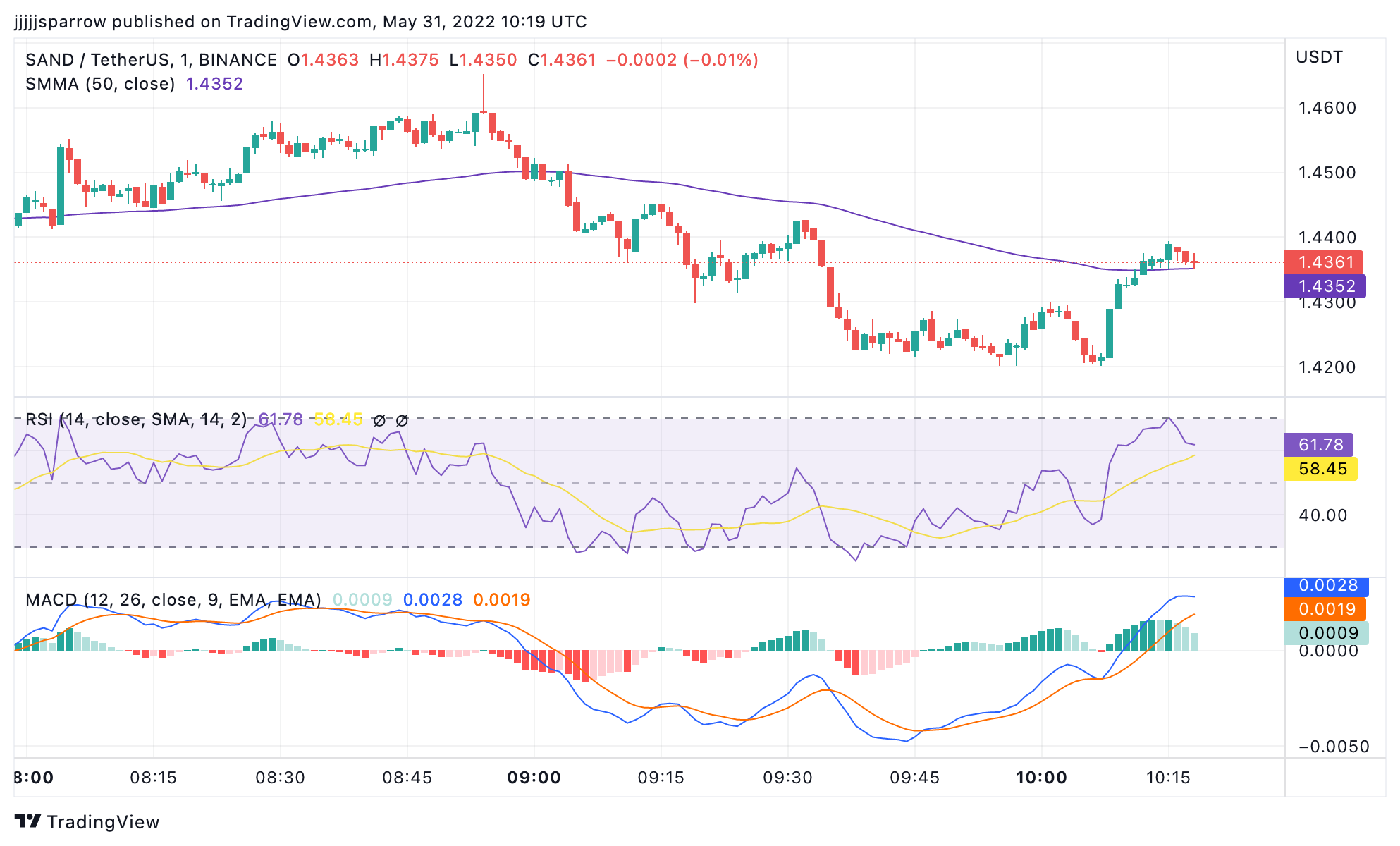 The Sandbox is a blockchain-based virtual world where users may create, develop, buy, and sell digital objects in a game-like setting.
Sandbox is notable as the first platform to employ blockchain technology in the gaming industry. The gaming industry is still relatively unexplored in blockchain use. As a result, The Sandbox attempts to maximise market potential by creating a universe where players can develop and gather blockchain-based things.
The Sandbox aims to build a metaverse of interested users who contribute to its growth by focusing on user-generated content. Sandbox also fosters decentralised governance by allowing users to share their thoughts and ideas on the project's progress via the SAND token.
Cualit, an Uruguayan full-stack development technology startup, has been bought by The Sandbox. As a result, Cualit will become The Sandbox Uruguay. This new identity will elevate The Sandbox's global team and ambitious metaverse ecosystem to a new level by focusing its efforts on accelerating The Sandbox's development.
The partnership will strengthen The Sandbox's Web3 and blockchain innovation and development capabilities by extending its global personnel and expanding its ambitious metaverse ecosystem.
SAND currently trades at $1.43. The altcoin has seen a downtrend of 40.5% in the last month. SAND's relative strength index (RSI) of 61.78 indicates that the digital asset is underbought. This indicator presents an opportunity for investors to buy Sandbox and rise with the market.
Read More:
Lucky Block – Our Recommended Crypto of 2022
New Crypto Games Platform
Featured in Forbes, Nasdaq.com, Yahoo Finance
LBLOCK Token Up 1000%+ From Presale
Listed on Pancakeswap, LBank
Free Tickets to Jackpot Prize Draws for Holders
Passive Income Rewards – Play to Earn Utility
10,000 NFTs Minted in 2022 – Now on NFTLaunchpad.com
$1 Million NFT Jackpot in May 2022
Worldwide Decentralized Competitions
Cryptoassets are a highly volatile unregulated investment product. No UK or EU investor protection.