We list and review some of the top crypto gainers today including new meme coin Chiba Inu (CHIBA), up 300% in the past 24 hours.
Top 10 Crypto Gainers Today
1. CHIBA INU
According to Coinmarketcap Chiba Inu is a decentralized financial payment network that uses blockchain to rebuild the traditional payment stack.
To promote programmable payments and the creation of open financial infrastructure, it uses a basket of fiat-pegged stablecoins that are algorithmically stabilized by its reserve currency Chiba.
Within the first few months of its launch, the network had transacted an estimated $299 billion for over 2 million users.
Chiba is currently constructing Chiba Exchange, which will donate switching revenues to breast and prostate cancer organizations. Chiba Exchange will also have a Token Locker, where locking fees will be used to pay Chiba Inu holders' staking incentives.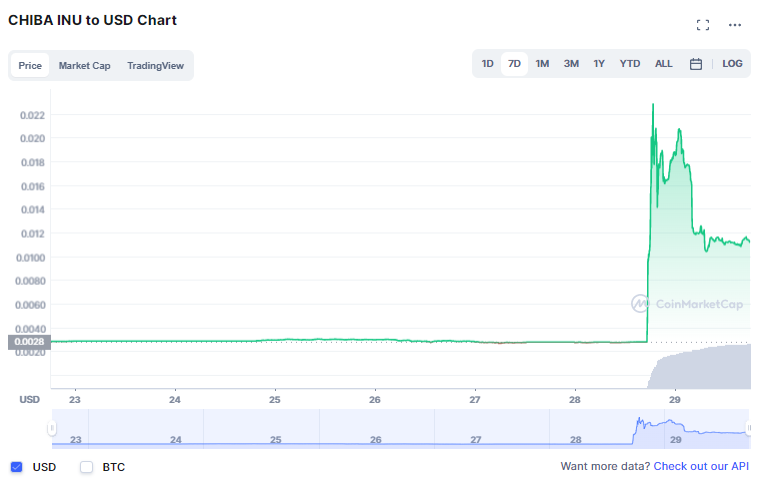 The current price of CHIBA INU is $ 0.010975 with a 24-hour trading volume of $ 112,322. The live market capitalization value of the coin and its current circulating supply information is not available at the moment. The maximum supply of the coin is pegged at 9 million.
Chiba Inu is listed on Pancakeswap and we don't really recommend buying coins displaying several hundred percent gains on only one exchange like Pancakeswap – it can be a sign of thin order books rather than real buying volume.
The other biggest crypto gainers today are also not listed at many centralized exchanges, so exercise caution if buying.
2. Novo
Novo is a DeFi project that compensates stakers with Temporal Staking, a novel and innovative approach. It is a healthier and more reliable solution for DeFi enthusiasts in the long run because it is a volume-based protocol.
The Novo Protocol is the first volume-based project that combine the advantages of novel money-storage mechanics with long-term viability. Unlike other protocols, Novo does not rely on changing the general supply or minting new tokens to fuel new growth.
Instead, Novo will always be deflationary, meaning that the supply will be lowered over time, causing the price per token to rise. Furthermore, each swap transaction (buying and selling) and each transfer contribute 5% and 2% to many protocol functions, respectively.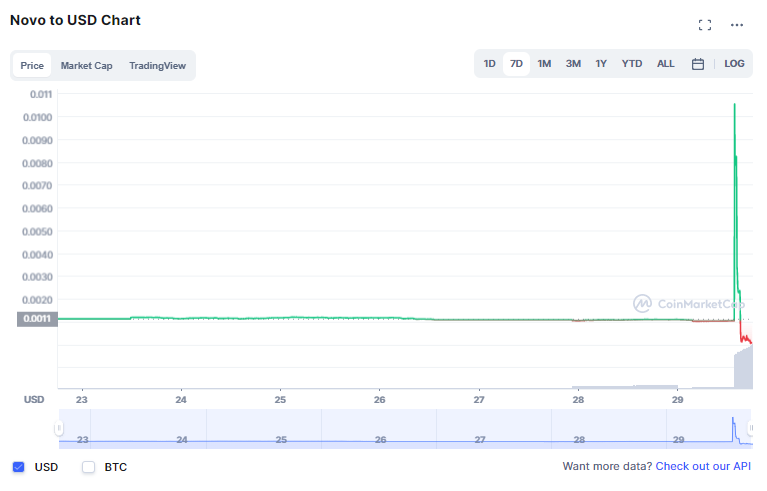 The live Novo price today is $0.002270 with a 24-hour trading volume of $ 168,808. Novo is up 167.60% in the last 24 hours. The circulating supply is not available, but the maximum supply is pegged currently at around 1 billion Novo coins.
3. Galaxy Heroes Coin (GHC)
Galaxy Heroes Coin was launched as a community-driven coin aimed at other superhero aficionados. The Binance Smart Chain is being used by GHC to deliver one of the lowest gas fees imaginable. Become a hero, a galactic hero.
Galaxy Heroes Coin is a must-have for every fan of superheroes. Galaxy NFTs, a full farm, NFT platforms, and a gaming app are all in the horizon.
The developer is completely doxxed and intends to give back to his community by recruiting rugged members. That is why he will donate 5% of the proceeds from NFT sales to his community.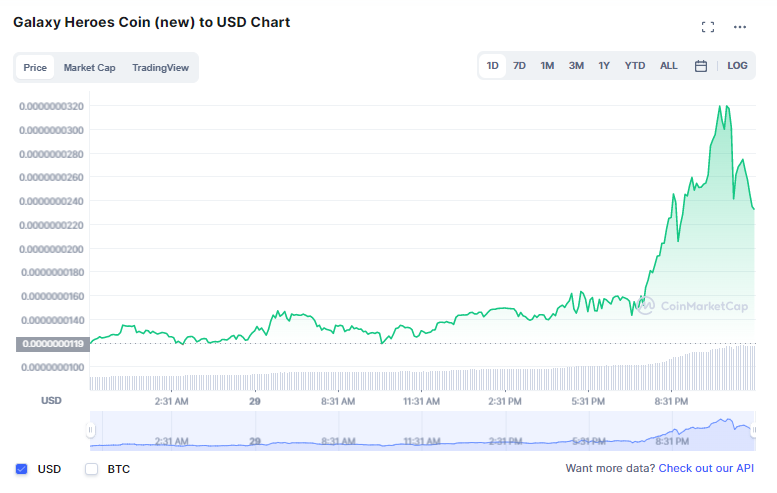 The current GHC price as of today is $0. 000000022 with a 24-hour trading volume of $2 million.
4. Satopay Network
Satopay is a crypto payment solution for e-commerce platforms and e-shops that includes support for key cryptocurrencies and digital wallet providers.
Satopay specializes in B2B crypto payment solutions for e-commerce, e-shops, porn, cannabis, and online gambling.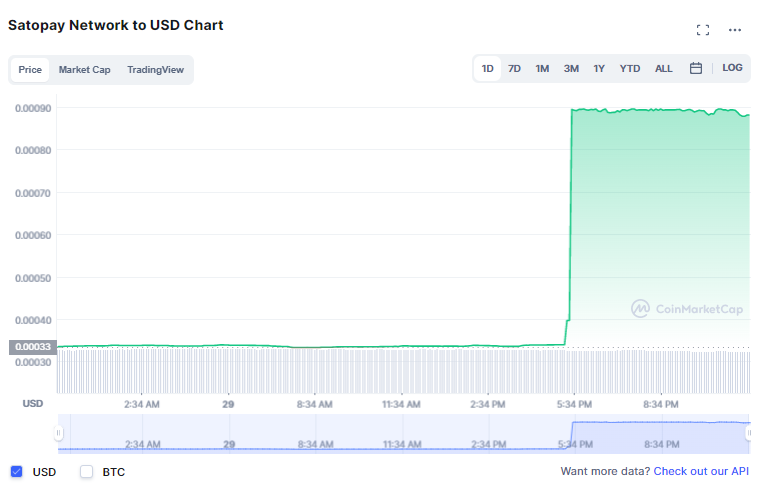 Today's STOP price is $0.000894, with a $55,841.17 24-hour trading volume. In the last 24 hours, STOP has increased by 165.99 percent. The current market capitalization information is unavailable. The maximum quantity of STOP coins is 0.39 billion.
5. Bella Protocol
Bella Protocol is a platform that offers a number of DeFi products aimed at making crypto banking more accessible and straightforward. The protocol promises to improve the user experience by removing the high fees and delayed transaction issues that some blockchain platforms can have, while also streamlining the process with its DeFi smart portal.
Bella's smart pool feature gives consumers access to the finest DeFi yields while also saving money on petrol costs, which are subsidized by the platform.
The project debuted in September 2020 as the first to be distributed using Binance's Launchpool platform, and it has attracted funding from a number of notable organizations, including Arrington XRP Capital and Ledger Capital.
The ARPA team created the protocol, which is a layer 2 blockchain-based solution for privacy-preserving computation.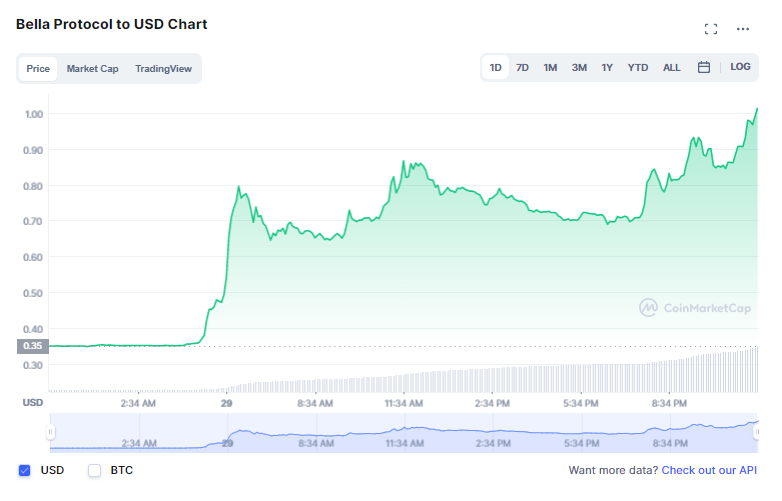 The BEL token is an important feature of the Bella Protocol ecosystem, as it functions as both a reward token and a voting token in the platform's governance.
BEL can be used to receive staking incentives, farm network fee rewards, and get unique discounts on Bella protocol items (such as its robo-advisor tool).
With a 24-hour trading volume of $275 million, the current BEL price is $0. 823761. In the previous 24 hours, BEL has increased by 127.73 percent. The current maximum supply of BEL coins is 100 million, while the circulating supply is at 48 million BEL coins. Its present market capitalization is also quite impressive, at $39 million.
6. Ramifi Protocol
The Ramifi Protocol is a form of inflation-resistant dynamic money that uses elastic supply technology to denominate the purchasing power of global currencies like the US Dollar (USD). Ramifi uses a weighted basket of over 100 globally traded commodities as its unit of account.
This enables for the creation of a decentralised stable contract that is inversely proportional to the value loss experienced by fiat currencies. For the time being, the protocol is hosted on the Ethereum Blockchain.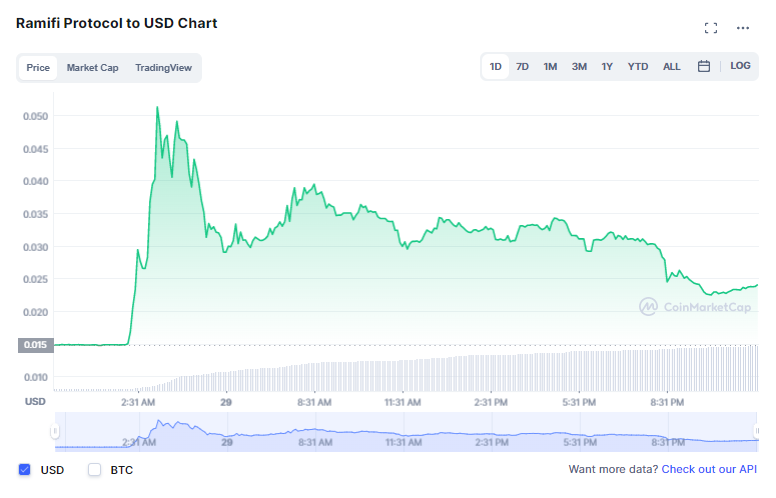 Ramifi aspires to make multi-use case financial instruments that have an inverse link to inflation and the value loss that fiat currencies suffer. Commodities are raw commodities used in everyday life that can be used to create a unit of account.
Ramifi can experience scalable expansion and stability at the same time because to an elastic supply protocol.
The live RAM price today is $0. 0.025311 with a 24-hour trading volume of $ 450,607. The maximum token supply is pegged at 7.21 million RAM coins, and their value is up by 76.16% in the last 24 hours.
7. Apron Network
Apron Network is dedicated to creating a decentralised infrastructure service network based on blockchain technology for DApp developers, DApp consumers, and infrastructure providers.
They provide a variety of services to the Kusama and Polkadot ecosystems, including but not limited to node service, on-chain data indexing service, price feed service, and so on.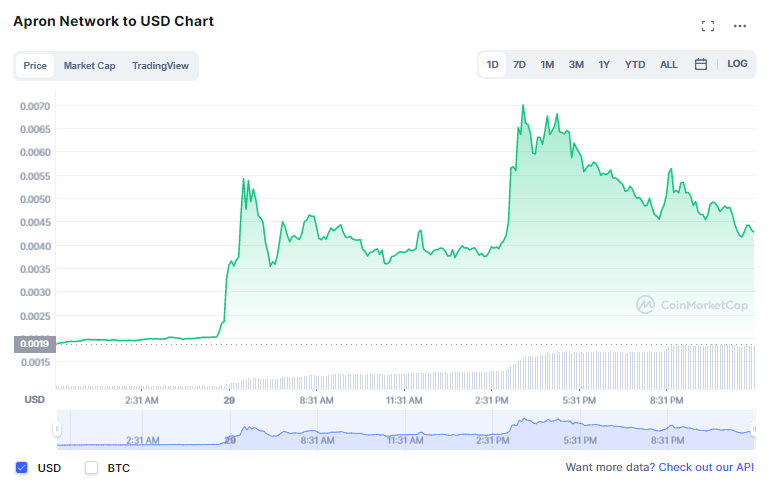 The current APN price is $0. 0.005345, with a trading volume of $1.16 million in the last 24 hours. In the previous 24 hours, APN has increased by 139.58 percent. The current market capitalization is $0.5 million. There are 93.5 million APN coins in circulation, while the maximum supply is charted at 1 billion APN coins.
8. Naka Bodhi Token
The Bodhi project, a decentralized prediction market, has moved from QTUM and Ethereum to its own blockchain, Naka Chain. The Naka Chain's governance token is the Naka Bodhi Token (NBOT).
The two initial tokens (BOT and BOE) have been combined into a single token with a fixed ratio of 1 BOT = 0.59 NBOT and 1 BOE = 0.41 NBOT.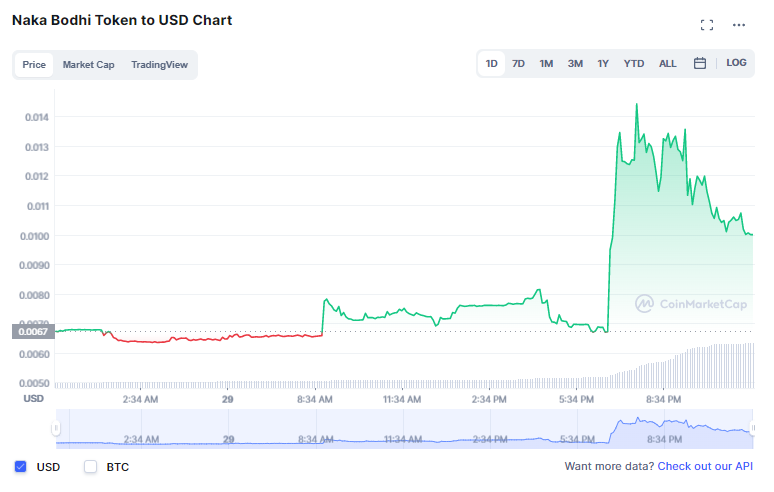 Today's live NBOT Network price is $ 0.011977, with $85,298.10 in 24-hour trading activity. In the previous 24 hours, NBOT Network has increased by 82.14 percent. The current market capitalization is $838,368. There are 70 million NBOT coins in circulation, with a maximum supply of 100 million NBOT coins.
9. AnonyDoxx
Using the Vault Verification technology, AnonyDoxx confirms the identities of investors, developers, companies, employees, and blockchain professionals in a private and secure manner.
They are welcome to join our Vault Verified blockchain network of pre-vetted, approved, and ADXX certified industry specialists once they've been authenticated.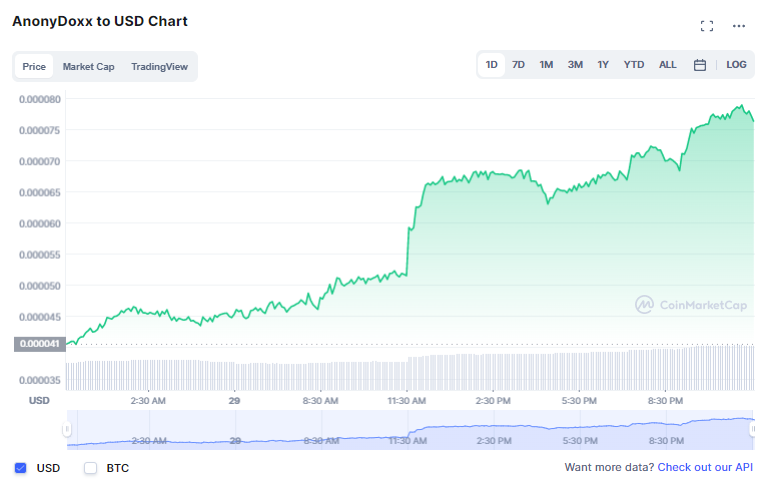 The network allows project owners, employers, developers, and investors to examine verified projects, hire blockchain expertise from our talent pool, and automate their recruiting and onboarding processes utilizing our ever-growing built utilities.
With a 24-hour trading volume of $273,238, the current ADXX price is $0.000071. In the previous 24 hours, ADXX has increased by 87.04 percent. The current market maximum supply of the coin is gauged at 100 billion ADXX coins.
10. DMM: Governance
The DMM Governance token, which was launched on March 15, 2020, was created to support the DeFi Money Market (DMM) Ecosystem, which intends to integrate off-the-shelf assets with the crypto community.
The DMM system is decentralized, transparent, and designed to allow anyone to earn interest on their currency, which is backed by real assets on the network.
The DMM governance token, DMG, is the means through which the DMM ecosystem and protocol may be governed and grown by the community. The right to regulate the settings of the DMM Protocol and the entry of new assets to the ecosystem is represented by DMG ownership.
The DMM decentralized autonomous organization (DAO-decentralized)'s community can vote on changing the DMG tokenomics and utility, allowing them to claim excess revenue earned by the DMM ecosystem.
This currency is a fork of Compound's (COMP) governance token, with additional features such as meta-transaction support and a built-in burn function.
With a 24-hour trading volume of $109,933, the current DMG price is $0.029668. The current maximum supply of DMG coins is 250 million, while there are 50.171 million DMG coins in circulation. The live market capitalization is $1.488 million.
Where to Buy the Top Cryptos?
If you're asking where to buy the best cryptos right now, it depends which investing area you're interested in. DeFi cryptos, such as Uniswap and Avalanche, are now the best-performing in the industry, while Metaverse cryptos, such as SAND and MANA, are also worth investigating.
If you wish to invest in the top gainers right now for short- or long-term investment gains, you should do it after carefully examining their performance.
Across the top gainers, biggest market capitalization, DeFi, and Metaverse spectrums, eToro and Coinbase have listed 60+ and 100+ coins each – and they stick to verified listings – some of the biggest crypto gainers above could turn out to be rug pulls, so be careful if choosing to buy something already up hundreds of percent.
eToro: Best Place to Buy Top Cryptos
eToro has you covered if you're looking for the top cryptos on the market right now. The top Crypto coins we've ranked on this page can be traded with just $10 as a minimum deal amount on the platform. eToro presently supports over 60 different cryptocurrencies and hopes to add more in the future.

Your capital is at risk.
Because eToro is SEC-approved and FINRA-registered, you don't have to worry about the safety of your funds. There are hundreds of different shares and ETFs to choose from, as well as dozens of various digital currencies.
What makes eToro the Best Platform to Buy Cryptocurrencies?
Invest in any of the eToro team's cryptocurrency-specific portfolios.
Innovative and easy-to-use CopyTrading and CopyPortfolio features offered.
Crypto purchases can be made with deposits as little as $10.
Other notable cryptocurrency exchanges include Coinbase and Binance, which offer a diverse range of cryptocurrencies as well as thorough information on them to help you make smarter decisions.
Investing Guides
Lucky Block – Our Recommended Crypto of 2022
New Crypto Games Platform
Featured in Forbes, Nasdaq.com, Yahoo Finance
Worldwide Competitions with Play to Earn Rewards
LBLOCK Token Up 1000%+ From Presale
Listed on Pancakeswap, LBank
Free Tickets to Jackpot Prize Draws for Holders
Passive Income Rewards
10,000 NFTs Minted in 2022 – Now on NFTLaunchpad.com
$1 Million NFT Jackpot in May 2022
Cryptoassets are a highly volatile unregulated investment product. No UK or EU investor protection.