The cryptocurrency market has dipped after holding steady for most of the past week. At $1.26 trillion, its total cap has fallen by 4% in the past 24 hours, and by 6% in a week. Most major cryptocurrencies have followed this pattern, although it's interesting to note that bitcoin (BTC) has beaten the market over the same timeframes. At the same time, a dip always creates hope of a corresponding rebound, with numerous coins now selling at a discount. Accordingly, here's our pick of 5 cryptocurrency to see a price boom this weekend. These coins have a better chance than most other tokens of rallying over the next few days.
5 Cryptocurrency to See Price Boom This Weekend
1. Lucky Block (LBLOCK)
LBLOCK is down in the past 24 hours, falling by 7% to $0.00214354. But while it's down by 4% in the past week, it remains up by an impressive 134% in the last 14 days and by 25% in the last 30.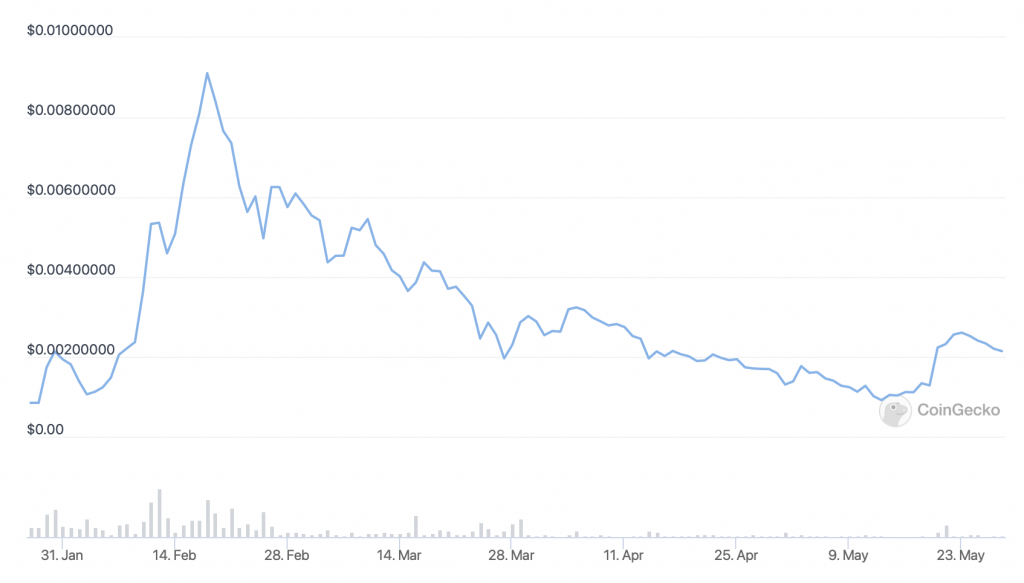 LBLOCK had been on a vigorous growth spurt prior to the market-wide fall of the last 24 hours. This is mostly because the Lucky Block crypto games platform had announced the date of its first ever draw.
First Draw Date? 🤔

31st of May @ 8pm BST ⏰

Don't miss it, get your $LBLOCK ready, buy now at https://t.co/c3zY3rNZ4H 🚀 pic.twitter.com/dpwClfR1tk

— Lucky Block (@luckyblockcoin) May 21, 2022
After several months of development, the confirmation of this date renewed confidence in Lucky Block. As such, LBLOCK rose as high as $0.00279516 on Monday, representing a 200% increase compared to its low of the Friday before.
Assuming the market conditions stabilise, it's likely that LBLOCK will witness another surge like this as May 31st draws closer. Likewise, the successful completion of the first draw should raise investor confidence even further.
Based on Binance Smart Chain, Lucky Block aims to make lottery draws more transparent and fairer. Users can enter draws by spending LBLOCK, granting them the chance to win 70% of each draw's jackpot fund. However, all holders of LBLOCK — regardless of entry — receive an equal share of 10% of the same fund.
It's this setup that has created plenty of excitement around Lucky Block. It's also why we've picked it as one of 5 cryptocurrency to see a price boom this weekend. Traders can buy and sell it via either PancakeSwap or LBANK Exchange.
2. Bitcoin (BTC)
BTC currently has a price of $29,035. This represents a 0% movement in the last 24 hours, as well as a 4.5% drop in the past week. BTC is also down by 24% in the last 30 days.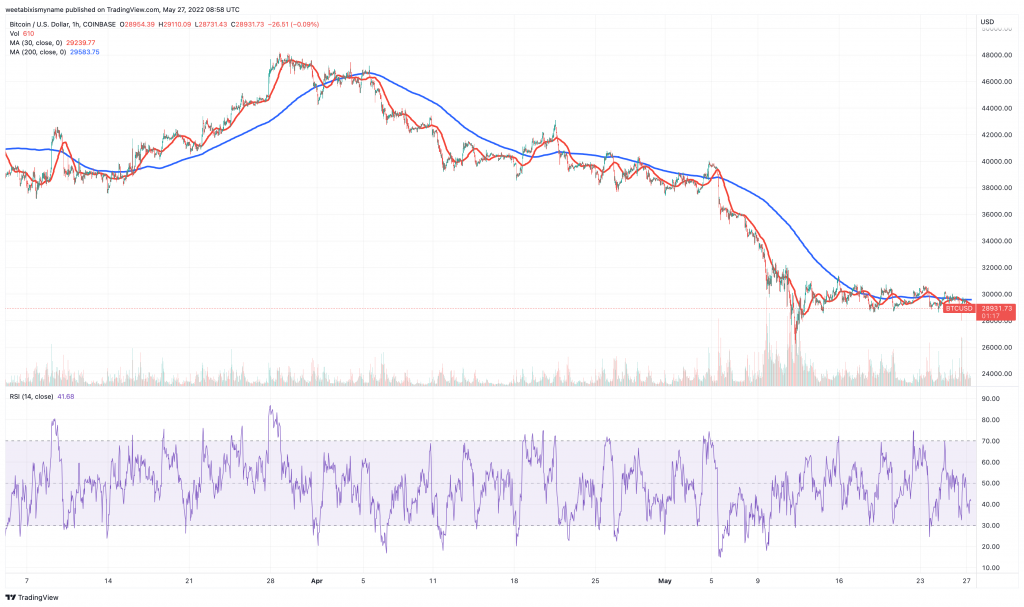 BTC's indicators obviously aren't great right now. Its relative strength index (in purple) is at 40, suggesting it's a little undersold. However, what's important to note that is that BTC is doing a better job of preserving its value than pretty much every other major coin in the market.
For instance, ETH has fallen by 3.4% in the past 24 hours and by 12% in the past week. ADA has fallen by 5% and 14%, and so on. In parallel, BTC's dominance of the overall market has been creeping back up in the past few weeks. CoinMarketCap puts this dominance at 46%, up from 41.25% a month ago.
This shift really kicked in with the collapse of the TerraUSD stablecoin around May 10th and 11th. Basically, a flight to safety appears to be happening within the market, with Blockchaincenter.net's Altcoin Season Index declaring that it's Bitcoin season at the moment.
And as we've noted many times before, if the market is going to resurge in a big way, BTC needs to lead the way first. Traders can find it on every major crypto-exchange.
3. Chain (XCN)
XCN is the only top-100 coin pumping today. It's up by 64% in the past 24 hours, and by 98% in a week. At $0.171028, it's also up by 111% in the last 14 days.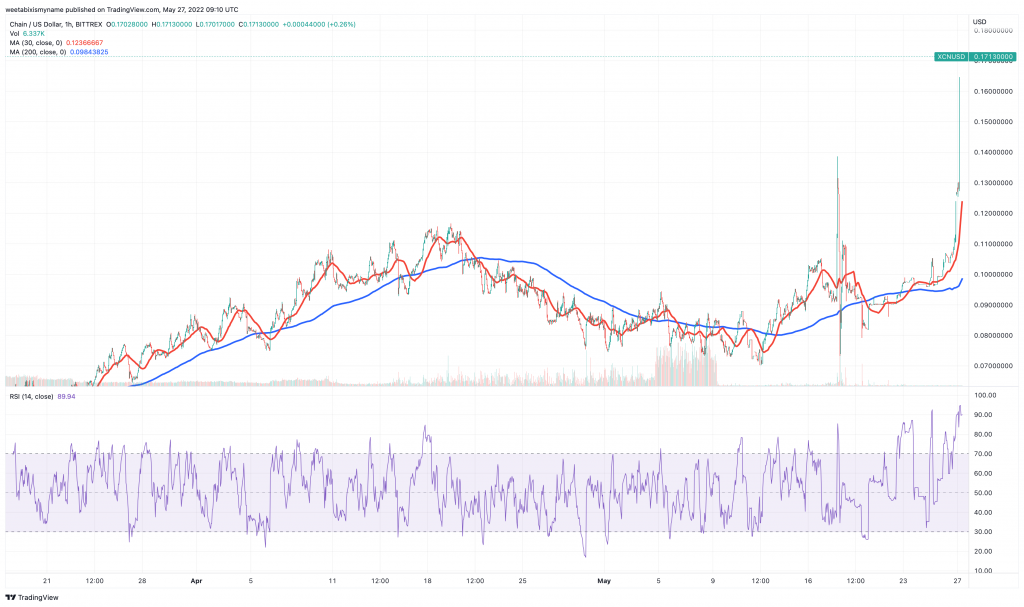 XCN's indicators reflect its massive gains over the past few days. It's worth pointing out that its RSI is currently sited at 90, suggesting that it's overbought. As such, there's a chance its rally may not continue for much longer, although with no other big coin rallying right now, it might be traders' only chance of a significant gain this weekend.

XCN is native token of the Chain smart contract platform. It's a governance and utility token, and one of the newest in the market. Based on Ethereum, it seems to be rallying largely because of a recently opened bridge to Binance Smart Chain, which has perhaps increased its market's liquidity.
#XCN can now be bridged and deposited via @BNBCHAIN using Huobi, Gateio, and Kucoin exchanges. Access low fees & fast block times with #BNBCHAIN $XCN. pic.twitter.com/a9ImS2UfsU

— Chain (@Chain) May 19, 2022
Other recent bullish news for Chain includes the fact that it partnered with FTX owner Alameda Research, which will provide support of various kinds as it develops its blockchain-as-a-service platform. Chain also launched its own DAO at the end of last month. This has likely increased demand for XCN, which enables participation in the DAO.
@Chain is excited to announce that the Chain DAO has launched. The Chain Governance and Staking modules are now live for #XCN holders. #ChainProtocol

Find out all the details below:https://t.co/kDNjSK8Qev

— Chain (@Chain) April 22, 2022
XCN can be traded via Huobi, KuCoin, Gate.io and LBANK Exchange.
4. Ethereum Classic (ETC)
ETC has risen by 4% in the past 24 hours, reaching $22.76. It's also up by 8% in the past week and by 19% in the last 14 days. It is, however, down by 25% in the past month.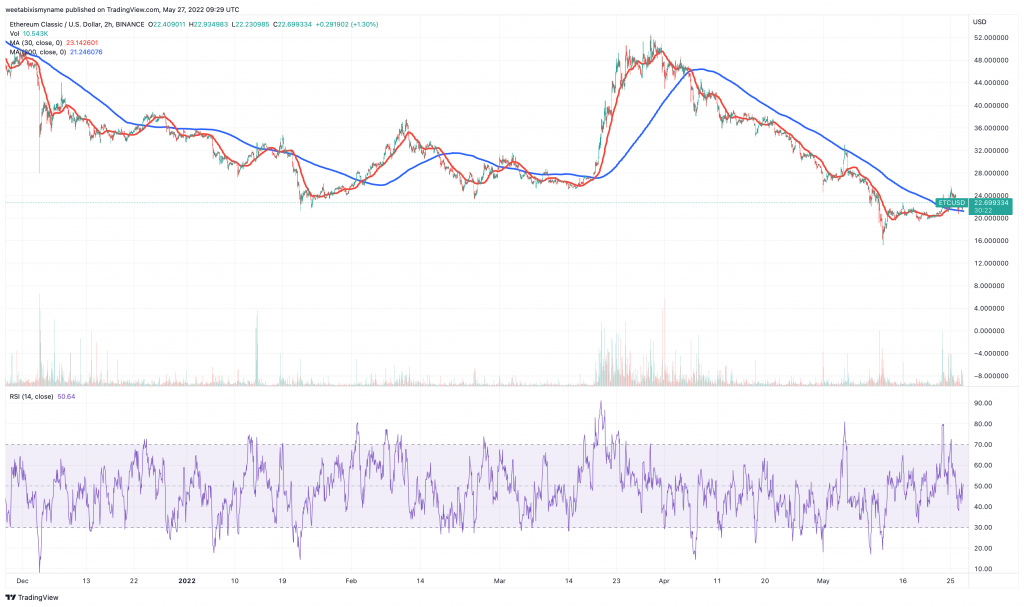 ETC's indicators have shown a change of fortunes in recent days. Its RSI recently reached 80, before falling down to 40 yesterday. It's now rising up again, while the coin's 30-day moving average (in red) has overtaken its 200-day average (in blue). This reinforces the impression that ETC is setting a new trend for itself.
ETC is beating the market right now because of Ethereum's (ETH) approaching shift to a proof-of-stake consensus mechanism. What this means is that Ethereum miners will be out of work once the blockchain shifts to staking, and the expectation is that most of these redundant miners will move to Ethereum Classic. Because of this, ETC's tokenomics will receive a boost, with more miners invested in maintaining its price.
Ethereum Classic also seems to be winning converts precisely because it's sticking with proof-of-work. The blockchain's champions would argue that this would make it more secure, as well as more decentralized. Of course, it remains to be seen whether this narrative will help attract investors in the long-term, with Ethereum Classic's total value locked in standing at an extremely modest $135,262, according to DefiLlama. Still, the coin's recent gains easily qualify it for this list of 5 cryptocurrency to see a price boom this weekend.
#EthereumClassic proves daily to be a perfectly suitable, trust-minimized, decentralized computing platform—to launch #NFTs, #DeFi and DAO projects, and is traded everywhere…..

Choose unstoppability.
Choose principles.
Choose money.
Choose $ETC. pic.twitter.com/neAuJNygQF

— Ethereum Classic (@eth_classic) February 12, 2022
Traders can buy and sell ETC at numerous major exchanges, including eToro, Coinbase, Kraken, Binance, and many others.
5. Solana (SOL)
In contrast to coins that seem to be beating the market, SOL appears to be falling too heavily relative to its fundamentals. It's down by 7% in the past 24 hours, at $40.91. This also represents a 21% fall in the past week and a 57% fall in the past month.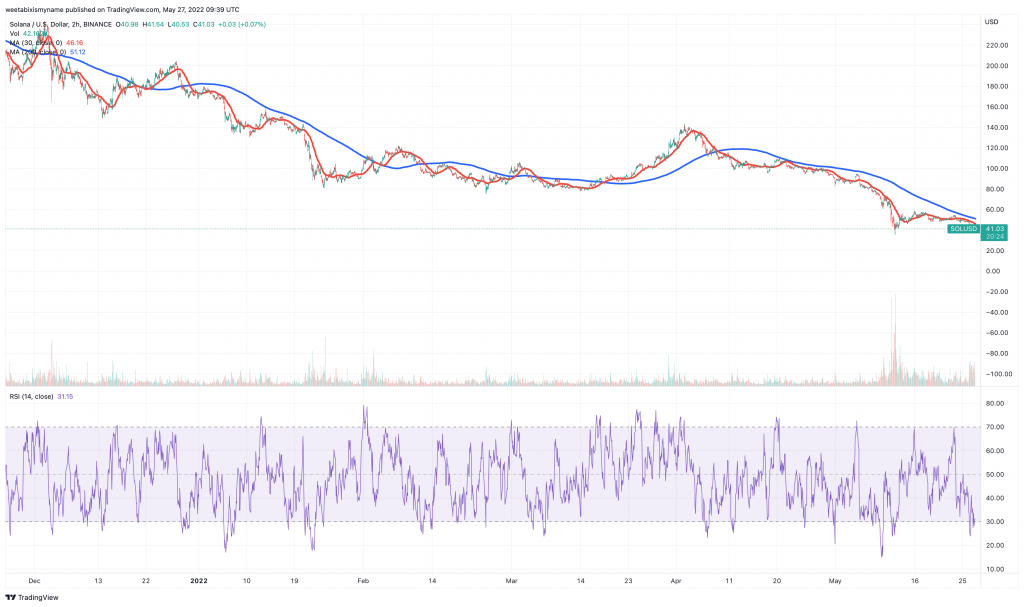 SOL's indicators show that traders are overselling it. Its RSI is below 30, signalling an imminent rebalancing. Something similar applies to its 30-day average, which has been sinking for too long now and is due a rebound.
As one of the leading layer-one blockchains, there are plenty of reasons to be optimistic about Solana. It's the fifth-biggest chain in terms of total value locked in, at $4 billion. It also witnesses the second-highest level of NTF trading, behind Ethereum.
Admittedly, Solana has been bogged with some technical issues recently, which is why it has suffered above-average falls. However, these are hardly fatal, and it's likely that SOL will recover soon. It can be traded at a large number of major exchanges, including eToro, Coinbase, Kraken and Binance.
Your capital is at risk.
Read more: