The cryptocurrency market continues to teeter between recovery and further losses. Its total cap is more or less unchanged today at $1.33 trillion, representing a 3% drop over the past week. However, despite the ongoing bearish conditions, a number of small-cap coins are witnessing brief price spurts, possibly as day traders hunt for income. As such, here's our pick of 5 cheap cryptocurrency to buy for short-term profits.
5 Cheap Cryptocurrency to Buy for Short-Term Profits
1. Ethereum Classic (ETC)
ETC is up by 12% in the past 24 hours, reaching $24.37. It's also up by 11% in the past week, but down by 28% in the last 30 days.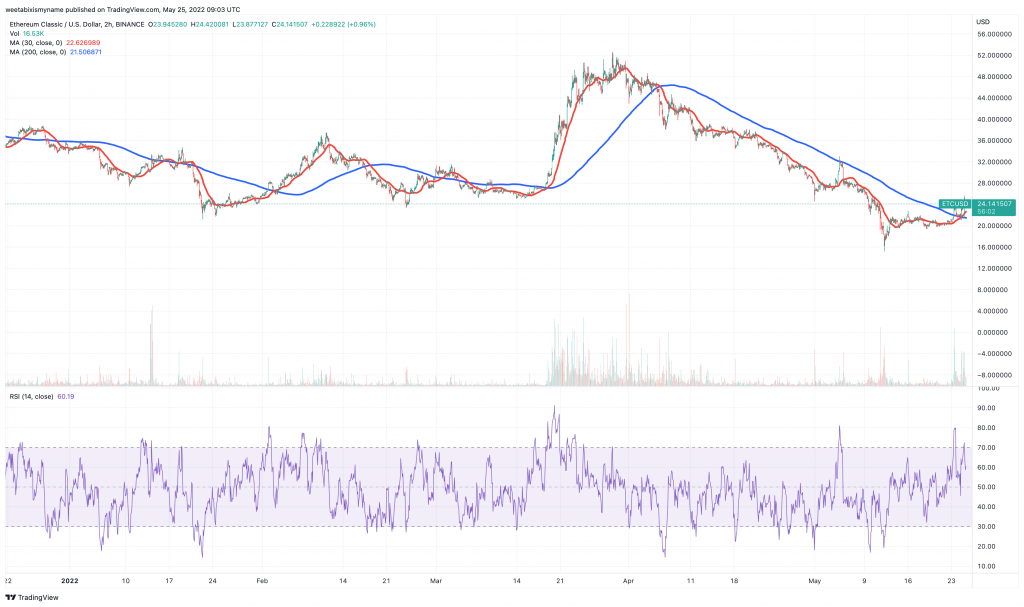 ETC's indicators reveal an upsurge in momentum. Its relative strength index (in purple) has risen to 70 in the past day or so. Meanwhile, its 30-day moving average (in red) has passed its 200-day average (in blue), signalling a potential rally as the coin breaks through resistance levels.
ETC is rallying mostly because of Ethereum's (ETH) approaching shift to a proof-of-stake consensus mechanism. What this means is that Ethereum miners will be out of work once the blockchain shifts to staking, and the expectation is that most of these redundant miners will move to Ethereum Classic. Because of this, ETC's tokenomics will receive a boost, with more miners invested in maintaining its price.
More generally, Ethereum Classic seems to be winning converts precisely because it's sticking with proof-of-work. The blockchain's champions would argue that this would make it more secure, as well as more decentralized. Of course, it remains to be seen whether this narrative will help attract investors in the long-term, with Ethereum Classic's total value locked in standing at an extremely modest $143,613, according to DefiLlama.
#EthereumClassic proves daily to be a perfectly suitable, trust-minimized, decentralized computing platform—to launch #NFTs, #DeFi and DAO projects, and is traded everywhere…..

Choose unstoppability.
Choose principles.
Choose money.
Choose $ETC. pic.twitter.com/neAuJNygQF

— Ethereum Classic (@eth_classic) February 12, 2022
Ethereum Classic's size notwithstanding, expect ETC to continue rallying in the weeks leading up to Ethereum's PoS shift. This is why it's one of our 5 cheap cryptocurrency to buy for short-term profits.
2. Terra (LUNA)
At $0.00017117, LUNA is up by 4.5% in the past 24 hours. It is, however, down by 8% in the past week, and by a staggering 100% in the past month (due to TerraUSD's collapse).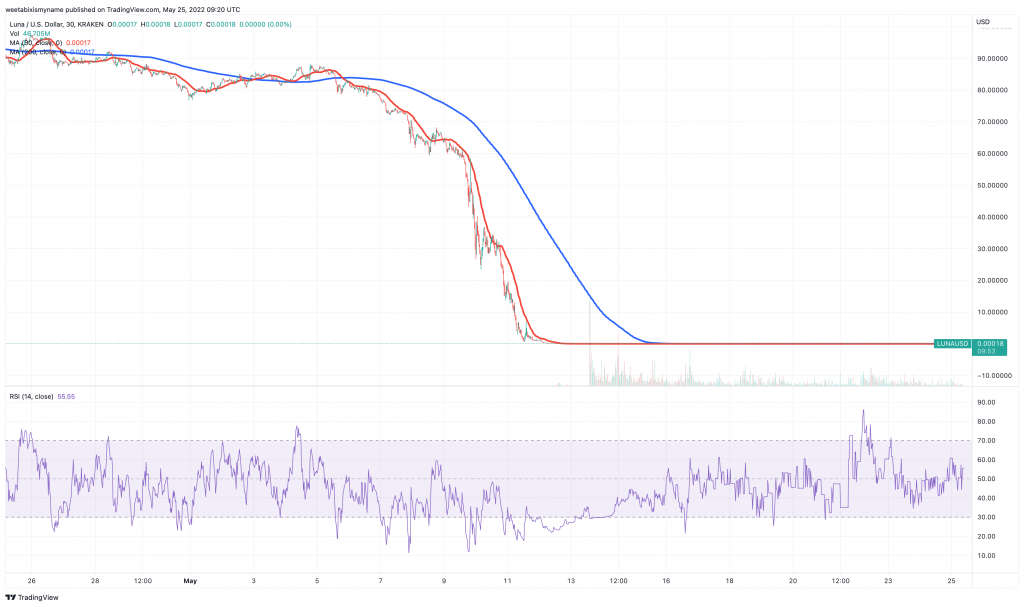 This author would like to underline that, in his opinion, LUNA is a completely discredited cryptocurrency. However, it appears that day traders and other risk-seeking speculators have been buying and selling it over very short timeframes, in an attempt to make quick profits.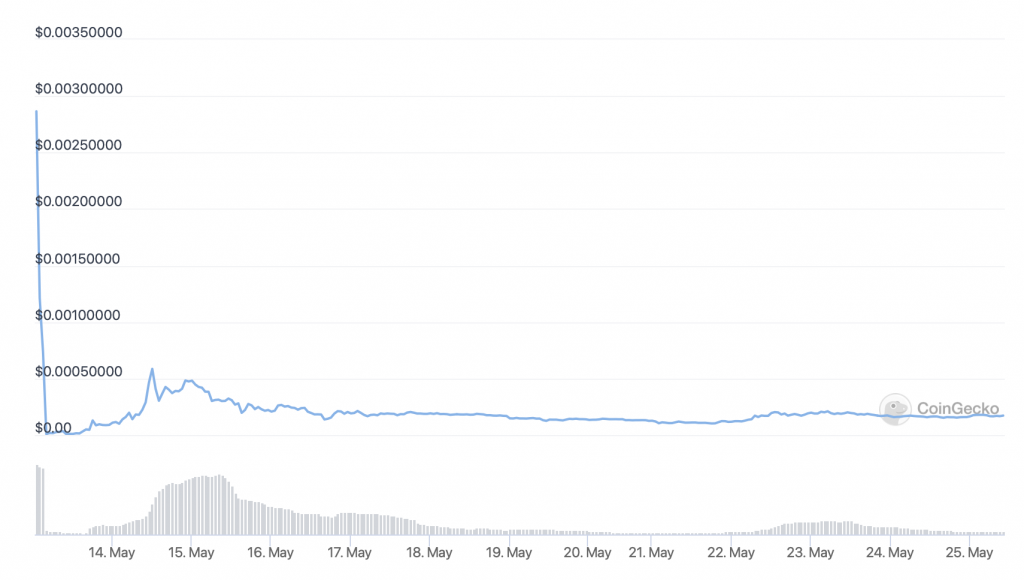 For instance, when LUNA collapsed to its all-time low of $0.000000999967 on May 13, it seemed that some traders took a bet and pumped its price to just over $0.0005. This represented a rise of nearly 50,000%.
The likelihood of posting such a big gain now is admittedly very low, but this hasn't stopped LUNA from oscillating from relatively low to relatively high price levels over the past few days. Having sunk to roughly $0.0001 on Saturday, it rose to $0.0002 by Monday. This is a rise of 100%, something which other assets can only envy right now.
Of course, there's no telling when the market may grow bored of the LUNA seesaw game. But for now, it appears to be continuing.
3. Loopring (LRC)
LRC is up by 4% in the past 24 hours, at $0.581162. This represents a 16% increase in the past week, although the altcoin is down by 35% in the past month.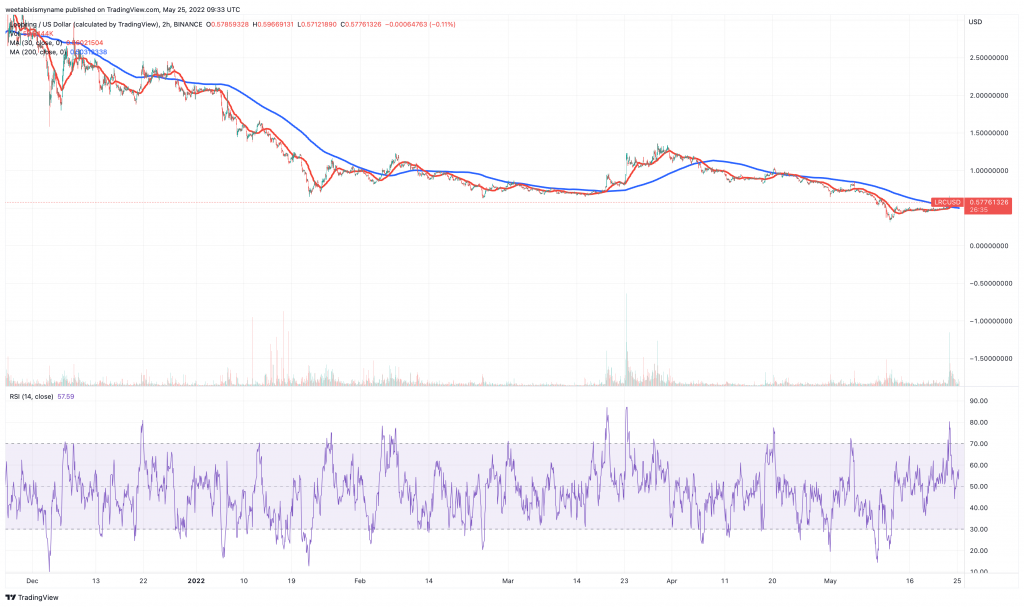 LRC's indicators reinforce the picture that it's on an upwards curve right now. Its RSI rose to 70 a day ago and remains around 60, signalling good momentum. Likewise, its 30-day moving average has overtaken its 200-day average, suggesting the setting of new medium-term levels.

The major driver of LRC's renewed momentum is that major video game retailer GameStop has launched its own official cryptocurrency wallet on the layer-two solution. This a major endorsement for the layer-two solution, given that GameStop chose it over Ethereum itself, or any other layer-two platform.
Congratulations on the wallet launch @GameStop💙

Download the wallet extension on any chrome browser today and check it out👇

It's integrated directly with Loopring L2, giving users another way to onboard directly to Layer 2 seamlessly from your browser✨#L222🌀 https://t.co/KPASOO0p1b

— Loopring💙🏴‍☠️ (@loopringorg) May 23, 2022
Also, Loopring can expect growing usage even when Ethereum completes its shift to a proof-of-stake consensus mechanism later this year. That's because this shift won't do much to improve Ethereum's scalability in the short-term, with the latter having to wait at least until next year for sharding to arrive.
Tired of Ethereum gas-fees + exploring #Layer2 to escape the fees?

Check out https://t.co/SYldTQQ6Ky to compare L2s for yourself👇

Current cost to swap tokens:
Loopring L2 ➡️ $0.85
Ethereum L1 ➡️ $25.02 #Ethereum security. Much lower costs✨

— Loopring💙🏴‍☠️ (@loopringorg) September 21, 2021
As such, Ethereum's growth will result in Loopring's growth, especially when it's one of the fastest and cheapest layer-two solutions around.
4. Astar (ASTR)
At $0.083326, ASTR has posted an impressive 47% gain in the past 24 hours. It's also up by 16% in the past week, but down by 55% in the last 30 days.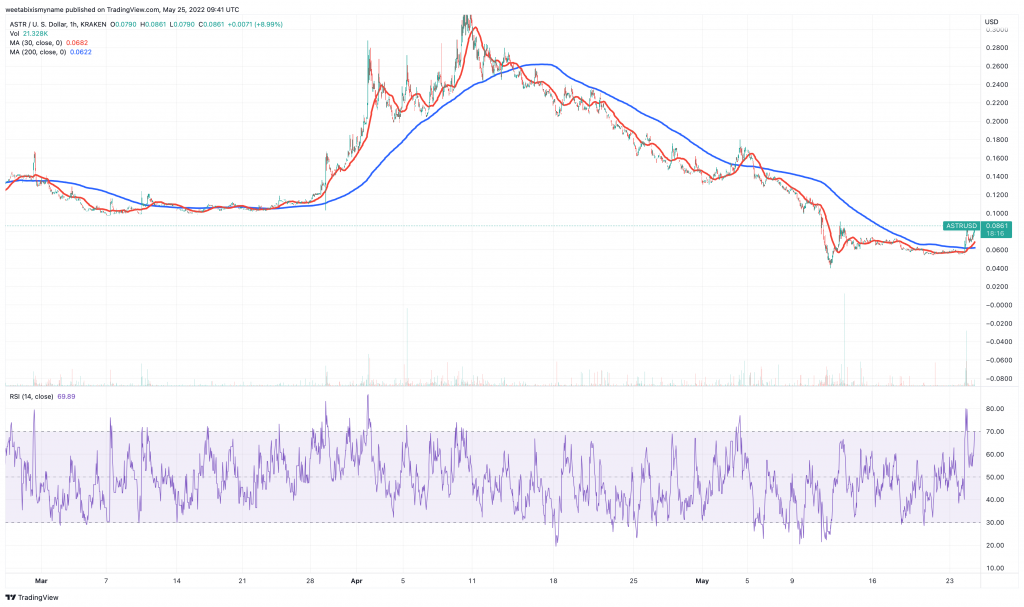 ASTR's indicators leave no doubt that a rally is underway. In particular, its 30-day average moving above its 200-day shows that a new level is being reached.
Based on the Polkadot network as its biggest parachain, Astar is a self-described smart-contract hub compatible with Ethereum and other blockchains. Having launched only as recently as January, it already has a total value locked in of $140 million.
Astar's growth is highly encouraging which is why it's one of our 5 cheap cryptocurrency to buy for short-term profits. It most recently announced a partnership between AstridDAO and Microsoft, with the Astar-based stablecoin joining Microsoft for Startups program. This will provide it with resources and training for its future growth.
We are excited to announce @AstridDAO has partnered with @Microsoft 🤝

This partnership is an incredible development for the entire Astar ecosystem. A huge congratulations to the AstridDAO team! 🎉

Learn more about this partnership and what it means 🔗https://t.co/m3aMLubGyH

— Astar Network | WASM + EVM Hub on Polkadot (@AstarNetwork) May 24, 2022
5. Celo (CELO)
CELO up by 9% today, at $1.42. This represents a 3% fall in the past week and a 50% drop in the past month.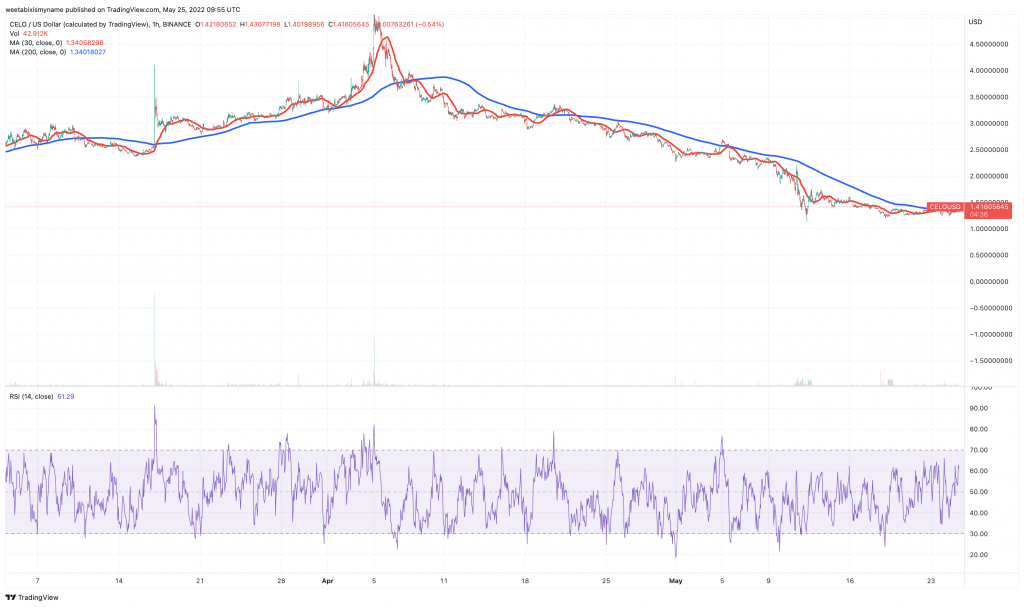 CELO has plenty of lost ground to regain after falling by 85% from its all-time high of $9.82, set back in August of last year. Its current spurt may be part of the longer process of recovery.
CELO is a utility and governance token for the Celo platform, which enables users to send and receive stablecoins using only their mobiles, without the need for a crypto wallet. Its ecosystem has been growing in recent months, and now covers a broad sweep of DeFi apps, exchanges, gaming platforms, NFT markets, payment services and staking pools.
🟢🟡With the mission of @CeloOrg Ecosystem, @celo_insights. Insights wishes to spread Celo-based projects and ecosystem itself to everyone.

👉Let's explore the Celo ecosystem!$CELO, #Celo, #DeFi4ThePeople , #AMM, #DEX , #NFT, #SyntheticAsset, #Lending, #stablecoins pic.twitter.com/sXS7G9LBO0

— Celo Insights 🟡🟢 (@celo_insights) February 11, 2022
Celo is also a proof-of-stake blockchain, making it more scalable than earlier platforms. Combined with its ongoing growth, this makes it likely that CELO will recover after its past losses. This is why it's one of our 5 cheap cryptocurrency to buy for short-term profits.
Your capital is at risk.
Read more: