The cryptocurrency markets have seen high volatility in the first half of 2022.
Some consider the price action to be bearish – but there are still opportunities to buy the dip. The overall crypto market value ranged from more than $3 trillion in November 2021 to less than $2 trillion since the early months of 2022.
However, things have started taking a positive turn quite recently this quarter for some altcoins.
Terra (LUNA) has bounced since May 22nd, following its crash. Notable 'play to earn' crypto tokens GODS and LBLOCK have also risen in response to positive news. With Bitcoin up nearly $30,000 on the day and Ethereum up over $2,000, other altcoins suddenly appear to be bullish.
Top Crypto Gainers – Biggest Gainers This Week
Surprisingly, some of the best-performing cryptocurrencies in 2022 do not include any of the industry's top names. Despite this, investors in these cryptos have outperformed the market rate of return in traditional assets such as stocks and commodities by multiple times.
Here's a list of the best cryptos to buy right now – the five top crypto gainers this week:
1. Terra (LUNA)
About Terra:
Terra is a public blockchain protocol that uses stablecoins – cryptocurrencies with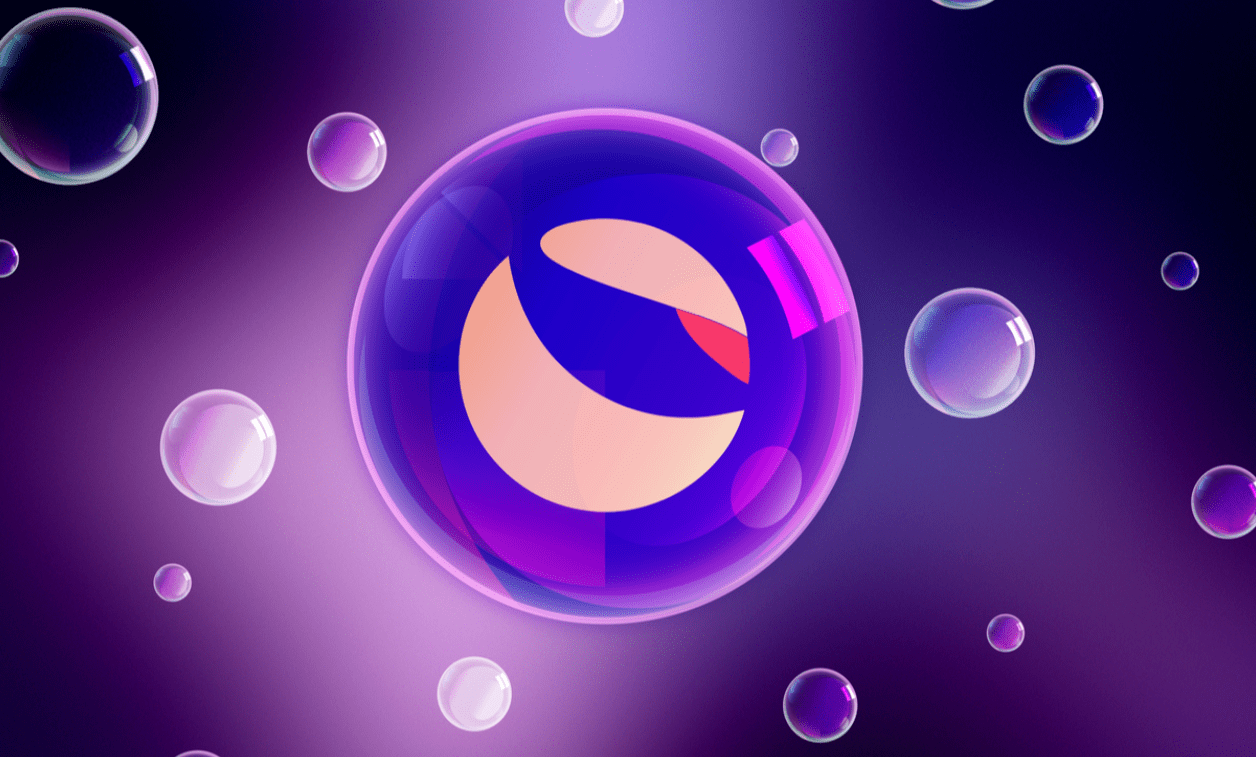 their value tied to an underlying asset. The Terra blockchain employs stablecoins to enable price-stable global payment systems to support the mass adoption of cryptocurrencies.
Terra is a cryptocurrency platform with three main apps: Anchor, a savings service with competitive yields, Mirror, which allows investing, and Chai, a mobile payment app. The Terra protocol's native token, LUNA, is used to stabilise the price of the Terra protocol's stablecoins.
Terra's network goal is to create a stablecoin suite that combines the benefits of decentralised cryptocurrencies with the stability of fiat currencies.
Crypto Performance:
LUNA had an intraday price rise of almost 100 percent on Sunday this week. Some traders are wary of a 'Sunday scam pump,' which could have something to do with the day itself due to lesser liquidity in the market.
Or this could simply be LUNA retesting the weekly open – $0.000213 – which has been rejected previously. The LUNA price has yet to end a daily candle below $0.0001, so a bounce from that level wasn't unexpected.
On the 13th, buyers snapped up the wick to the 2022 low of $0.00000112; then on the 14th, buyers snapped up the wick below $0.0001. There have been no wicks below that price since then.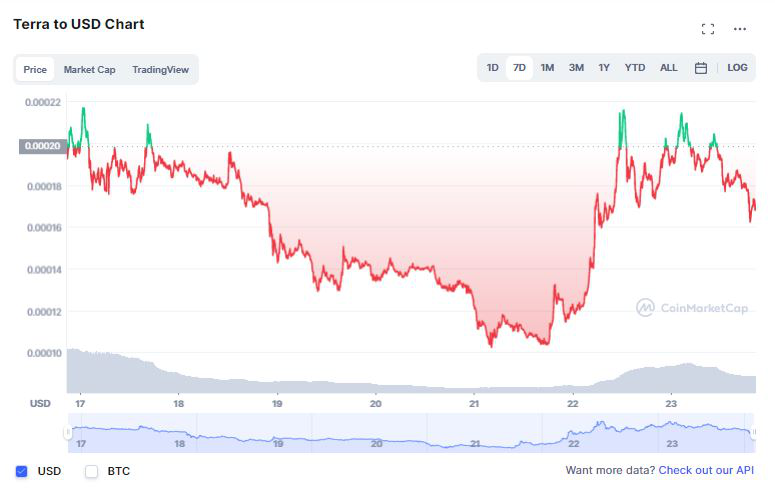 While LUNA may still have a long way to go, the circulating supply of 6.5 trillion LUNA means that, unless some of the supply is burned, a LUNA price of $0.006 would already equal a $40 billion market capitalization, which was its previous market valuation prior to the decline.
Do Kwon did send a burn address to a Twitter user, leading some traders to believe that a large-scale LUNA recovery plan to burn the supply will be implemented – despite the fact that Do Kwon had previously tweeted that Terraform Labs only owns 0.1 percent of the supply and is opposed to LUNA burn proposals. Since then, the hashtag #BurnLuna has been trending.
According to Bitquery, a tracking website, 223 million LUNA coins have been burned so far – the standard Terra Station / Terra Explorer site no longer appears to track LUNA burning. This is only a small portion of the total of 6.5 trillion though. MEXC Global has announced on Twitter that they will repurchase LUNA and participate in the LUNA burning campaign.
Quick Look:
| | |
| --- | --- |
| LUNA Market Cap | $1.2 billion |
| Coinmarketcap Rank | #211 |
| Daily Open | $0.000123 |
| Daily Low | $0.000117 |
| Daily High | $0.000225 |
| Where to buy LUNA | eToro, Crypto.com |
Your capital is at risk.
2. Gods Unchained (GODS)
About GODS:
Gods Unchained is one of the gaming industry's most recent forays into blockchain and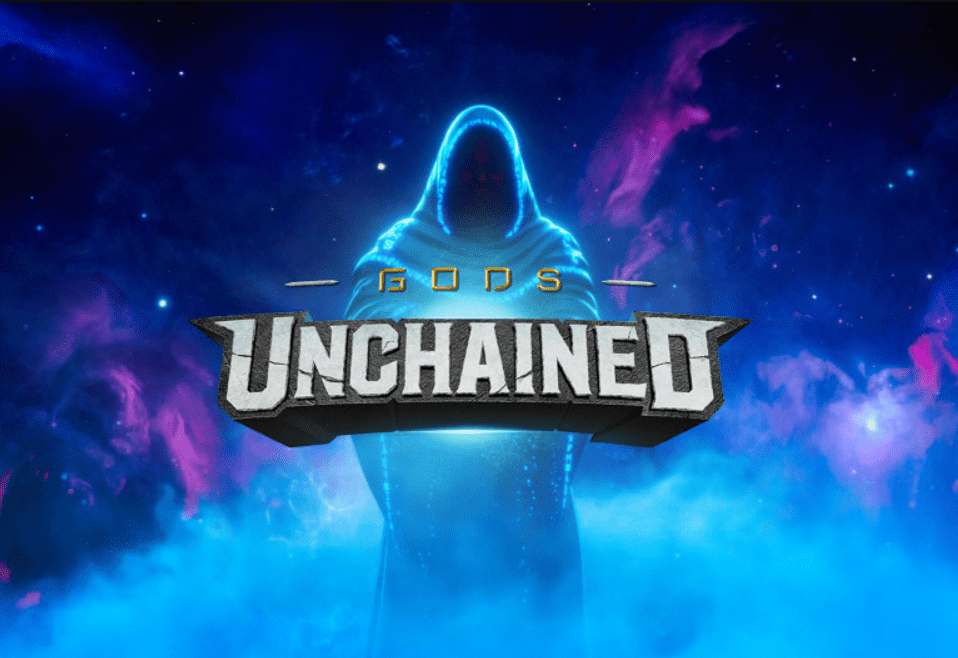 cryptocurrency. It is a free-to-play online trading card game that bills itself as a "pay-to-play" trading card game that challenges the traditional model of gaming commerce by requiring users to purchase both the game and in-game items without the possibility of selling them when needed.
Gods Unchained uses Ethereum-based non-fungible tokens (NFTs) to give players true ownership of the cards and other assets they buy in the game. Because NFTs are immutable, game developers cannot change the value of cards, nerf them, or take them away from players.
Crypto Performance:
Over the last week, Gods Unchained has reclaimed the $1 level, generating a new short-term uptrend and a positive market structure with higher highs and lower lows.
Last week, it was revealed that NFT producers using its platform will be paid royalties, with a portion (20%) of those profits going to the $GODS staking pool.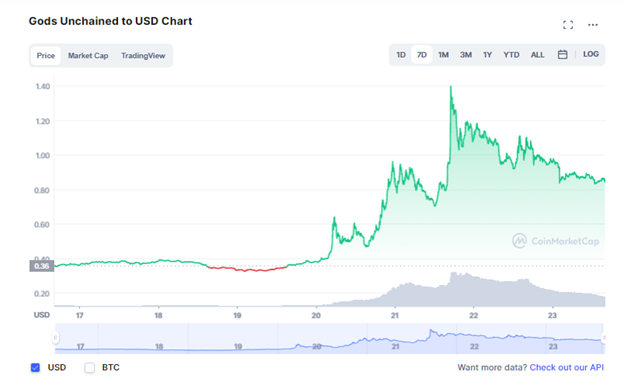 Last week, both Gods Unchained (GODS) and Immutable X (IMX) pumped — GODS is based on the Immutable X blockchain. From its all-time high of $8.9 in December 2021 to its 2022 low of $0.22, GODS currency has already retraced nearly 97.5 percent. BTC and ETH have been in a bear market since the $69,000 and $4,800 milestones, resulting in the collapse.
Quick Look:
| | |
| --- | --- |
| GODS Market Cap | $26 million |
| Coinmarketcap Rank | #574 |
| Daily Open | $1.09 |
| Daily Low | $0.92 |
| Daily High | $1.30 |
| Where to buy GODS | Crypto.com, Coinbase, Bitstamp |
Your capital is at risk.
3. Lucky Block (LBLOCK)
About LBLOCK:
Lucky Block envisions a global lottery with participants using Blockchain protocols and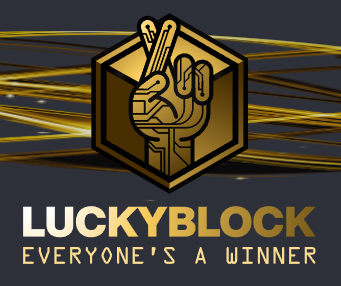 the Binance smart chain. The goal of Lucky Block is to increase transparency and fairness in gaming by creating a lottery where every player has a better chance of winning while also providing a solid investment strategy for token holders and contributing to the community.
Lucky Block will shorten lottery draw times and allow multiple draws per day, giving players more chances to win while decreasing lottery costs. Low margin operations will also allow players to participate in lotteries that match their risk tolerance for better odds.

Crypto Performance:
Lucky Block has also pumped 280 percent this week, maybe having hit bottom, after retracing nearly 90% from its all-time high of $0.0097 in February 2022 — one of the top crypto gainers in Q1 2022.
This week, it was reported that the new crypto gaming platform's inaugural prize draw will take conducted on May 31st, with one for LBLOCK token holders and a separate NFT jackpot for non-fungible token holders.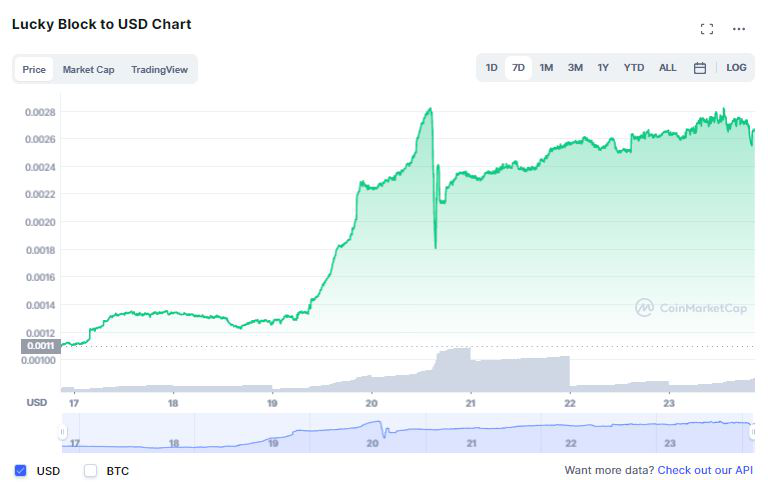 The bigger the number of tokens or NFTs kept, the higher the potential benefits – a portion of each jackpot is redistributed to holders as passive income – and holders also receive a free ticket to the actual draw.
The primary prize pool is $2 million, and the NFT jackpot will reward one NFT owner with a one-time $1 million prize.
Quick Look:
| | |
| --- | --- |
| LBLOCK Market Cap | $97 million |
| Coinmarketcap Rank | #3140 |
| Daily Open | $0.00242 |
| Daily Low | $0.00239 |
| Daily High | $0.00263 |
| Where to buy LBLOCK | Pancakeswap, Bitmart, Luckyblock.com (with fiat) |
Your capital is at risk.
4. Tezos (XTZ)
About XTZ:
Tezos refers to itself as a self-amending chain, which is one of its distinguishing features;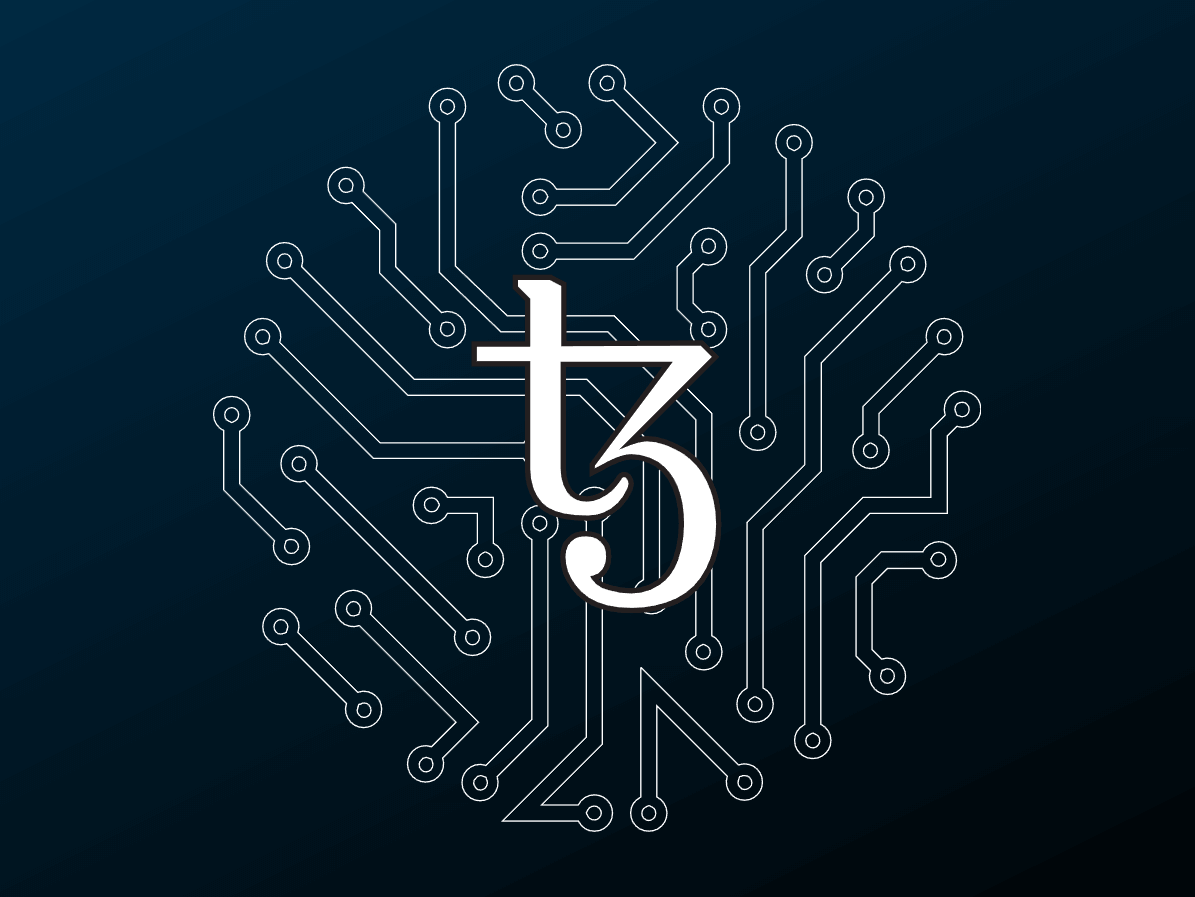 its blockchain is "designed to evolve." The idea is that Tezos owners can propose and vote on-chain to approve any changes, eliminating the need for in-person meetings.
Approved updates will then be automatically implemented. It's an unusual governance model that, in theory, reduces the likelihood of community divisions.
Many features found in other cryptocurrencies are available on the Tezos blockchain. Its blockchain would be divided into two sections: Shell is the code that amends itself based on user voting, and Protocol is the code that sends proposals to the shell for review. Tezos employs a variant of classic proof-of-stake (PoS) consensus, called liquid proof-of-stake (LPoS), to keep its network in sync.
Crypto Performance:
Tezos' all-time high was $9.17 in October 2021, and it has since retraced 86 percent to a current low of $1.45 in 2022.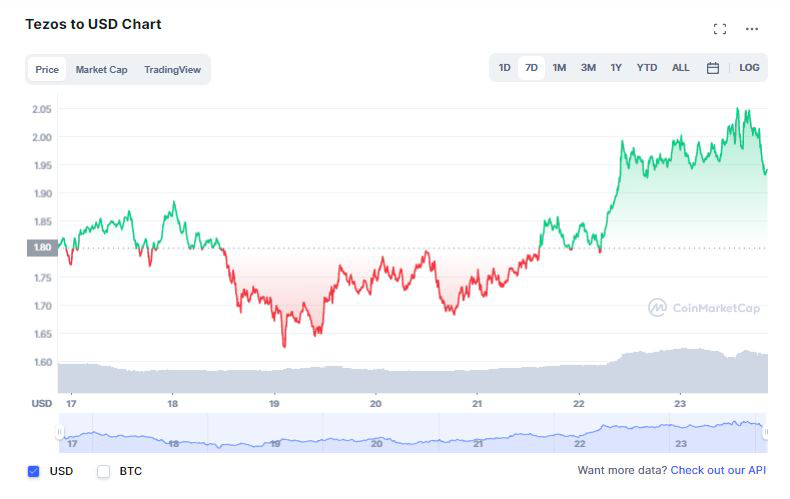 Tezos has now retested the 2021 yearly open and swept the lows from December 2020, a region of historical support – a reaction and bounce was predicted.
Quick Look:
| | |
| --- | --- |
| XTZ Market Cap | $1.7 billion |
| Coinmarketcap Rank | #39 |
| Daily Open | $1.82 |
| Daily Low | $1.78 |
| Daily High | $2.01 |
| Where to buy XTZ | eToro, Coinbase |
Your capital is at risk.
5. Avalanche (AVAX)
About AVAX:
Avalanche, a competitor to the Ethereum blockchain, enables the operation of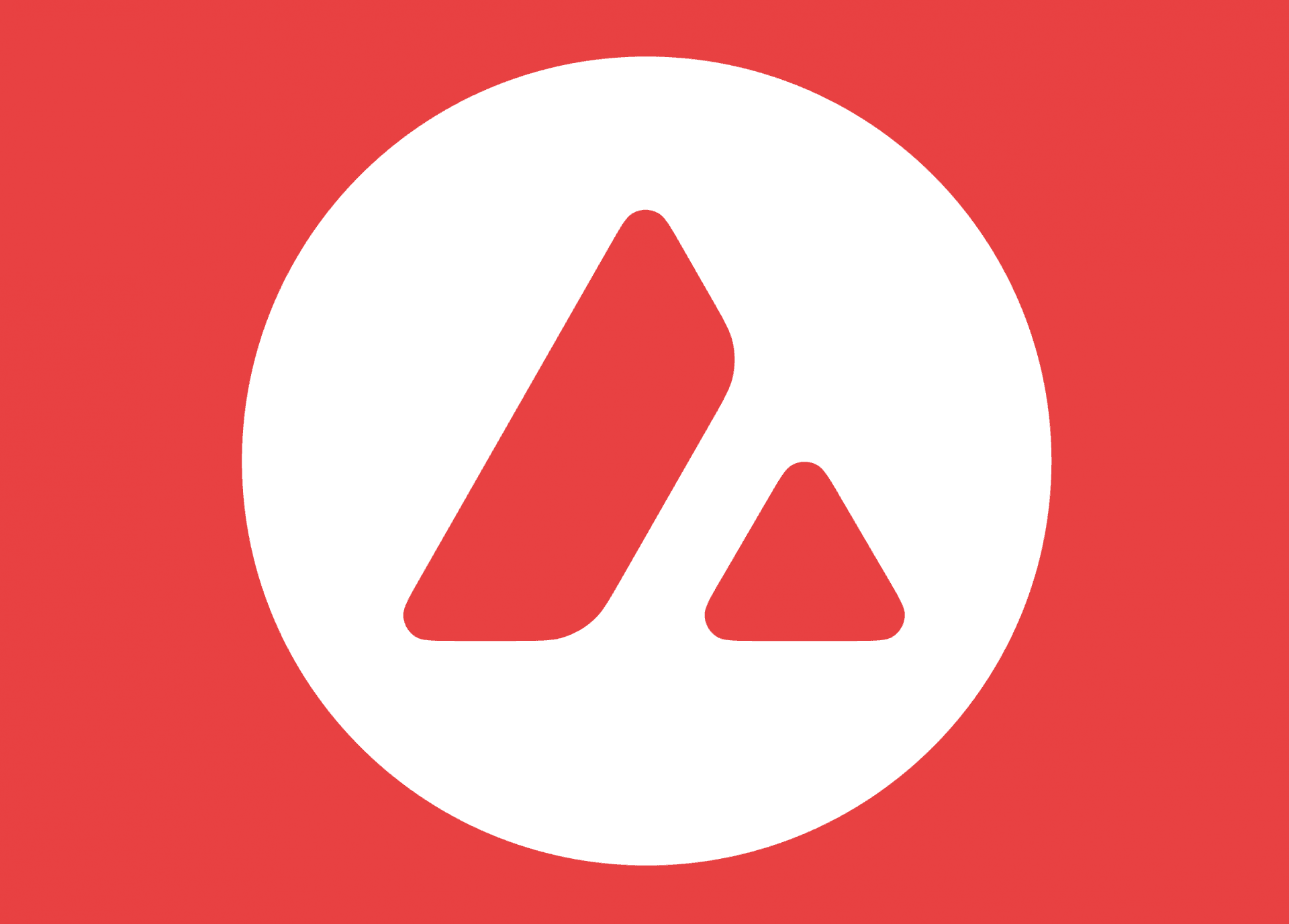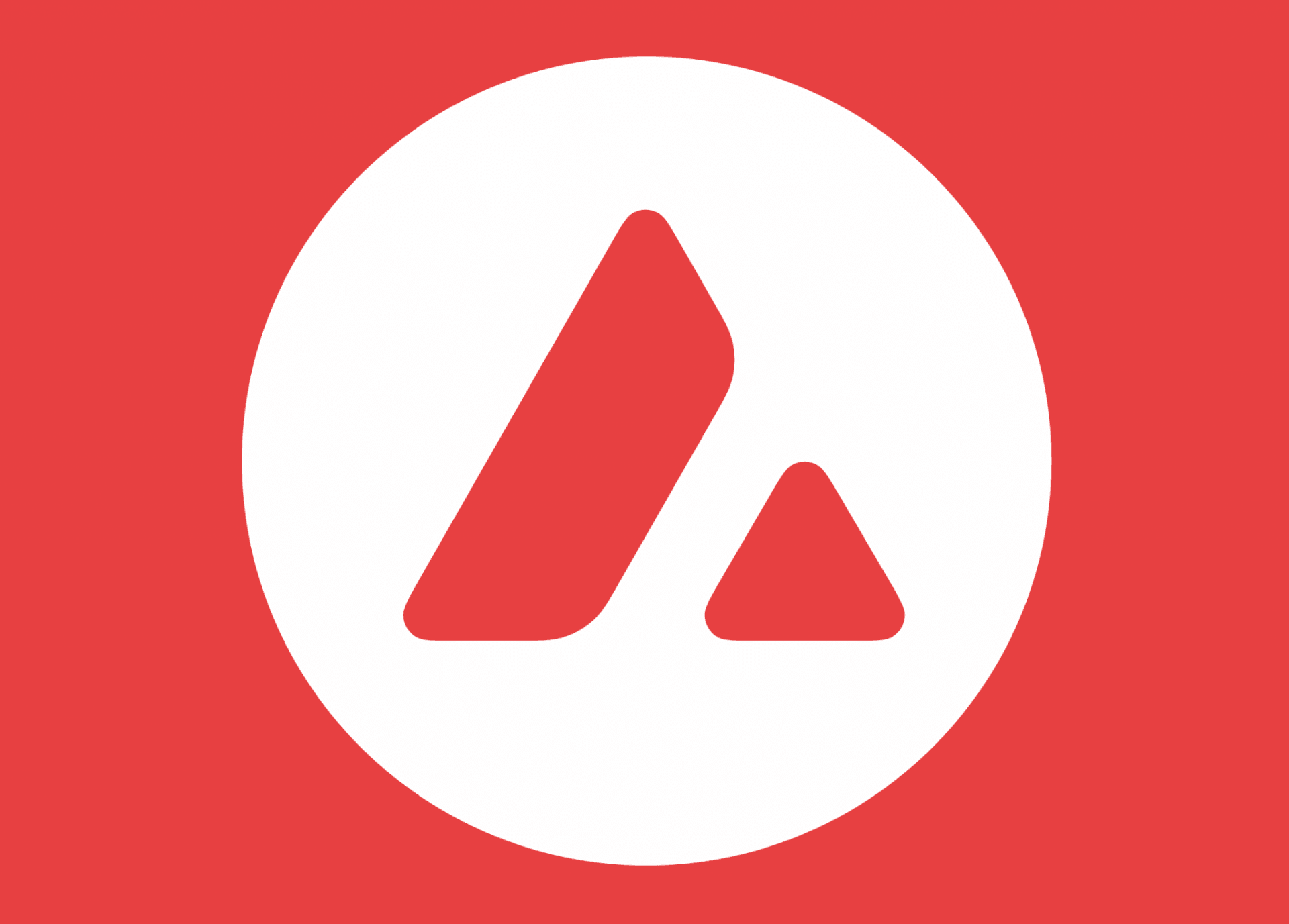 decentralized applications and other blockchain networks via its smart contract capability. Avalanche also has a high transaction output of approx 6,500 transactions per second while remaining scalable.
The network's speed makes it one of the blockchain industry's fastest smart-contracts platforms. Unlike the Bitcoin and Ethereum networks, Avalanche employs a PoS consensus mechanism, which allows operations to run more quickly.
Avalanche also stands out because its network is divided into three blockchains designed for a specific purpose. It is also less expensive to deploy smart contracts on Avalanche, giving developers more freedom to develop on the network.
Crypto Performance:
The latest AVAX all-time high was $147 in November 2021, and it has subsequently retraced 84 percent to a current low of $23.5 in 2022.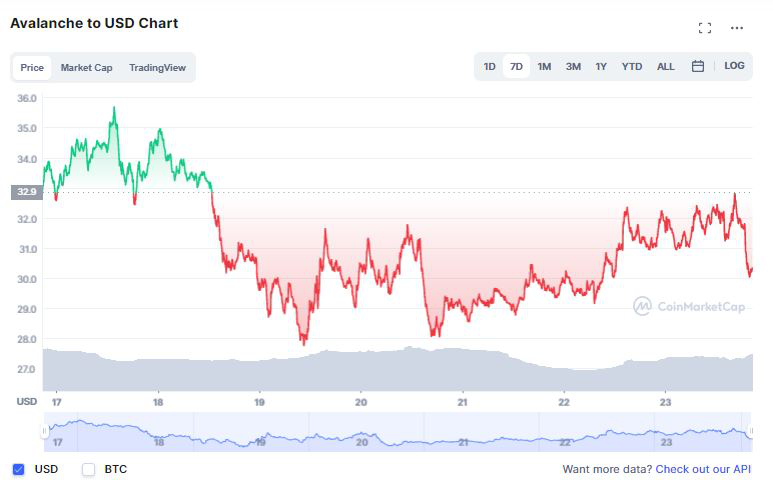 AVAX, like XTZ, is now back at earlier support levels, which were only briefly retested in September 2021 before its nearly 500 percent bull run.
Quick Look:
| | |
| --- | --- |
| AVAX Market Cap | $8.6 billion |
| Coinmarketcap Rank | #12 |
| Daily Open | $29.89 |
| Daily Low | $29.01 |
| Daily High | $32.44 |
| Where to buy AVAX | eToro, Coinbase |
Your capital is at risk.
Where to Find the Crypto Top Gainers?
Cryptos built on emerging technology have performed well so far in 2022, promising cheaper prices and improved efficiencies. On any of the following platforms, you may easily track their performance and predictions:
eToro: Daily movers' and 'Trending Crypto' feed are some of the bonus crypto research tools eToro provides to its users when logged in to view and ascertain the best-performing assets during a chosen period.
Coinbase: When logged in, click 'Prices' then 'Top Gainers.'
Bitstamp: See 'Best performing assets' and 'Most viewed' feeds on the homepage after you log in
CoinGecko: Click 'Large Movers' for the 'Largest Gainers in Crypto' feed – you will be able to see 'Top Gainers' on the left
CoinMarketCap: Click on 'More' by 'Biggest Gainers' on the 'Today's Cryptocurrency Prices' feed
Several websites monitor Reddit, Twitter, and forum mentions of specific crypto ticker symbols.
The current top gainers show how anything and everything can shift the crypto waters from solid news to announcement, from speculation to hearsay.
As an investor, be wary of purchasing a cryptocurrency that has recently experienced a double-digit increase for whatever reason.
Even more so if you don't know the reason the price has gone to unsustainable levels. Spend some time conducting your own research and determining how that project fits into your portfolio. And, if an altcoin hasn't seen any recent activity on its social media feeds, find out why before you buy.
Read more:
Lucky Block – Our Recommended Crypto of 2022
New Crypto Games Platform
Featured in Forbes, Nasdaq.com, Yahoo Finance
Worldwide Competitions with Play to Earn Rewards
LBLOCK Token Up 1000%+ From Presale
Listed on Pancakeswap, LBank
Free Tickets to Jackpot Prize Draws for Holders
Passive Income Rewards
10,000 NFTs Minted in 2022 – Now on NFTLaunchpad.com
$1 Million NFT Jackpot in May 2022
Cryptoassets are a highly volatile unregulated investment product. No UK or EU investor protection.