The crypto markets are bleeding and almost every crypto, including the most popular Bitcoin, has reached a YTD bottom. Among these, FTM stands out as it's currently valued at 10 times lesser than its ATH this year.
While the fall of markets is bad news for many, there are few who consider it an investment opportunity. Fantom, for one, has shown impressive results historically and still stands as a cryptocurrency many investors are willing to bet on.
Read ahead as we take a look at what's up with Fantom, its price prediction for 2022, and conclude if it's worth your money for the foreseeable future or not.
What is Fantom?
Fantom is an open-source platform focused on hosting smart contracts and decentralized applications, primarily aiming to offer better speed and security through its blockchain over other networks. The platform uses Lachesis- said to be better and faster than the conventional PoW and PoS as its consensus algorithm.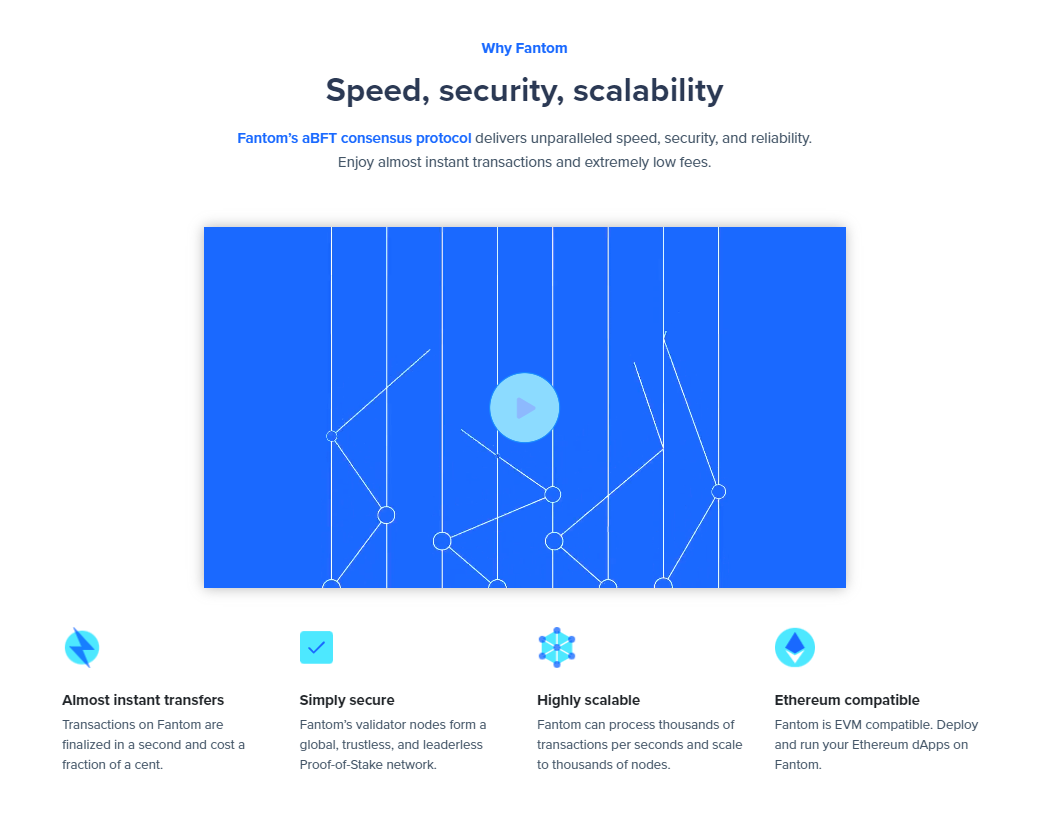 Different features of Fantom Crypto
Fantom also allows the customisation of blockchain depending on the use case, meaning each app built on the network can have its own independent blockchain.
And finally, the Fantom mainnet, Opera, allows developers to transfer their Ethereum-based application onto Fantom's mainnet as it uses Ethereum Virtual Machine, EVM.
Fantom So Far – How has the Crypto Sailed?
FTM's price touched its ATH in Jan this year. The coin began trading at roughly $0.0222 at launch in 2018. The price soon took a plunge, settling at $0.0031 in April 2019. In November of that year, the price of the FTM token managed to touch its first ATH at $0.0345. However, it was soon followed by a recession making the price challenge its previous all-time low.
The price witnessed a sideways movement for a while until it touched its new all-time high in September 2020, at $0.0544. About 5 months later, the price saw its biggest ever surge so far, gaining 10x and crossing $1 Billion in trade volume for the first time.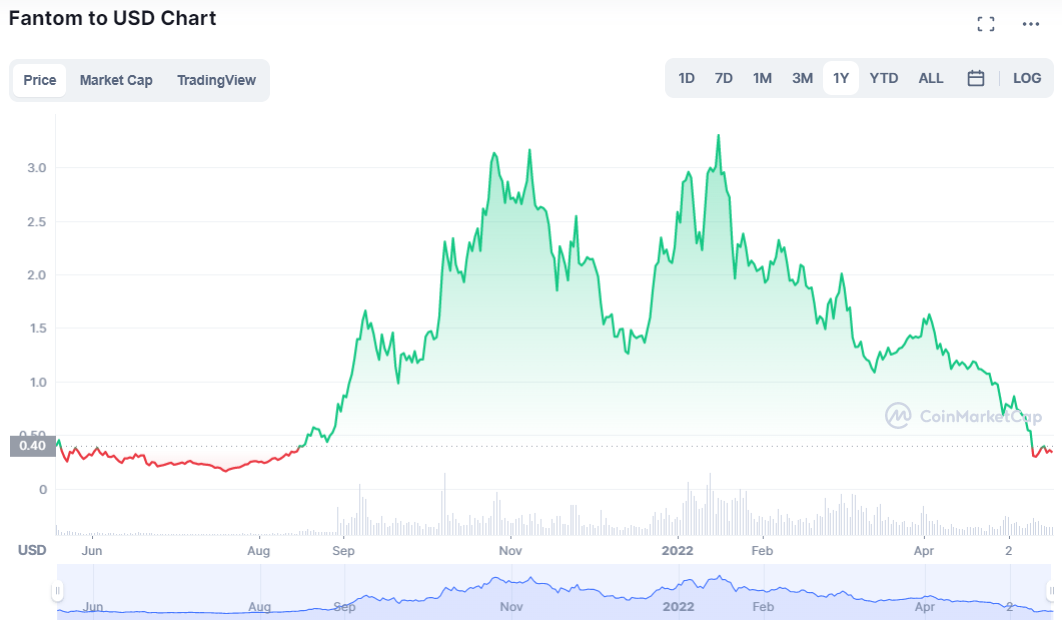 Fantom Crypto Price
Through many crests and troughs, the token's price managed to reach an all-time high recorded till that date in January 2022. It was, however, short-lived. Since then, the price has taken a nosedive and continues to do so – reasons for which are listed below. As of now, the price is one-tenth of what it was in January- $3.3.
The reasons for the price performance are listed below.
Your capital is at risk.

Why is Fantom Going Down?
Anton Nell- a senior solutions architect at Fantom and Andre Cronje- star developer at Fantom, recently left the Fantom organization. Cronje also deleted his social media before the exit, leaving investors alarmed.
Upon their exit, the price took a severe dip as such high-profile project names leaving the project wasn't a good sign. In fact, their involvement with that project attracted investors in the first place.
On the adoption front, Fantom isn't really doing exceptionally as well. The primary reason Fantom was a preference for many was the support for smart contracts, improved speed and high-grade security. Now, however, it's not the only blockchain offering that. Bitgret, for example, is cheaper, faster, secure and scalable. The availability of alternatives leaves Fantom in a tight spot to be the first preference.
With the Terra crash this month, many crypto projects suffered, including those on Fantom, and a few shutdown. Cronje, too has dropped working on projects he was building on Fantom, and from crypto altogether.
While these internal factors led to the fall, the overall crypto sentiment also aided the decline. Bitcoin fell to its lowest this month since its high in November last year, and this effect was pretty parallel across most other coins. The price continues to be volatile to date.
Will Fantom Go Up?
Fantom Foundation announced on Twitter that the operation isn't a one-man show. They expressed their gratitude towards the contribution of Cronje, but also followed it with the explanation that other people are working at Fantom as well. The core 40 team members, and more than a hundred developers working on the project. They have it covered.
Fantom also has 80% of its total supply in circulation- under no normal circumstances will the price deplete by a drastic degree. If anything, the supply shortage can trigger a bull run for the coin and soon cause the graph to move up.
The last Bitcoin halving led to a bull run, the next one is in 2024 when Bitcoin is projected to cross $100,000 and other coins are expected to follow the pattern as well. The number will be an ATH for Bitcoin, which can extend to Fantom. By 2025, under ideal conditions, one can expect Fantom to break its ATH, and inventors can consider it to be a long-term goal.
The most realistic expectation for Fantom's coin price is $1 for 2022. It's not a wild expectation as the price is roughly only thrice that of its current price and the coin has a history of rallying up multiple Xs. If you wish to buy Fantom, you could do so via eToro, which is an FCA regulated crypto platform.

Several investors choose eToro Platform to invest in FTM Crypto
Invest in Fantom via FCA Regulated Platform – eToro
Your capital is at risk.
In the long run, and as multiple analyses portray, the coin can touch $5 by 2024 or 2025. Either way, we see a decent investment opportunity but advise you to do your own research.
Lucky Block – Our Recommended NFT for 2022
New Crypto Games Platform
Featured in Forbes, Nasdaq.com, Yahoo Finance
Worldwide Competitions with Play to Earn Rewards
10,000 NFTs Minted in 2022 – Now on NFTLaunchpad.com
3.75 wBNB Floor Price
Free Exclusive Entry to Daily NFT Prize Draws
Lifetime Access to the Main Lucky Block Prize Draw
$1 Million NFT Jackpot in May 2022
LBLOCK Token Up 1000%+ From Presale
Cryptoassets are a highly volatile unregulated investment product. No UK or EU investor protection.