The cryptocurrency market has stabilised a little after an extremely bad week. Its total cap has risen by 8% in the past 24 hours, to $1.36 trillion. However, this represents a 23% dive in the last seven days, and a 31% plunge in the last 30. Of course, a large correction like this can sometimes be an opportunity to "buy the dip" and make a profit. As such, we've compiled a list of the 5 best cryptocurrency to buy on the dip in the May crypto crash.
5 Best Cryptocurrency to Buy On the Dip in May Crypto Crash
1. Lucky Block (LBLOCK)
LBLOCK has risen by 6% in the past 24 hours, returning to $0.00101251. It remains 30% down in a week and 58% down in the last 30 days.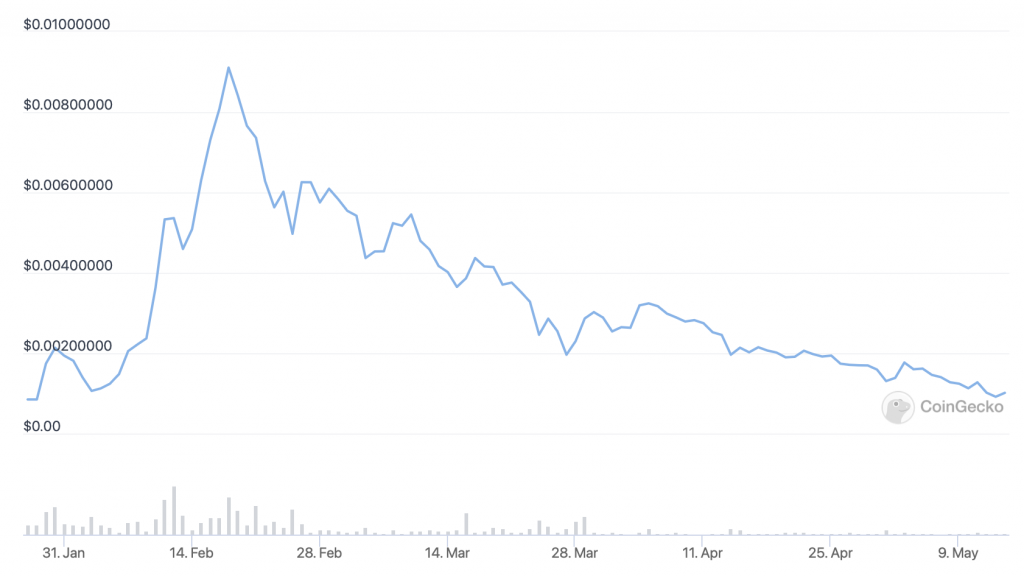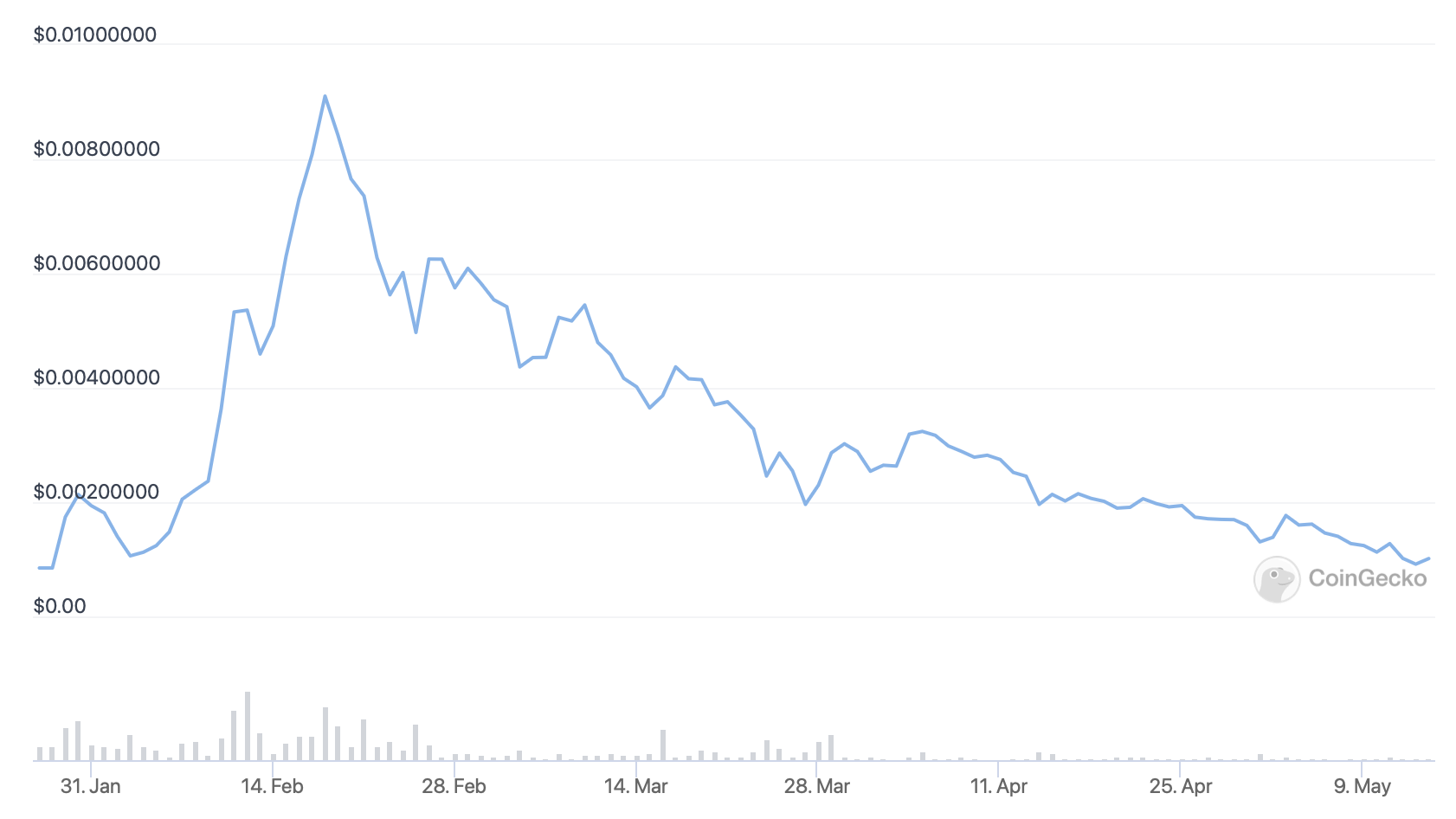 LBLOCK has dropped by 89% since reaching an all-time high of $0.00974554 on February 17. It is, however, just over 130% up since becoming tradable in late January, despite its native Lucky Block platform having not yet held its first draw.
However, Lucky Block has revealed that its first draw will take place around mid-May and will feature a prize pool of $2.3 million. All LBLOCK holders will receive an equal share of 10% of this fund, while entrants will have the chance to win 70%. This has helped to retard its recent falls, while the successful launch in mid-May will likely increase confidence in the platform even further. So expect that LBLOCK could rally once the first draw is finally held.
Based on Binance Smart Chain, the Lucky Block crypto games platform will also be holding a $1m NFT draw. Interested parties can enter by purchasing one of 10,000 limited edition Lucky Block NFTs, with a Lamborghini also being up for grabs.
LBLOCK now boasts around 53,000 holders. This number will soon rise, which is why LBLOCK is one of our 5 best cryptocurrency to buy on the dip.
2. DeFi Coin (DEFC)
At $0.366163, DEFC has risen by 12% in the past 24 hours. And while it's down by 4% in the past week, it's also up by 218% in the past month.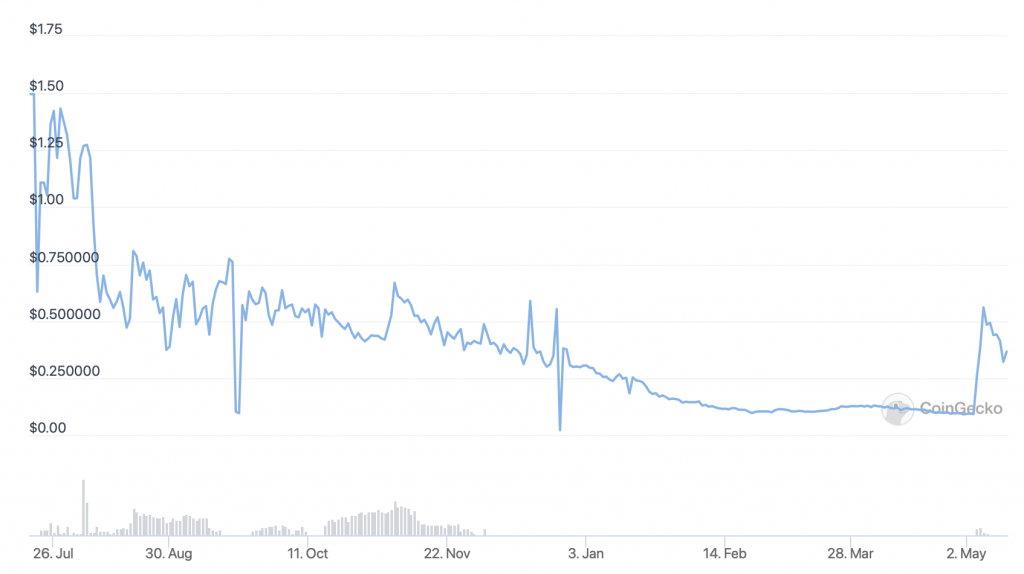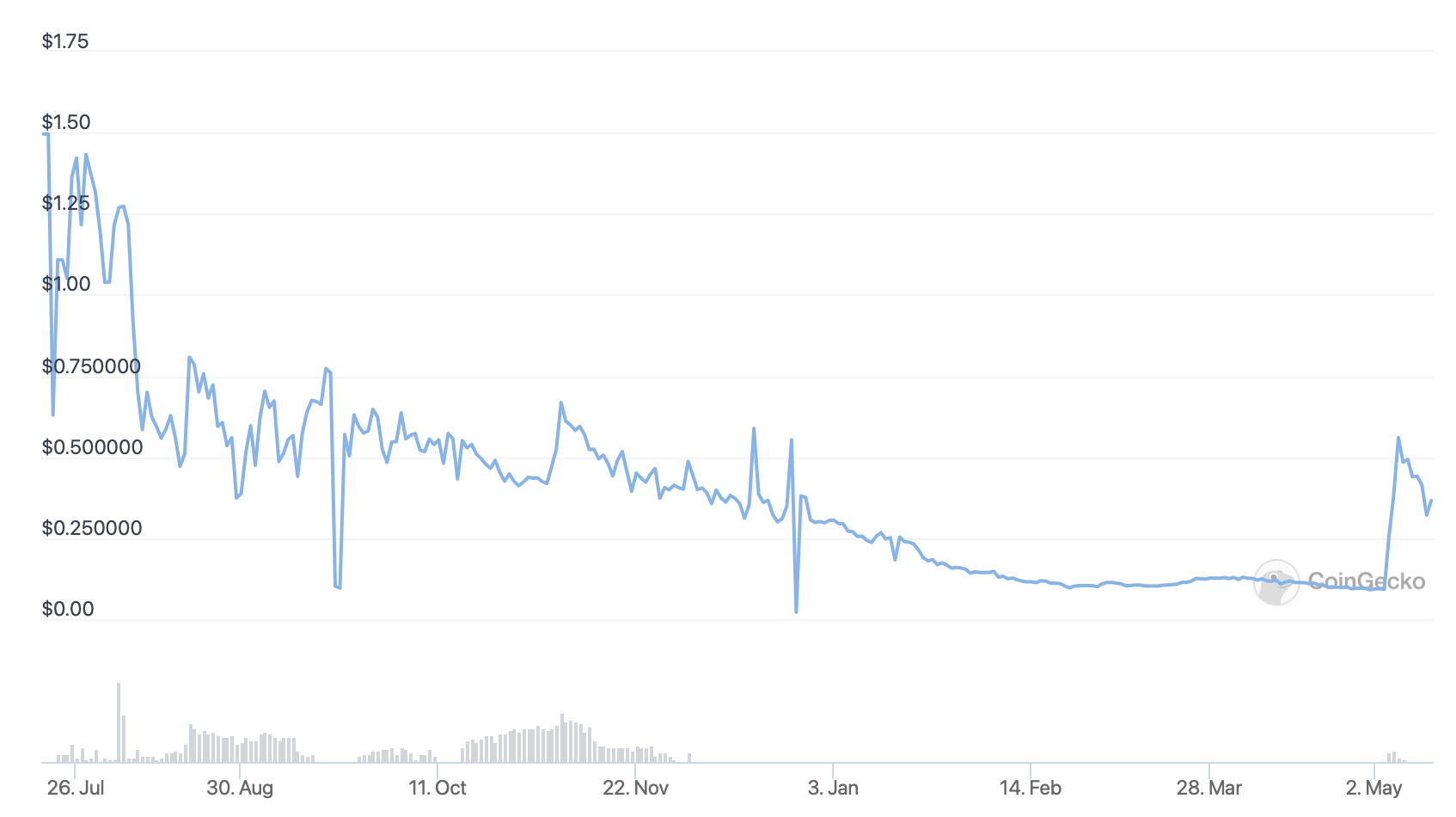 DEFC appears to be on the up again after sinking steadily from its ATH of $1.57, set on July 26, 2021. This is largely because its native platform, the DeFi Swap decentralised exchange, has recently launched.
Within the DeFi Swap ecosystem, holders can use DEFC for staking and yield farming. On top of this, DEFC encourages long-term holding, with trades of the altcoin subject to a 10% transaction tax.
DEFC is likely to enjoy growing use in tandem with the growth of DeFi Swap, which is based on Binance Smart Chain. The altcoin can be traded via PancakeSwap.
3. Tikka (TIKKA)
TIKKA is one of the newest altcoins on the market. So new, in fact, that it hasn't even launched yet. It's a "wealth access token" (WAT) developed by India-based fintech firm Banking Cube. Running on Polygon, the concept behind it involves holders being granted a share of the wealth generated by Banking Cube via investments made in the company.
What this means in practise is that early holders of TIKKA will receive a number of benefits, including airdrops of Tether (USDT). The first such airdrop happened on April 21st, with more to follow in the future.
Aside from such airdrops, TIKKA holders also receive financial advice and access to investment opportunities, among other things.

Basically, Tikka is a kind of crypto-based investment and financial advice platform. Its development will unfold via a number of phases, with phase two introducing a referral system that grants participants rewards for referring additional users.
TIKKA's ICO is due in the coming weeks, with more details to follow.
4. Terra (LUNA)
LUNA is dead. This qualification aside, anyone wanting to take a punt on a BIG long-shot might consider the altcoin, which has fallen by 100% in the past 24 hours.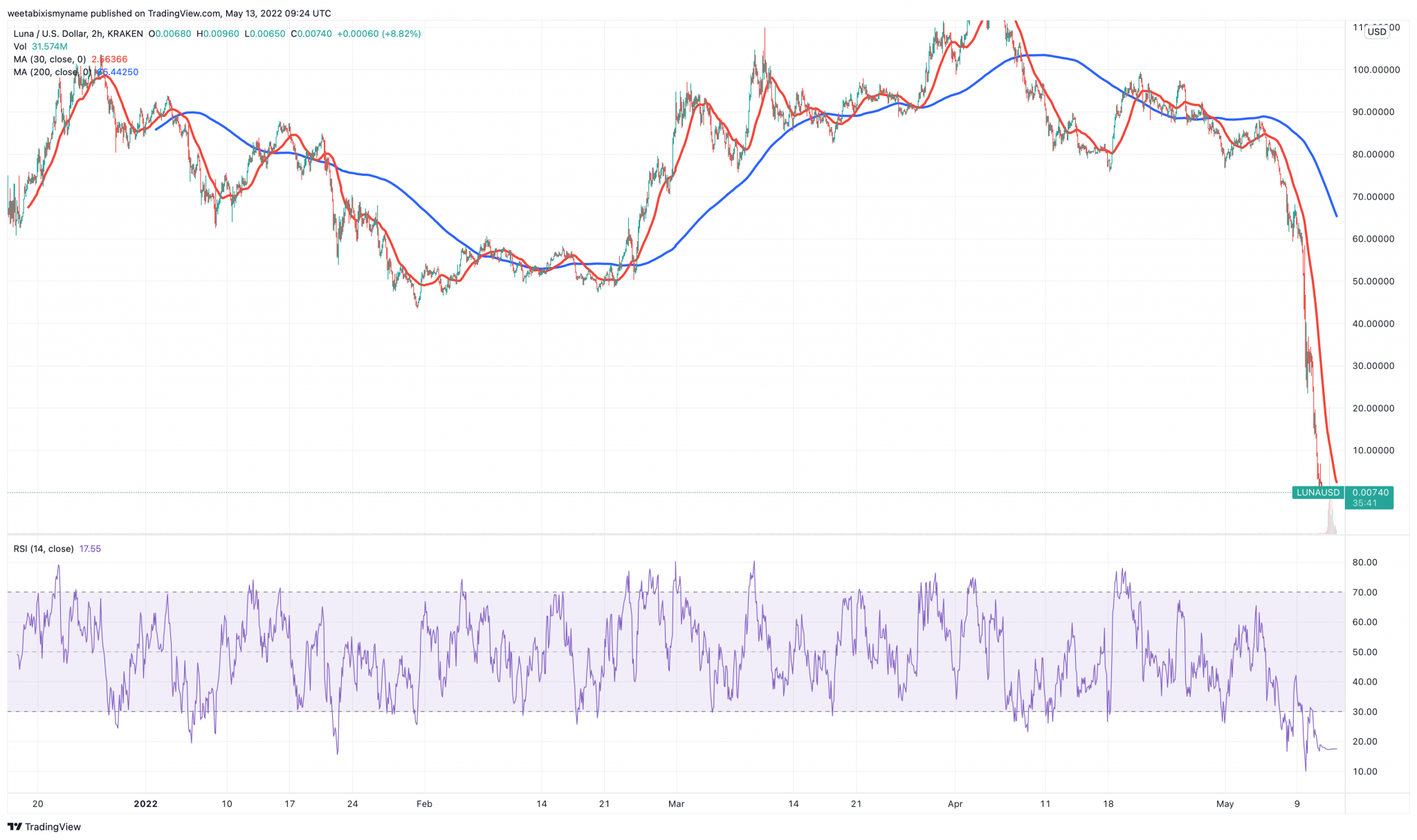 It currently stands at $0.00001005. In other words, it's extremely cheap right now, so maybe someone with $100 to spare can purchase close to ten million LUNA and cross their fingers.
LUNA has lost basically all of its value because of the run TerraUSD (UST) experienced over the past week. Due to large withdrawals from the Anchor protocol, market confidence in the liquidity for UST was shaken. Holders began withdrawing and selling their UST en masse, causing its price to plunge. In response, Terralabs and the Luna Foundation Guard sold LUNA (in addition to BTC and AVAX) in an attempt to boost UST's price.
Their efforts didn't work. Now, UST is worth 10 cents and LUNA is all-but worthless. On top of this, Terralabs has halted the Terra blockchain while it mulls its recovery options.
The Terra blockchain has officially halted at block 7607789.

Terra Validators have halted the network to come up with a plan to reconstitute it.

More updates to come.

— Terra (UST) 🌍 Powered by LUNA 🌕 (@terra_money) May 13, 2022
Assuming that Terra succeeds in formulating a viable plan, LUNA could conceivably recover, making it worth a small bet. However, now that market faith in UST has been fundamentally shaken, this author would like to warn traders that anyone buying LUNA at this point in time is taking a substantial risk.
5. Fantom (FTM)
FTM is up by a humongous 55% in the past 24 hours. However, at $0.402096, it's down by 45% in the past week and by 65% in the last 30 days.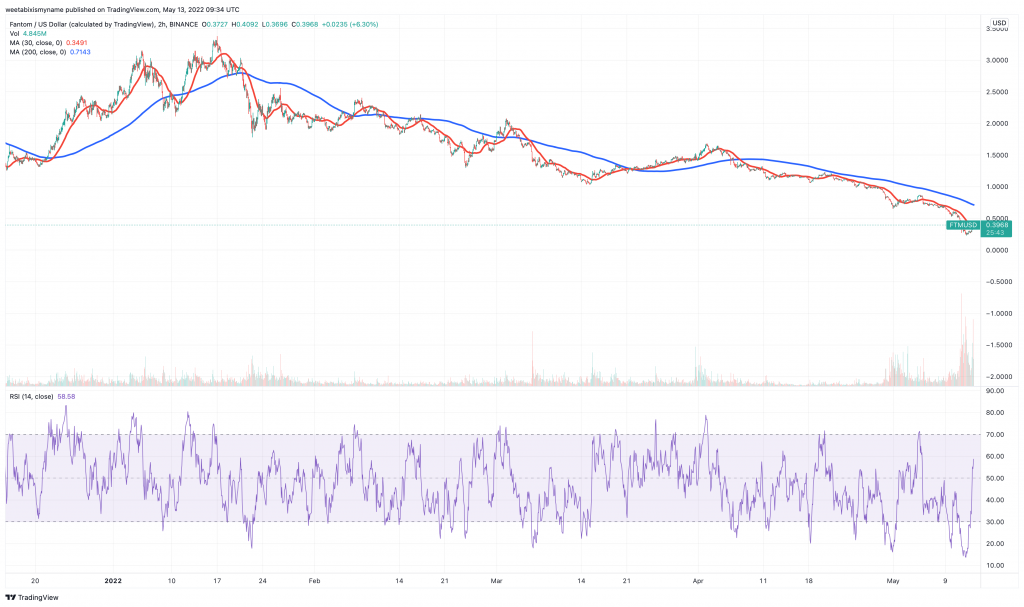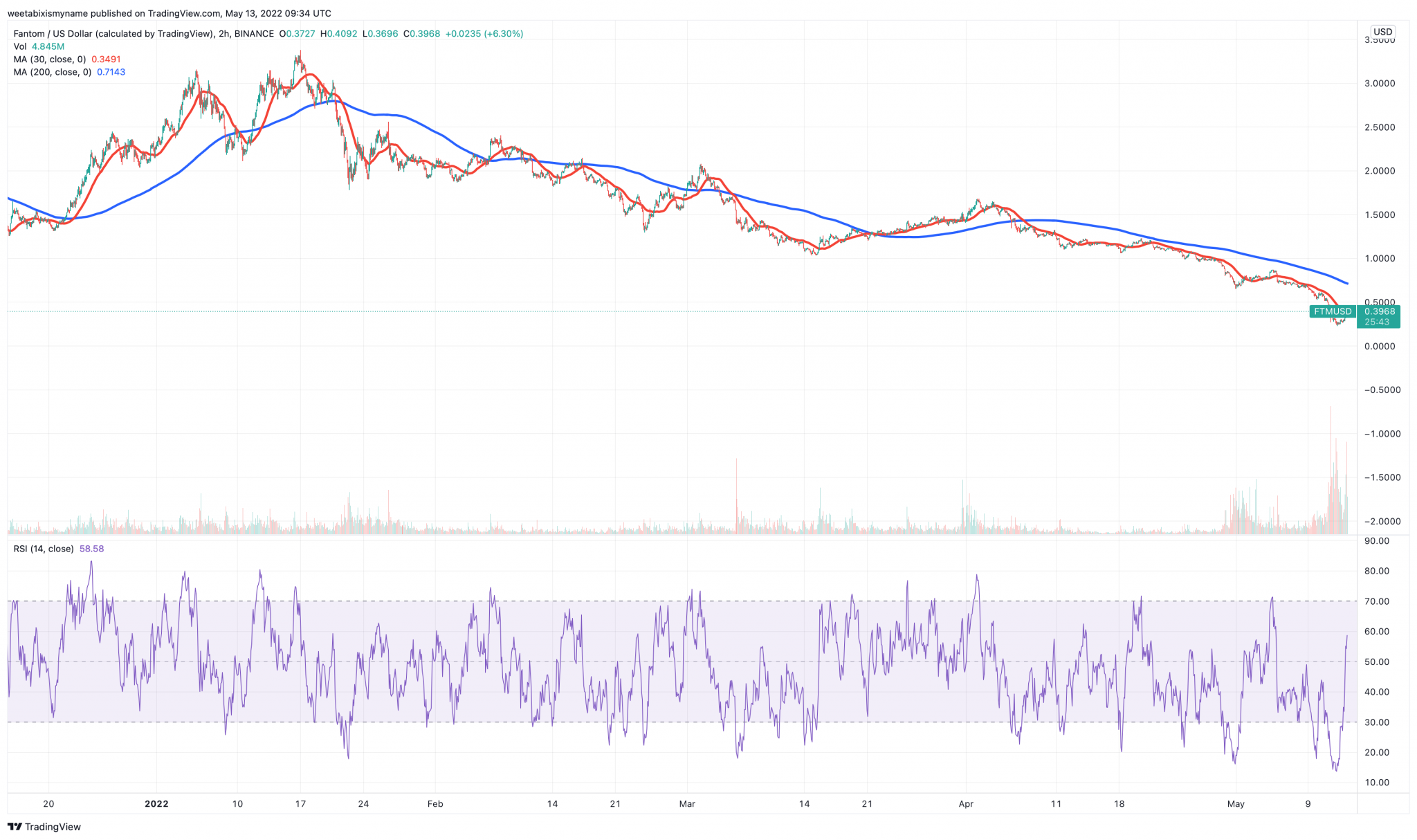 FTM's indicators highlight the resurgence it's experiencing right now. Its relative strength index (in purple) has jumped from under 20 to 60 in the past day or so. Its 30-day moving average (in red) has also begun climbing towards its 200-day average (in blue), indicating a move to a new level.
A layer-one blockchain, Fantom currently accounts for just over $2 billion in total value locked in, making it the seventh-biggest DeFi platform in the cryptocurrency ecosystem. Its native token, FTM, appears to be rising strongly now mostly because the market has oversold it in the past few weeks and months, way beyond its value.
That is, it's making up for lost ground, having fallen by 88% since reaching a record high of $3.46 in October. And now that it has such strong momentum behind it, it could continue beating the market for a while yet. This is why it's one of our 5 best cryptocurrency to buy on the dip.
Capital at risk
Read more: