The collapse in the price of terraUSD (UST) and luna (LUNA) has helped push the cryptocurrency market down further. Its total cap stands at $1.45 trillion, representing a fall of 5% in the past 24 hours and of 19% in the past week. Meanwhile, UST has plunged by 53% in the past 24 hours and LUNA by 83%. Other major coins haven't been so unfortunate, yet most of the market is down. That said, with UST creating a crisis on top of poor macroeconomic conditions, the ending of this crisis — whether by UST recovering or disappearing into the night — could result in a recovery. Accordingly, we've put together a list of the likeliest 5 next cryptocurrency to explode.
5 Next Cryptocurrency to Explode
1. Ethereum (ETH)
At $2,355, ETH is down by 2% in the past 24 hours. It's also down by 15% in the past week and by 27% in the last 30 days.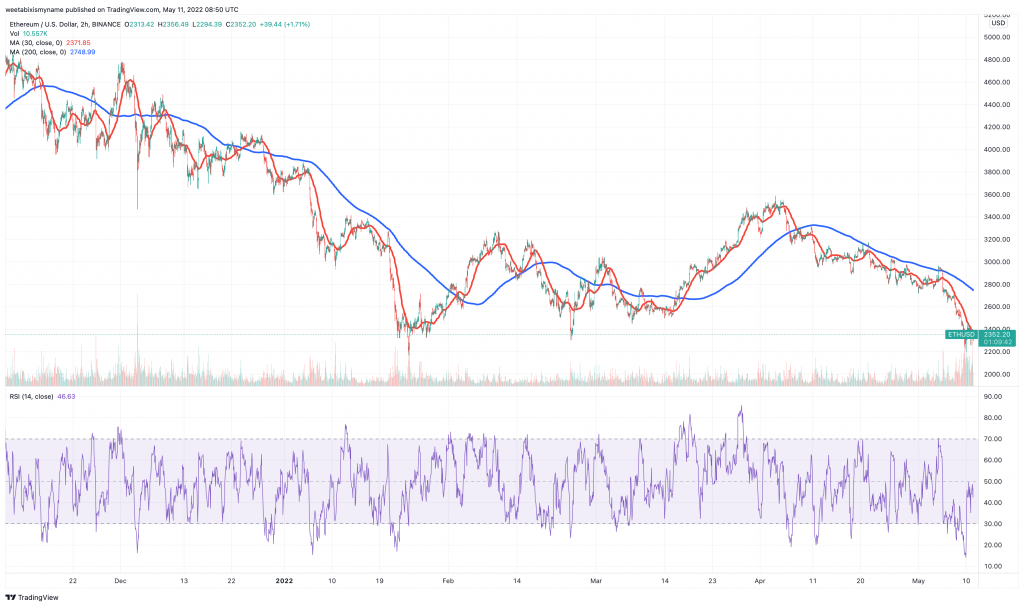 ETH indicators suggest that a rebound is due at some point. Its relative strength index (in purple) dived under 20 yesterday, signalling that traders are overselling it. Its 30-day moving average (in red) has also sunk well below its 200-day average (in blue), with previous similar dives prefiguring (at least fleeting) recoveries.
Looking at the long-term picture, ETH has definitely one of the best chances of 'exploding' in the market. This is largely because planning a shift to a proof-of-stake consensus mechanism. This is due to occur at some point in late summer or early autumn, if the words of developer Tim Beiko are accurate.
It won't be June, but likely in the few months after. No firm date yet, but we're definitely in the final chapter of PoW on Ethereum

— Tim Beiko | timbeiko.eth 🔥🧱 (@TimBeiko) April 12, 2022
Developers have made significant progress towards this shift in recent weeks. At the end of last month, they successfully shadow forked the Ethereum mainnet this past week. This means they tested how the merge will play out once it actually happens.
Getting ready to shadow-fork the Ethereum mainnet @EFDevconnect.#TestingTheMerge pic.twitter.com/o4Ic9jAMO7

— Ben Edgington (@benjaminion_xyz) April 23, 2022
Once Ethereum completes its merge, expect demand for ETH to shoot up. Ethereum is already the biggest blockchain in terms of total value locked in and applications, but expect its dominance to increase following the shift. This is why we think ETH is one of the 5 next cryptocurrency to explode.
2. Bitcoin (BTC)
BTC is down by 1.5% in the past 24 hours, at $31,147. It's also down by 17% in the past week and by 26% in the past month.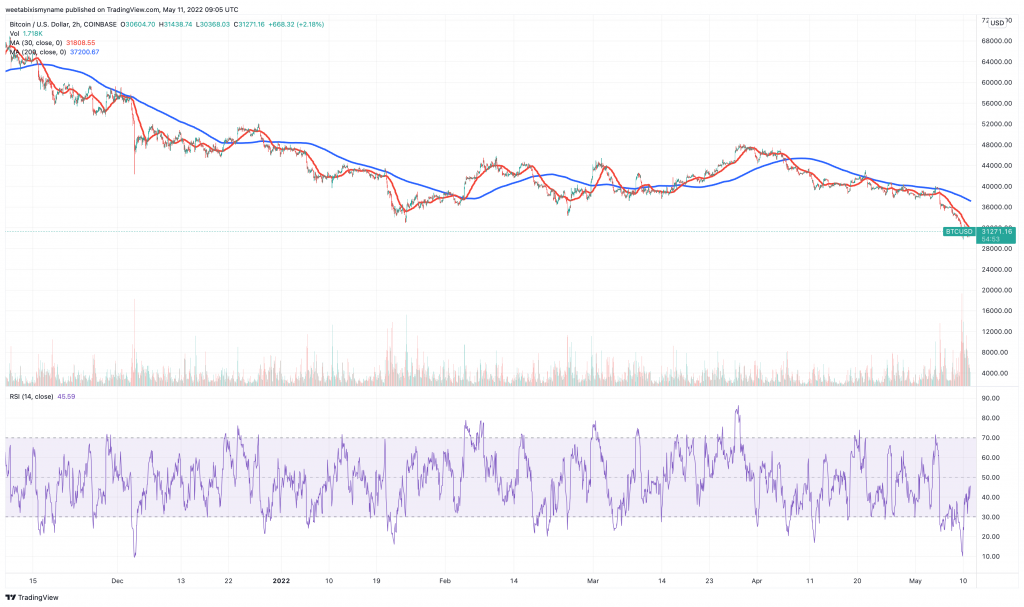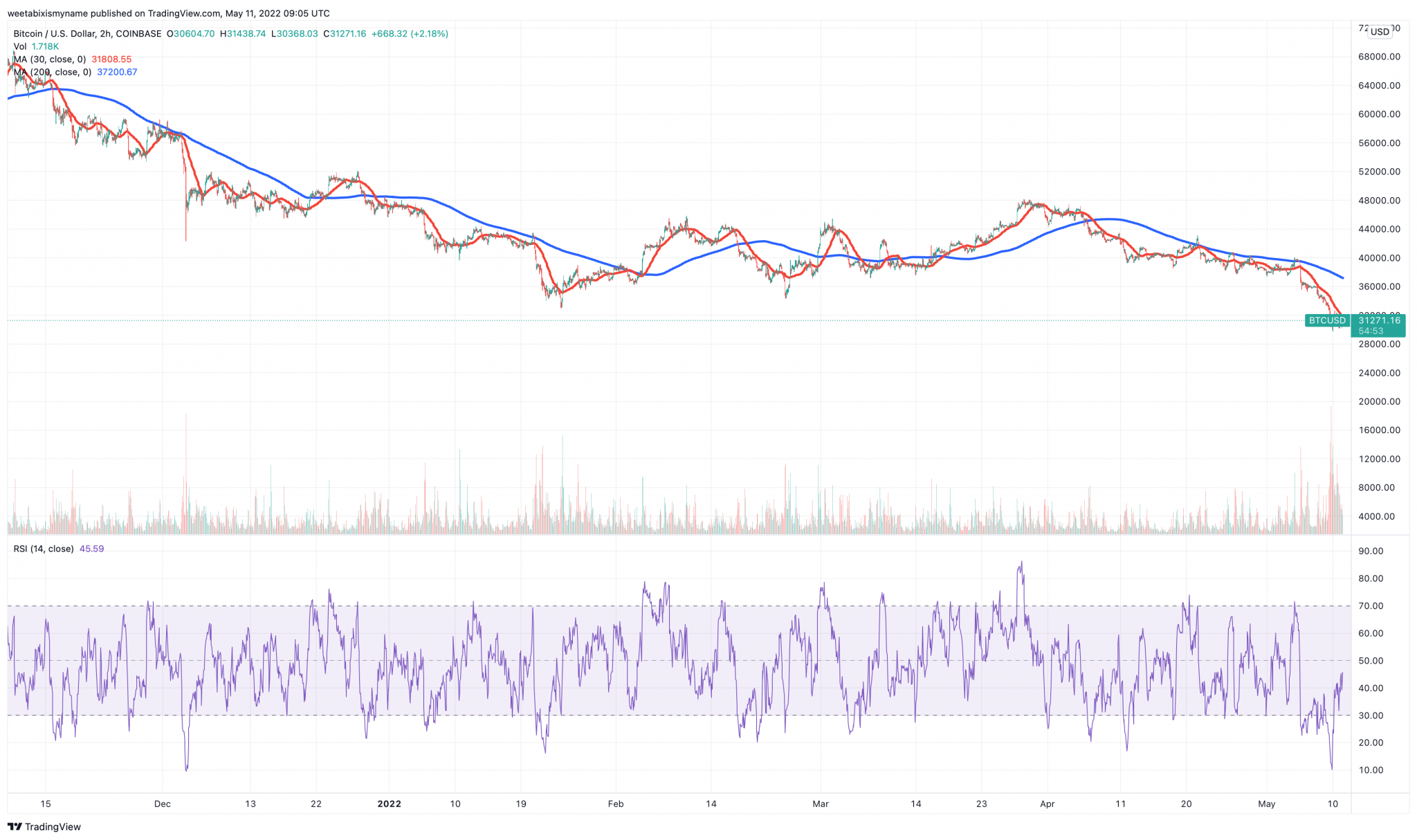 As with ETH, BTC's indicators have dived precipitously as a result of the UST-LUNA debacle. Once the dust on this crisis settles, technical analysis would suggest that BTC is due a rebound of sorts.
During difficult market conditions, BTC remains the best bet for cryptocurrency investors and traders. This is because the market won't be recovering without BTC recovering first.
On top of this, BTC continues to witness incremental uptake and adoption. We saw Goldman Sachs provide its first ever bitcoin-backed loan at the end of April. We also saw that great bastion of democracy and freedom, the Central African Republic, become the second nation in the world to make BTC legal tender.
On top of this, BTC is seeing relatively high usage in Turkey and other countries with weak national currencies. This suggests that, despite the popular conception, the original cryptocurrency has some actual use.
3. Avalanche (AVAX)
AVAX is down by a hefty 21% in the past 24 hours, at $37.48. It's also down by 37% in a week and by 54% in a month.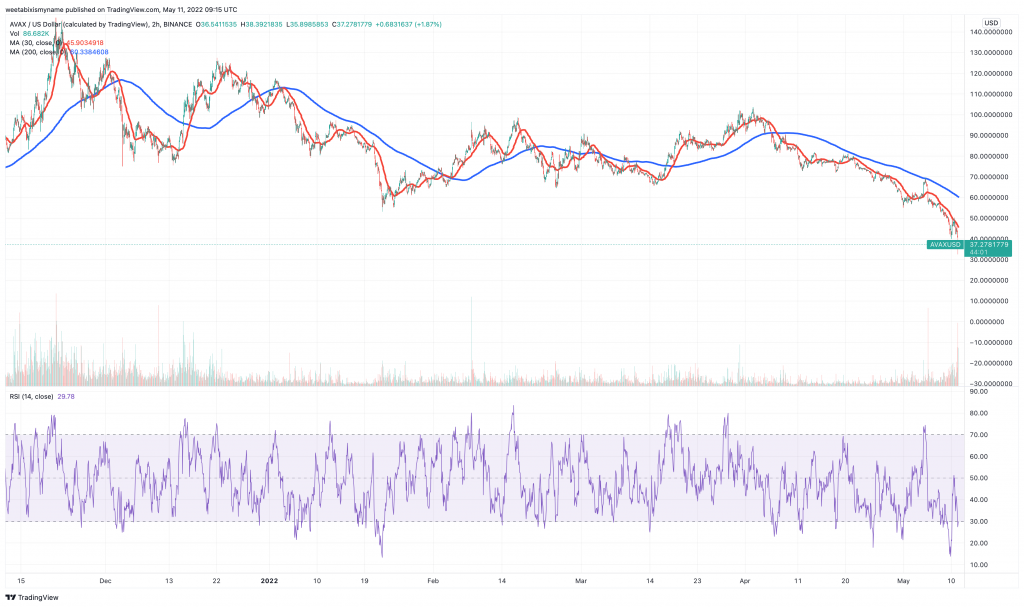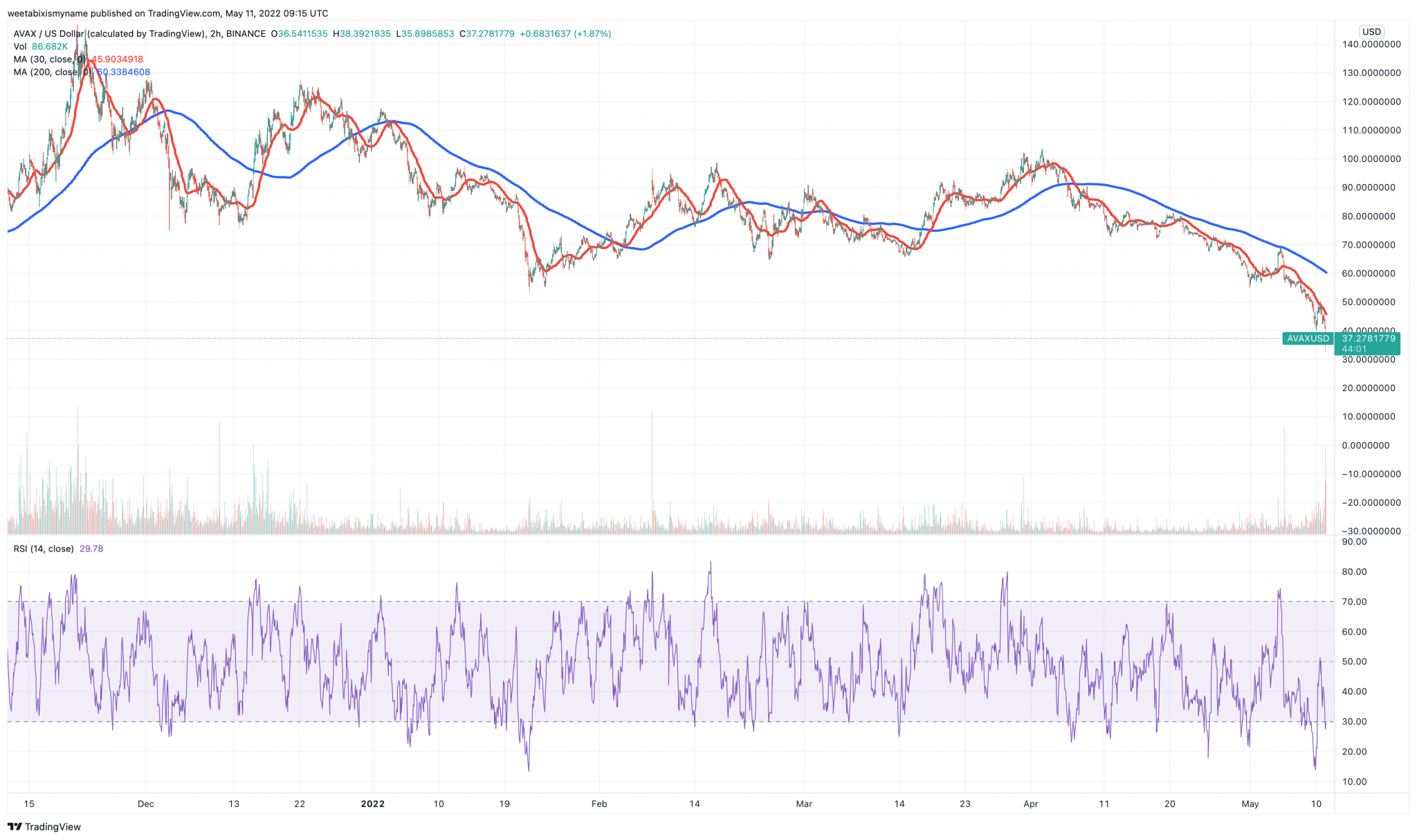 The Terra-Luna crisis has hit AVAX particularly hard. That's because, like BTC, the Luna Foundation Guard had added $100 million in AVAX to its reserves in order to shore up the price of UST. So when the latter began losing its 1:1 peg with the Almighty Dollar, the LFG began selling AVAX.

In other words, AVAX's above-average dip is more about an entity dumping large quantities of it for incidental reasons, than about weaknesses inherent to AVAX or its native platform, Avalanche. Indeed, Avalanche remains in good health as far as Ethereum rivals go, with the platform now accounting for $6.9 billion in total value locked in.
It's also worth pointing out that Ava Labs, the organisation behind Avalanche, raised $230 million in venture capital in 2021. It's also reportedly in the process of raising $350 million at a valuation of over $5 billion. Such funding provides it with the resources to continue developing Avalanche well into the future. This is why AVAX is one of our 5 next cryptocurrency to explode.
4. The Sandbox (SAND)
SAND is down by 13% in the past day, falling to $1.59. It's also down by 25% in the last seven days and by 45% in the last 30.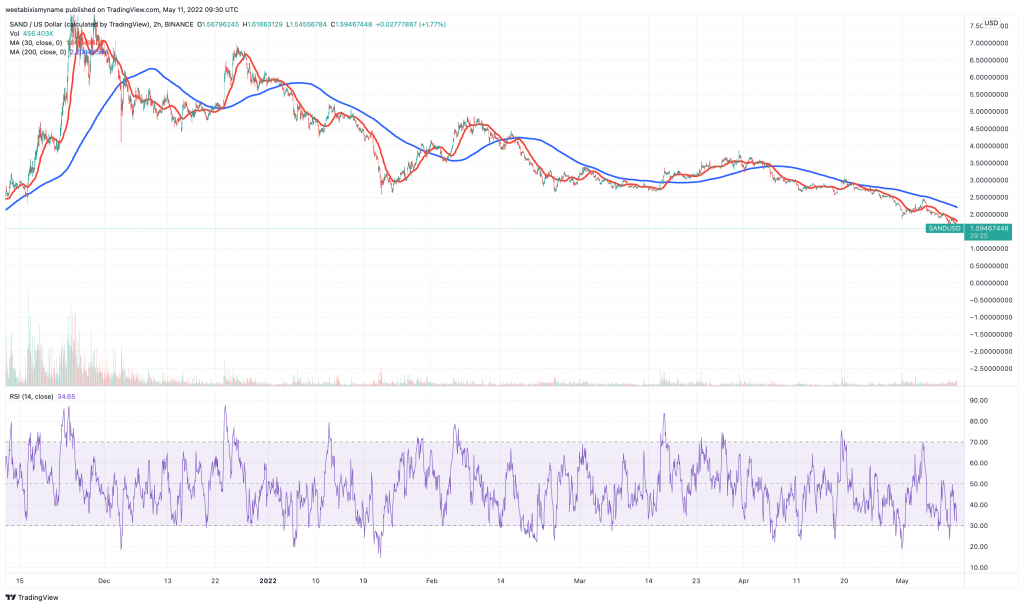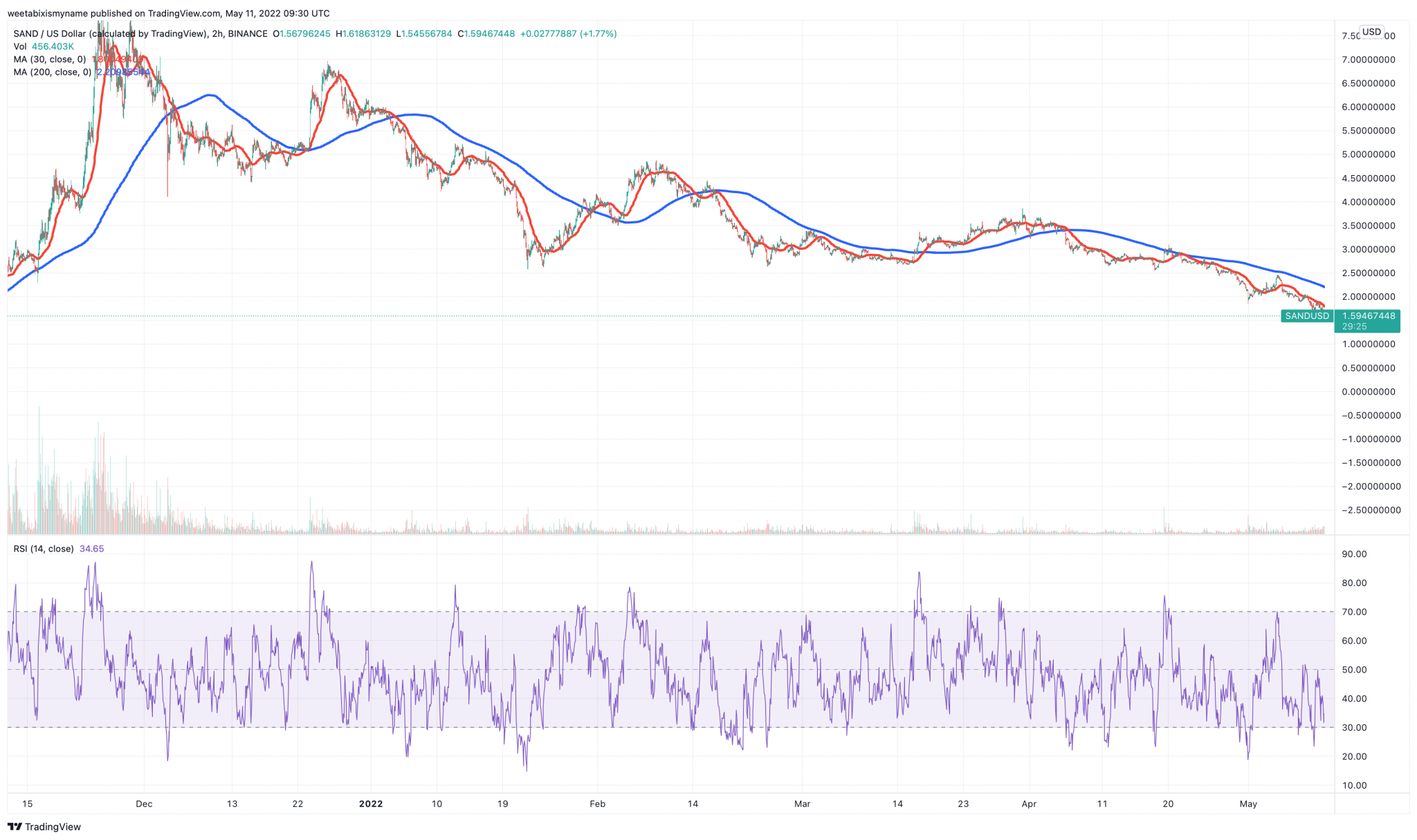 SAND's indicators are also very subdued. In normal circumstances, this would signal a recovery. Of course, with the ongoing Terra imbroglio and poor macroeconomic conditions, there may be a lag before SAND truly recovers again.
Still, SAND is arguably the most promising altcoin in the Web3/metaverse space. It racked up around $350 million in sales of virtual land in 2021, more than any other similar platform.
It also continues to announce new partnerships and launches. This includes a teaming up with female-oriented NFT collection World of Women, and not to mention Atari, Gucci, Snoop Dogg and banking giant HSBC.
World of Women x @TheSandboxGame

What better day than #InternationalWomensDay, to announce the launch of

🌷 WoW Foundation 🌷

kicking off with a 25 million dollar grant from The Sandbox to lead and support women into NFTs & the metaverse! 🤩👇https://t.co/cMjVKs7Be7 pic.twitter.com/NDYEAhvLzS

— World of Women (@worldofwomennft) March 8, 2022
5. Polygon (MATIC)
MATIC is down by 7% in the past 24 hours, but up by 3% in the past hour. At $0.867570, it's also down by 19% in the past week and by 39% in the last 30 days.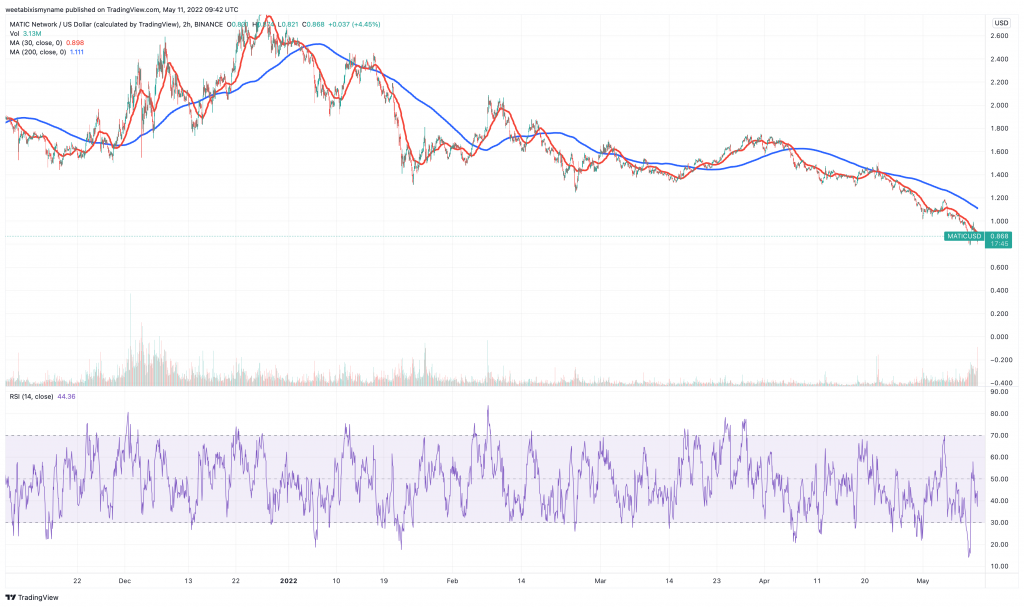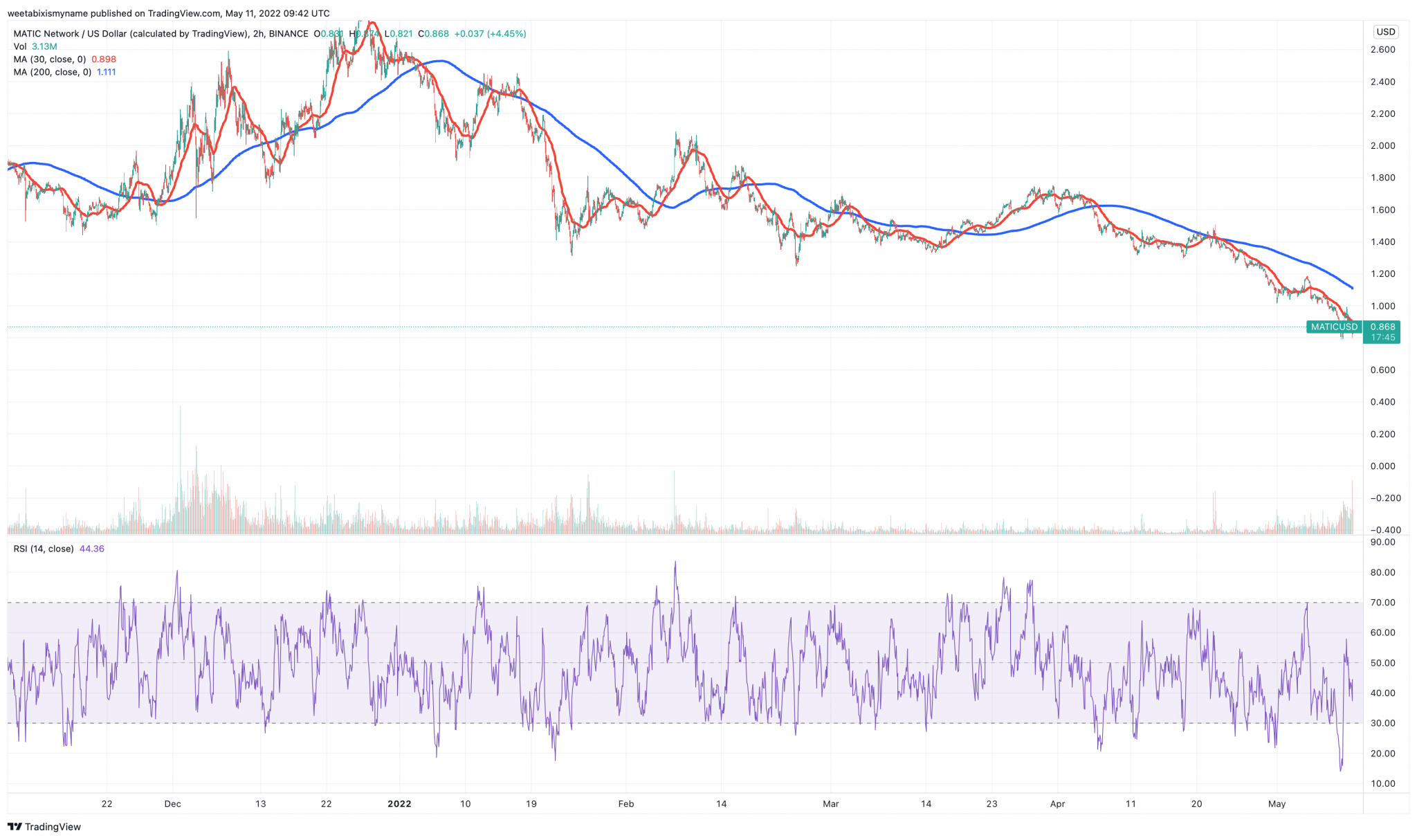 MATIC's indicators are aligned with those of basically every other major coin right now. It's due a recovery, yet looking further into the future, it's also due to rally strongly in the coming months.
This is largely because Polygon the biggest layer-two scaling solution for Ethereum in the sector. It has $3.55 billion in total value locked in, which is more than many layer-one blockchains. This could rise soon, with Facebook's parent company Meta announcing that it's launching digital collectibles via Polygon's platform.
Looking to flaunt your NFT collection on @Instagram? @Meta launches digital collectibles #poweredbyPolygon!

Select creators and collectors can now showcase their NFTs to a wider audience.

Know more: https://t.co/Kzgm1EYoOd pic.twitter.com/EU9FjtoJgA

— Polygon – MATIC 💚 (@0xPolygon) May 9, 2022
Aside from this big news, Polygon is also likely to see growing use even when Ethereum shifts to proof-of-stake. This is because the 'Merge' won't initially make Ethereum much more scalable. Meanwhile, increased demand for Ethereum will increase demand for capacity on Polygon.
Not only that, but Polygon has increasingly been pivoting to Web3 in recent weeks, something which should also increase its adoption. This is why it's one of our 5 next cryptocurrency to explode.
The world is coming to #Web3: @Citi has released a compelling report on #Ethereum, highlighting @SandeepNailwal's belief in mass adoption of Web3 and how #Polygon is making blockchain more accessible for everyone.

Some of the key factors in the report are 👇🧵 [1/6]

— Polygon – MATIC 💚 (@0xPolygon) April 28, 2022
Capital at risk
Read more: