The cryptocurrency market has experienced a big selloff in the past few days. From nearly $2 trillion two weeks ago, its total cap has dropped to $1.54 trillion, a fall of around 23%. Such a dive is in line with the declines the stock market is also suffering at the moment, with the NASDAQ down by 15% in the past month. Of course, selloffs present traders with discounts, and it's in this respect that we've put together a list of the 5 best low price cryptocurrency to buy right now.
5 Best Low Price Cryptocurrency to Buy
1. Lucky Block (LBLOCK)
LBLOCK is up by 11% in the past 24 hours, reaching $0.00130928. It is, however, down by 25% in the past week and by 53% in the past month. That said, it's up by 200% since launching in late January.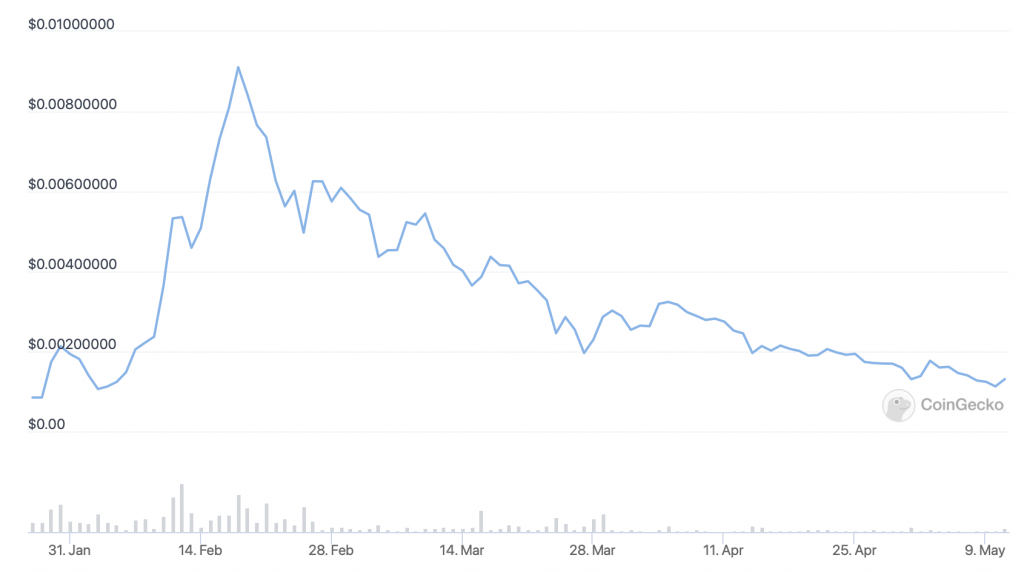 Despite the rest of the market tanking, LBLOCK has risen in the past 24 hours because of some positive news. Namely, it has revealed that its first draw will take place around mid-May and will feature a prize pool of $2.3 million. All LBLOCK holders will receive an equal share of 10% of this fund, while entrants will have the chance to win 70%.
Based on Binance Smart Chain, the Lucky Block crypto games platform will also be holding a $1m NFT draw. Interested parties can enter by purchasing one of 10,000 limited edition Lucky Block NFTs. Once all of these have been sold, a Lamborghini will be made available to win as part of the upcoming NFT draw.
LBLOCK now counts around 53,000 holders. This is likely to rise once the first Lucky Block draw takes place, making LBLOCK one of our 5 best low price cryptocurrency to buy.
2. Polygon (MATIC)
MATIC is one of the few top-100 coins showing some signs of movement today. It's up by a modest 1.5% in the past 24 hours, at $0.946666. This represents a 12% fall in the past week and a 35% drop in the last 30 days.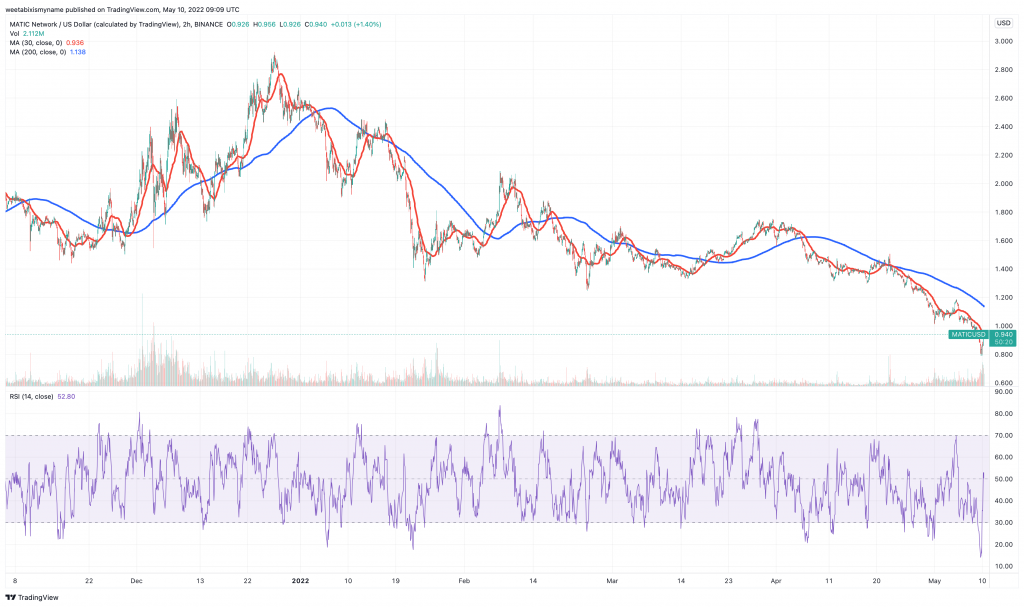 MATIC's indicators are aligned with the rest of the market. Its relative strength index (in purple) sunk below 20 yesterday, indicating a major selloff. Assuming the wider macroeconomic context doesn't worsen, this would imply that a rebound is due at some point.
Polygon is the biggest layer-two scaling solution for Ethereum in the sector. It has $3.7 billion in total value locked in, which is more than many layer-one blockchains. This arguably going to rise soon, with Facebook's parent company Meta announcing that it's launching digital collectibles via Polygon's platform.
Looking to flaunt your NFT collection on @Instagram? @Meta launches digital collectibles #poweredbyPolygon!

Select creators and collectors can now showcase their NFTs to a wider audience.

Know more: https://t.co/Kzgm1EYoOd pic.twitter.com/EU9FjtoJgA

— Polygon – MATIC 💚 (@0xPolygon) May 9, 2022
This is big news for Polygon, which is likely to have a good year, despite the present market-wide circumstances. The platform is also likely to see growing use even when Ethereum shifts to proof-of-stake. This is because the 'Merge' won't initially do much to make Ethereum much more scalable, while increased demand for Ethereum will by extension increase demand for capacity on Polygon. On top of this, Polygon has increasingly been pivoting to Web3 in recent weeks, something which should also increase its adoption. This is why it's one of our 5 best cheap cryptocurrency to buy right now.
The world is coming to #Web3: @Citi has released a compelling report on #Ethereum, highlighting @SandeepNailwal's belief in mass adoption of Web3 and how #Polygon is making blockchain more accessible for everyone.

Some of the key factors in the report are 👇🧵 [1/6]

— Polygon – MATIC 💚 (@0xPolygon) April 28, 2022
3. Ripple (XRP)
XRP is down by 4.4% in the past 24 hours. At $0.524952, it's also down by 15% in the past week and by 31% in the past month.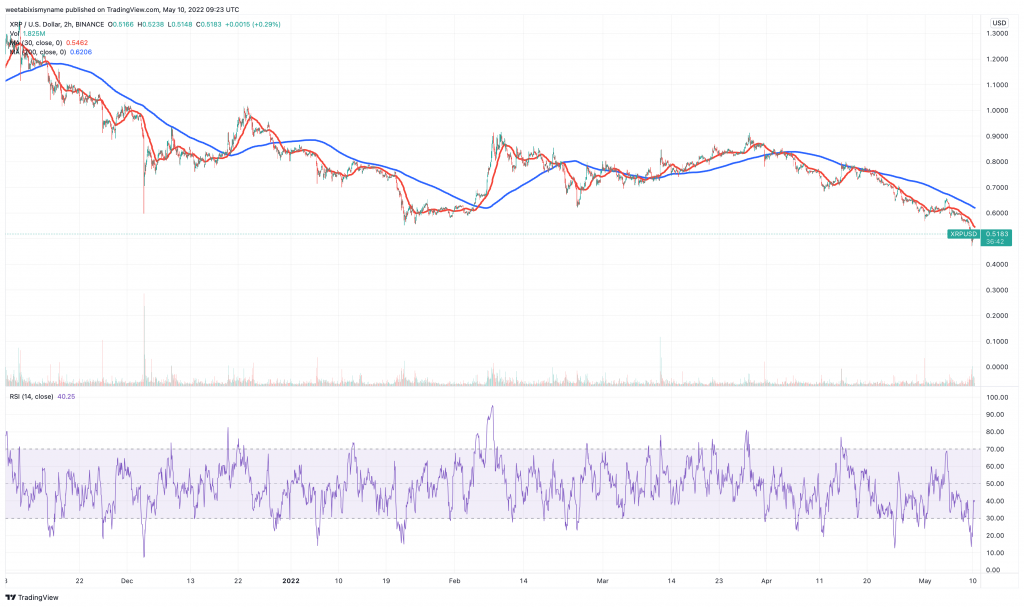 XRP's indicators are much like those of every other major coin right now. That said, it's ongoing decline — as a result largely of macroeconomic conditions — is making it very cheap relative to its long-term potential.
Specifically, XRP is undervalued because of Ripple's ongoing legal battle with the SEC. However, the past few months have witnessed a number of positive developments for Ripple. As such, there's a very good chance that Ripple will secure a positive outcome, and that XRP will rally strongly as a result.
A good source of info on the Ripple case is the Twitter account of attorney Jeremy Hogan, who provides regular updates on the latest developments. Despite the fact that the case will not probably end until early 2023 now, Hogan's recent tweets show that much is going against the SEC.

Well, now we know for sure that the "Clarification" part of Judge Netburn's ruling will NOT protect whatever the SEC is so concerned about.

The SEC is 100% in the "Hurt Locker" now and the only relief is to delay, delay, delay.

Which it sure is trying, with absolutely no shame. https://t.co/9sHVClsrwJ

— Jeremy Hogan (@attorneyjeremy1) April 15, 2022
Of course, another six or seven months is a relatively long time to wait. However, with the current downturn making XRP even cheaper, it remains one of the 5 best low price cryptocurrency to buy.
4. Cardano (ADA)
At $0.672633, ADA is down by 3% in the past 24 hours and by 14% in the past week. It's also down by 35% in the last 30 days.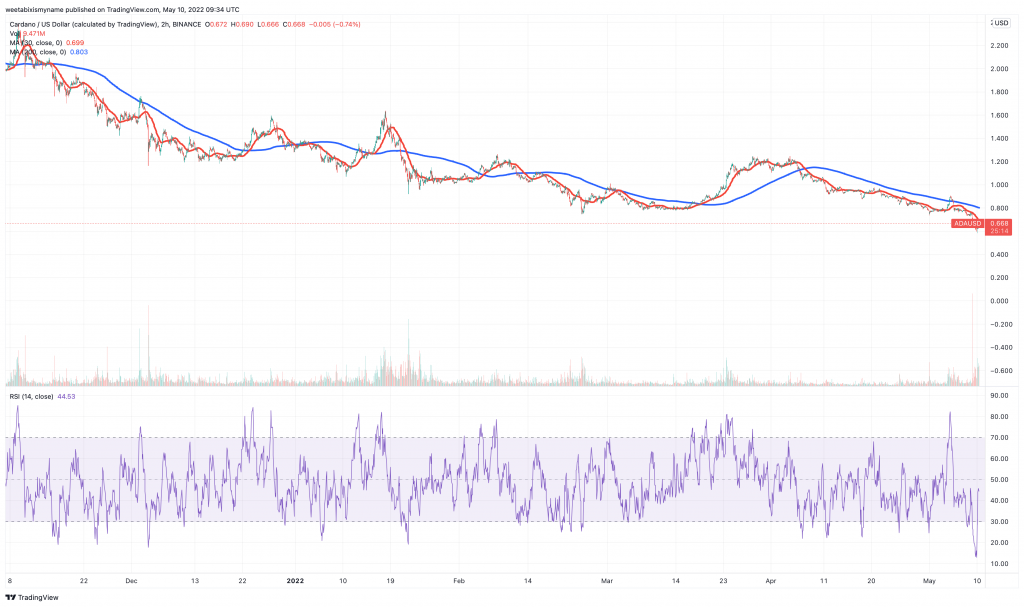 ADA is another altcoin to suffer as a result of the current downturn. However, its fundamentals remain solid, given that Cardano is one of the most promising layer-one blockchains around. This is largely because it has one of most rapidly developing ecosystems in crypto, with around 925 platforms and applications now building on its platform. Once most of these are live, you would expect demand for ADA to increase proportionately. Its total value locked in has already risen by over 10,000% since the beginning of the year, indicating just how quickly things could change.
🌿The flourishing Cardano #DApp ecosystem continues to grow. Let's have a look at yet another recap of #BuildinOnCardano and review what's happened in #Cardano ecosystem over the last week.

Ready? pic.twitter.com/q6TwSuD5eZ

— Input Output (@InputOutputHK) May 2, 2022
Also, Cardano's total transactions increased by three million in April, while data from Santiment also shows that whales have apparently been accumulating ADA during its current downturn. This increases the chances of a significant rally in the coming days.
🐳📈 #Cardano whale addresses holding 1M to 10M $ADA are accumulating their bags these past 5 weeks (196M more $ADA) after a 7-month stretch of dumping (-1.7M less $ADA). The 9th largest market cap asset recently hit prices last this low in February, 2021. https://t.co/co8BcqHJAF pic.twitter.com/OXpbu3KSXp

— Santiment (@santimentfeed) May 3, 2022
5. Dogecoin (DOGE)
DOGE is down by 6% in the past 24 hours, dropping to $0.113817. This represents a 13% fall in the past week and a 21% drop in the last 30 days.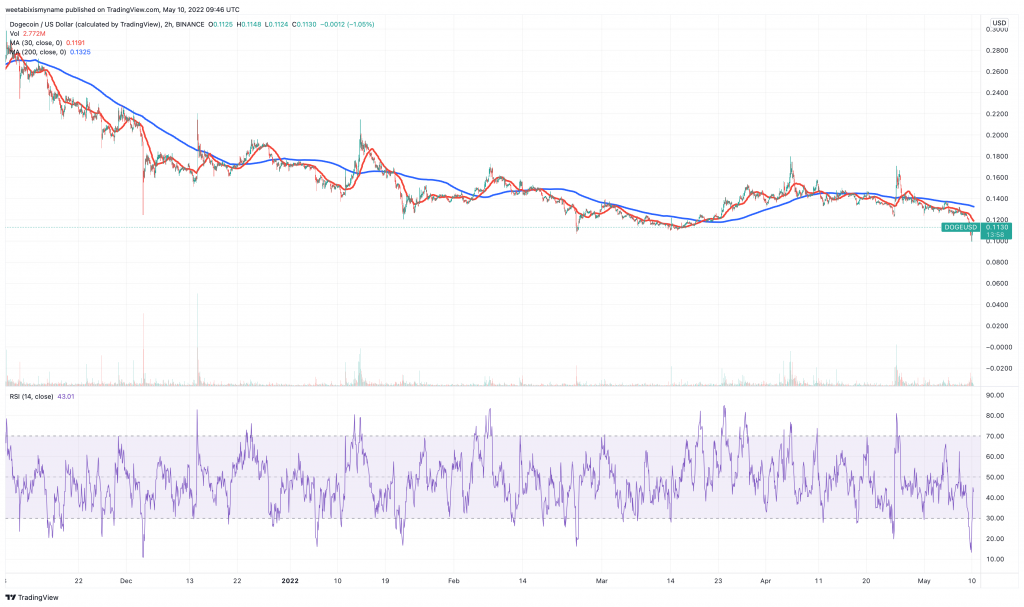 DOGE may be down in the dumps right now, but with Elon Musk buying Twitter for in a deal worth $44 billion, there's always a chance it could rally big in the near future. That's because the Tesla CEO has hinted on several occasions that he may introduce the ability to send payments via the altcoin on Twitter.
Maybe even an option to pay in Doge?

— Elon Musk (@elonmusk) April 10, 2022
Assuming this happens, the result will be a big DOGE rally. And given that Tesla has previously introduced DOGE-based payments for merchandise, it remains a possibility, despite Musk's reputation for playing games.
Also, seeing as how DOGE has fallen by 82% since reaching an ATH of $0.731578 a year ago, it really could rise high if it's used by Twitter.
Capital at risk
Read more: