Bitcoin price loses 17% as Ukraine war/Fed weigh on growth prospects. Tron is a rare winner on
$39m DAO purchase. Stablecoin pegs hurt.
BTC
Bitcoin slumped to its lowest price since July 2021 as markets continue to drop on the Ukraine war. The price of BTC was trading around the $32,000 level on Monday and there is a risk of further capitulation around the key $30k support levels.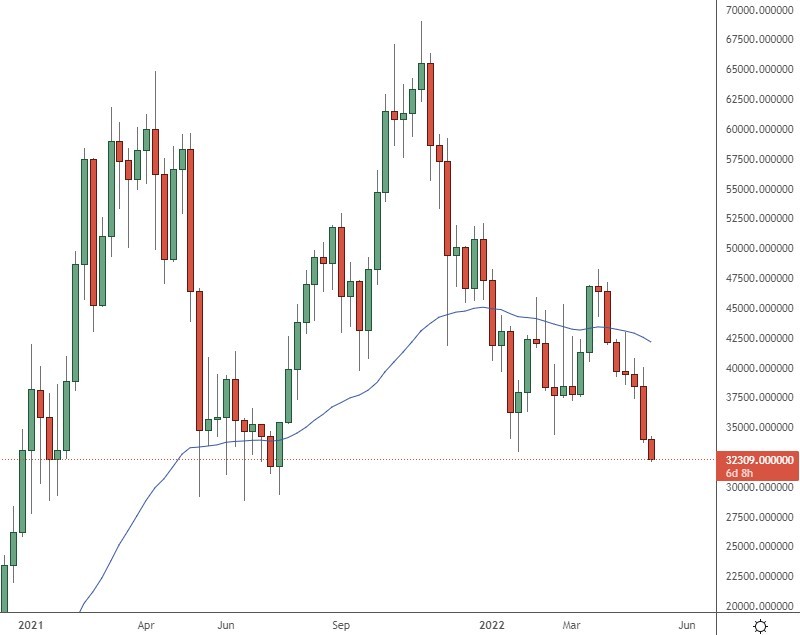 Only a few coins were in the green for the week as the reality of tighter monetary policy hits investment appetite. The Federal Reserve, Bank of England, and Australian Reserve Bank all raised interest rates in the last week alone as investors head for the exits on growth stocks.
For Bitcoin, that meant surrendering the $40k level which has propped up the crypto market over the last few weeks. 
Liquidations on crypto futures exceeded $411 million in the past 24 hours, according to the latest data from exchanges. Around $140 million of that was from Bitcoin futures, while $121 million came from Ethereum.
Bitcoin's weekend declines came as TerraUSD (UST) lost its peg to the dollar. The fall worsened on Sunday evening as Asian equity markets and US stock index futures opened with heavy losses. Fears continuing to grow amongst investors about the monetary response to surging inflation across the globe. Japan's Nikkei closed 2.5% lower, while European and US stocks also suffered. 
Bitcoin has long tracked the alternative asset classes and surged in 2021 with a weaker dollar. That trade is now going into reverse as investors seek safe-haven assets.
Kurt Grumelart, a trader at crypto fund Zerocap, said on Twitter.
Professional money managers aren't loading up on high-risk growth assets currently.
Bitcoin has support at $30k but if that fails to hold then there is room to drop to the $20k level if the risk outlook worsens.
TRX
Tron was a rare gainer this week with an 18% improvement. TRX was able to buck the bearish sentiment after news that the Tron DAO would be buying up $39m of the coin for its reserves.
A total of 504,600,250 TRX tokens were purchased at an average rate of $0.07727 to build the USDD stablecoin reserves. The team at Tron DAO, which is the world's largest decentralized autonomous organization, announced that the purchase of TRXs was made to bolster its USDD stablecoin reserves as directed by the founder Justin Sun to back the stablecoin with $10 billion worth of digital assets. 
An announcement on Twitter said: 
To safeguard the overall blockchain industry and crypto market, TRON DAO Reserve have bought 504,600,250 TRX at 0.07727 average price with 38,993,043 USD.
Project developers are starting to panic as liquidations from the crypto industry threaten their stablecoins.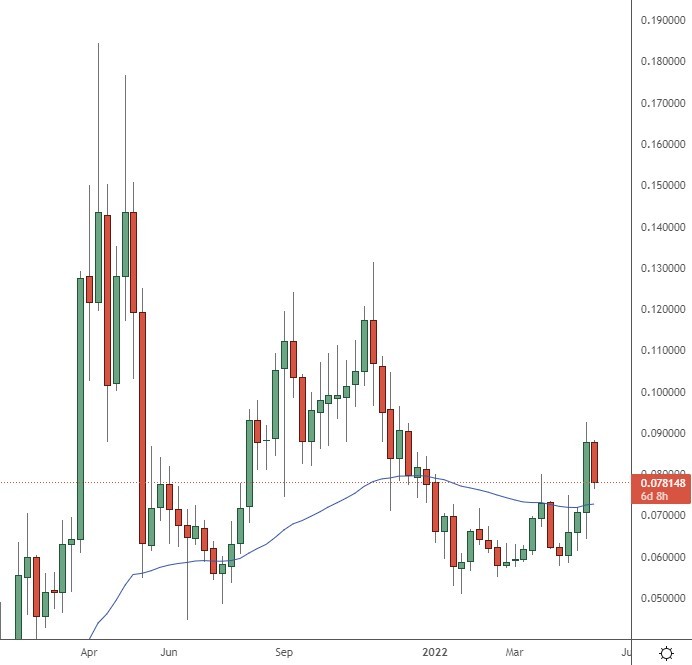 The price of TRX moved to $0.09 on the week, but the coin has lost some ground with Monday's selling.
LUNA
Recent problems for LUNA have intensified as the project's stablecoin loses its 1:1 peg to the US dollar.
In a bid to shore up the troubled coin, the Luna Foundation Guard (LFG), a non-profit supporting Terra (LUNA), has pledged to lend $1.5 billion in crypto to protect its native stablecoin. 
The organization's council voted to lend out $750 million in Bitcoin from its reserves and $750 million in TerraUSD (UST) in an attempt to keep UST pegged to $1. 
That is not supporting the market yet, with the stablecoin trading at recent lows around $0.985. The loan capital would be used to buy UST if the asset continues to fall below its peg. 
As the chart on recent price action shows, the stablecoin was trading comfortably above the $1.00 level but has since lost some of its stability.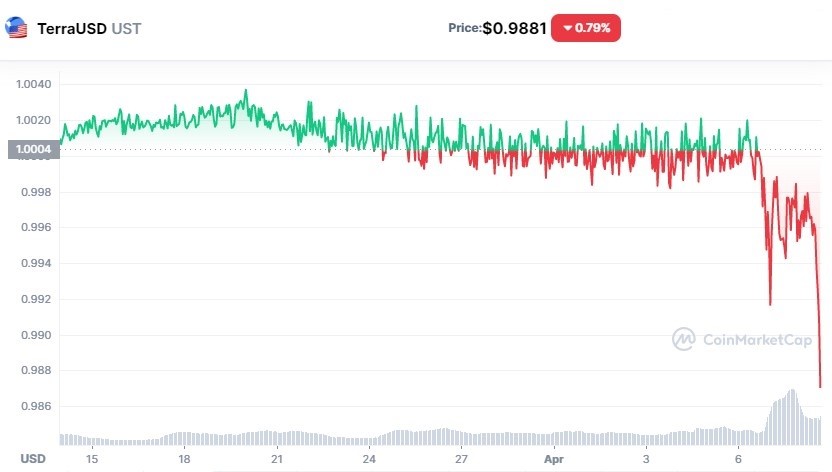 One whale investor was seen dumping $285 million of the UST coin and further selling will hurt the $1.5bn defense efforts.
The negative sentiment also hit the LUNA coin with a 17% loss bringing the current price to around $52.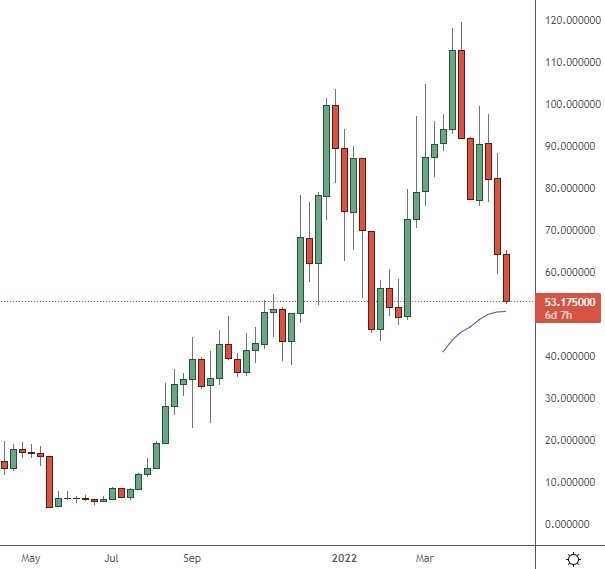 META
Meta CEO Mark Zuckerberg confirmed in a video on Monday that Instagram will begin testing non-fungible token (NFT) integrations this week.
The company has selected the Ethereum, Polygon, Solana, and Flow blockchains for the test. 
We're starting building for NFTs not just in our metaverse and Reality Labs work, but also across our family of apps. We're going to bring similar functionality to Facebook soon.
The company says it is also working on three-dimensional, augmented reality NFTs with its Spark AR software, which will initially be compatible with Instagram stories.
In a Twitter thread posted by a Meta representative, the company said the compatible third-party wallets will be MetaMask, Rainbow, and TrustWallet for starters. Instagram will initially support Ethereum-based NFTs, with integrations for Polygon, Solana and Flow to be added at a later date, according to the same post.
The Financial Times previously reported that Meta would follow up its NFT pilot on Instagram with minting and group membership options on Facebook.
Disclaimer: information contained herein is provided without considering your personal circumstances, therefore should not be construed as financial advice, investment recommendation or an offer of, or solicitation for, any transactions in cryptocurrencies.