The cryptocurrency market has stabilised a little after a difficult start to the week. At $1.84 trillion, its total cap has inched up by 0.4% in the past day, and is up by 3.4% since Sunday. However, it's also down by 9% in the past fortnight and by 18% in the past month. In other words, it could rebound sooner or later, even if negative macroeconomic conditions may pull it down again. In light of this, we've put together a list of 5 cheap cryptocurrency to buy for short-term profits.
5 Cheap Cryptocurrency to Buy for Short-Term Profits
1. Tron (TRX)
TRX is the day's best performer among top-100 coins. At $0.078166, it has risen by 10% in the past 24 hours, and by 2% in the past hour. It's also up by 26% in the past week and by 7% in the last 30 days.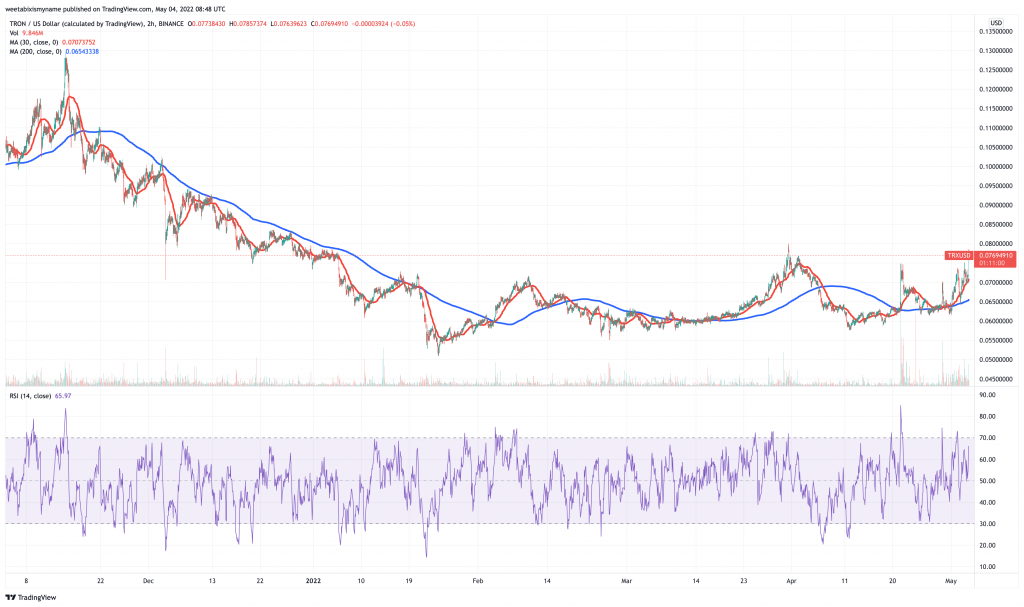 TRX's chart shows that it's on an upswing. Its relative strength index (in purple) is above 60, indicating good momentum compared to previous weeks. Its 30-day moving average (red) has risen clear of its 200-day average (blue), suggesting a breakout.
As a layer-one proof-of-stake blockchain, Tron has attracted the interest of traders largely as a result of strong growth metrics. Most notably, it celebrated creating 90 million accounts a couple of days, a milestone which sparked its current rally. It also boasts having completed 3.1 billion transactions, with its Twitter account declaring the "world's fastest-growing public chain."
🎉The total accounts on the #TRON network exceeded 90 million!

🚀Boasting over 90 million accounts and 3.1 billion transactions, #TRON is the world's fastest-growing public chain with continuous daily new accounts every day.

🥰Thanks for all the supports from #TRONICS pic.twitter.com/Ys3dijr4hX

— TRON DAO (@trondao) May 2, 2022
Given that the market is somewhat starved for bullish news as of late, these figures were apparently enough to incite a rally. And to be fair, Tron does have a total value locked in of $4.48 billion. This makes it the sixth-biggest public chain in the market, according to DefiLlama.
2. Gala (GALA)
GALA has risen to $0.142938 today, marking a 2% rise in the past 24 hours. It is, however, down by 12% in the past week and by 46% in the past month.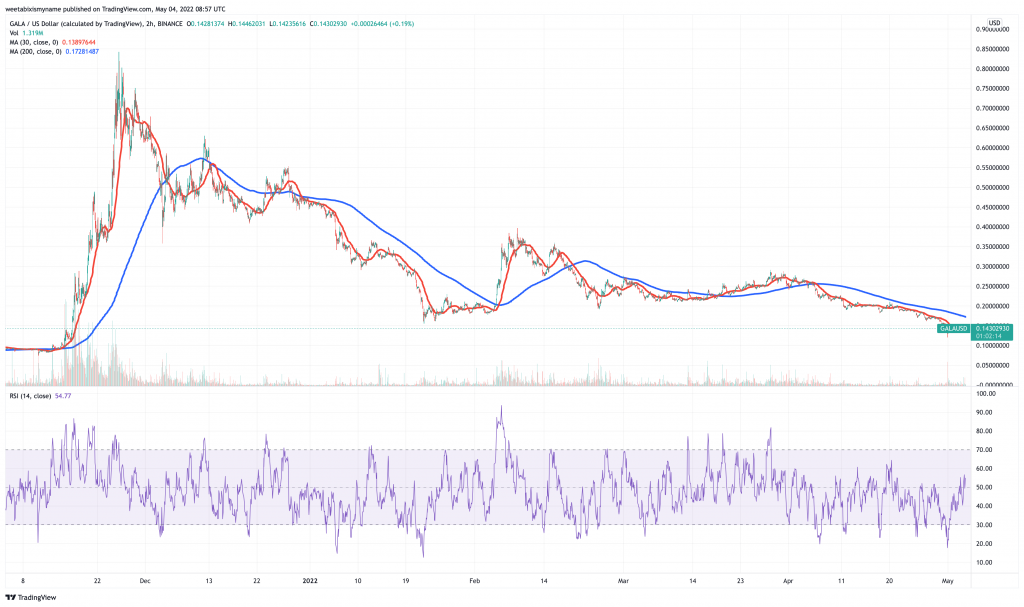 GALA's indicators have been subdued for a long, long time. So from a purely chartist perspective, it should rally anytime soon.
From a fundamental perspective, GALA is likely to rally big again sooner or later. It's the native token of Gala Games, a blockchain-based platform that enables developers to build their own games and integrate NFTs and other Web3 elements into them.
GALA reached an all-time high of $0.824837 in November, but has since fallen by 80%. However, the gradual release of new games via Gala is improving its prospects for a short- and long-term rally.
Fortified → Fortitude 🔥

A name change, a new look, and a chance to hear from the developers about the upcoming tower defense title!#GalaGames #Fortitude #BlockchainGameshttps://t.co/EfCdBpdFzX

— Gala Games (@GoGalaGames) May 2, 2022
While recent updates and launches increase the chances of a short-term GALA rally, there's plenty to look forward to down the line. Back in December, it launched a $100 million fund to support development on its platform. This February also saw the revelation that Gala had earmarked $5 billion in funding for the support of NFT development. This shows that it has serious long-term ambitions, yet its rises today are enough to see it included in our list of 5 cheap cryptocurrency to buy for short-term profits.
3. Dogecoin (DOGE)
DOGE is unmoved in the past 24 hours, at $0.131474. It's also down by 4.7% in the past week and by 10% in the past month.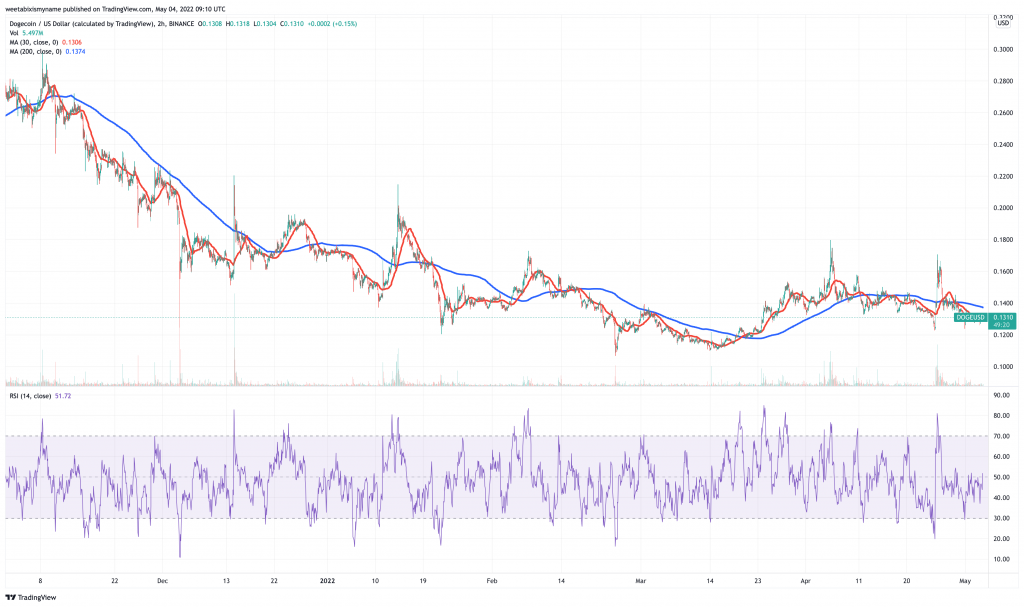 DOGE has mostly been down in the past week or so. This is promising for traders looking for a payout somewhere down the line, since recent developments suggest it may rally big at some point.
Namely, Elon Musk bought Twitter in a deal worth $44 billion. This is significant for DOGE because the Tesla CEO has hinted on several occasions that he may introduce the ability to send payments via the altcoin on Twitter.

Maybe even an option to pay in Doge?

— Elon Musk (@elonmusk) April 10, 2022
Assuming this happens, the result will be a big DOGE rally. And given that Tesla has previously introduced DOGE-based payments for merchandise, it's a real possibility, despite the fact that Musk's posts can't always be taken at face value.
Also, seeing as how DOGE has fallen by 82% since reaching an ATH of $0.731578 a year ago, it really could rise high if it's adopted by Twitter.
4. Cardano (ADA)
ADA is up by 1.7% in the past 24 hours and by 1% in the past hour. At $0.802149, it remains down by 3% in the past week and by 32% in the past month.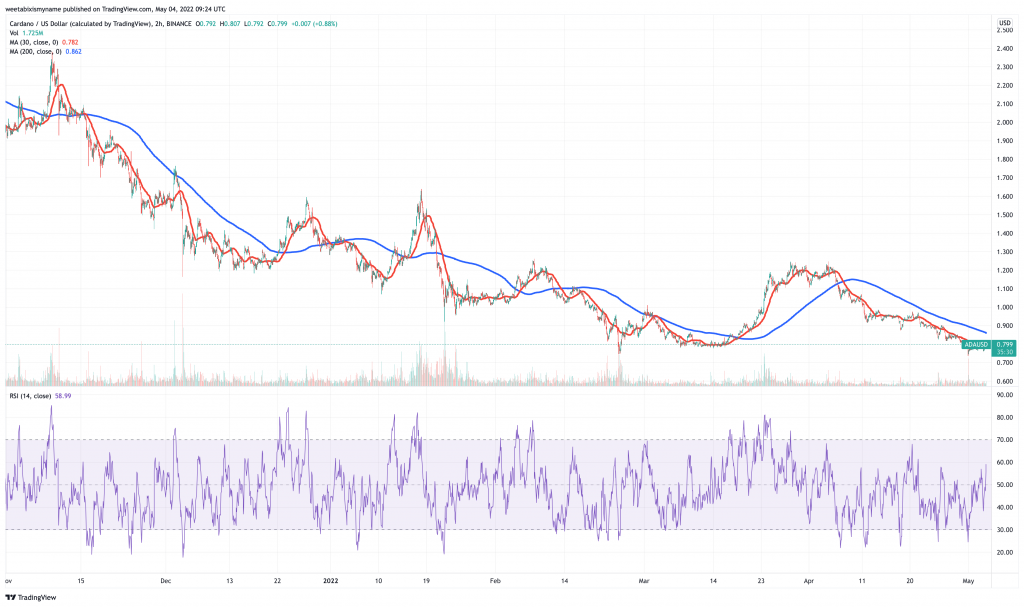 ADA's chart doesn't look great. However, it's worth pointing out that the altcoin has fallen to a price level that, back in March, preceded a 65% rally. Given that its indicators have all been down for several weeks, it could indeed be about to rally again.
Data from Santiment also shows that whales have apparently been accumulating ADA during its current downturn. This increases the chances of a significant rally in the coming days.
🐳📈 #Cardano whale addresses holding 1M to 10M $ADA are accumulating their bags these past 5 weeks (196M more $ADA) after a 7-month stretch of dumping (-1.7M less $ADA). The 9th largest market cap asset recently hit prices last this low in February, 2021. https://t.co/co8BcqHJAF pic.twitter.com/OXpbu3KSXp

— Santiment (@santimentfeed) May 3, 2022
More generally, ADA remains a good outside bet for a rally, given its fundamentals. Its total value locked in may be insignificant compared to Ethereum's, but it continues to grow its future potential. Its ecosystem of dapps now counts some 925 platforms and applications as building on Cardano. Once most of these are live, you would expect demand for ADA to increase proportionately.
🌿The flourishing Cardano #DApp ecosystem continues to grow. Let's have a look at yet another recap of #BuildinOnCardano and review what's happened in #Cardano ecosystem over the last week.

Ready? pic.twitter.com/q6TwSuD5eZ

— Input Output (@InputOutputHK) May 2, 2022
Also, Cardano's total transactions increased by three million in April. This is a rise of 8.5%, and underlines the network's growth. This is why ADA is included in our list of 5 cheap cryptocurrency to buy for short-term profits.
5. Astar (ASTR)
ASTR is up by an impressive 22% in the past 24 hours, at $0.174314. The altcoin is one of the newer cryptocurrencies on the market, with CoinGecko ranking it 126th in terms of its market cap. It's also up by 10% in the past week, but down by 20% in the last 30 days.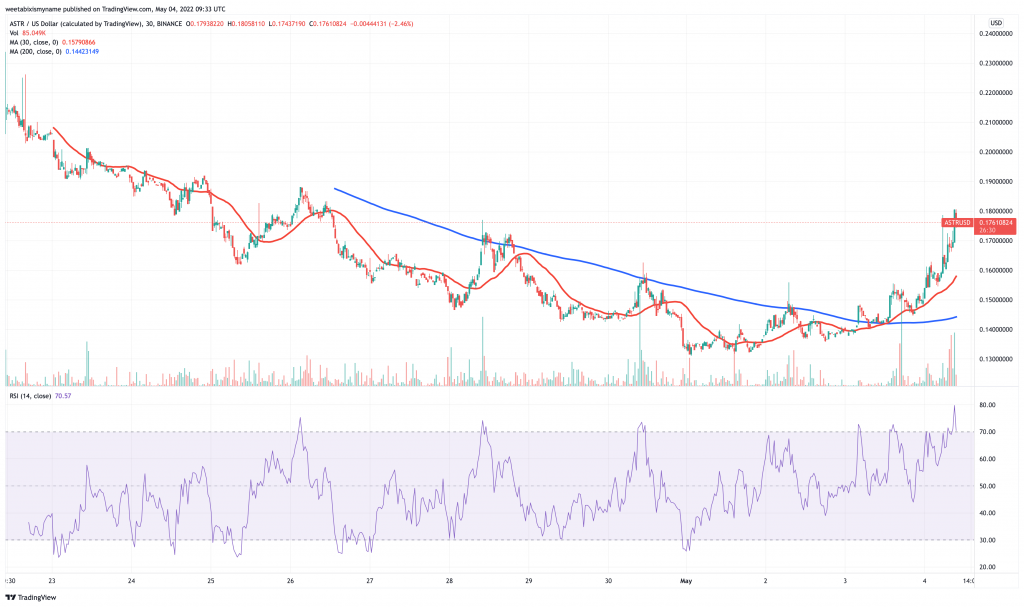 Based on Polkadot, Astar is is a multi-chain smart contract platform that supports multiple blockchains and virtual machines. Basically, it's a kind of bridge between Polkadot, on the one hand, and Ethereum and other chains, on the other.
Astar won its auction to join the Polkadot chain in January, and since then it has become the biggest Polkadot parachain in terms of value locked in. Its native token, ASTR, enables staking and can therefore earn holders rewards from the Astar-based dapps in which they stake it.
ASTR has also benefitted from a number of new listings in recent weeks, including Binance. Given the speed with which it's growing, we expect it to continue having a good few weeks. This is why it's in our list of 5 cheap cryptocurrency to buy for short-term profits.
#Binance adds $API3, $ASTR, $CTK on Cross Margin and $APE/ $BTC, $APE/ $ETH Pairs on Isolated Margin.https://t.co/f0BxVuOOY6

— Binance (@binance) May 4, 2022
Capital at risk
Read more: