The cryptocurrency market continues to face a difficult, uncertain period. Its total cap today is $1.84 trillion. This represents a 0.5% drop in the past 24 hours, as well as a 19% fall in the last 30 days. Pretty much every major coin, from BTC to ETH, has fallen by similar percentages in the same timeframe. However, this medium-term correction is potentially setting the stage for a big upturn. It's also arguable that it will be the smaller altcoins that will enjoy the biggest surges when the time comes. As such, we've put together a list of the 5 best cheap cryptocurrency to buy right now.
5 Best Cheap Cryptocurrency to Buy
1. Lucky Block (LBLOCK)
LBLOCK is by 21% today, reaching $0.00175956 in the past 24 hours. It's also by a modest 1% in the past week, but down by 12% and 33% in the last 14 and 30 days, respectively.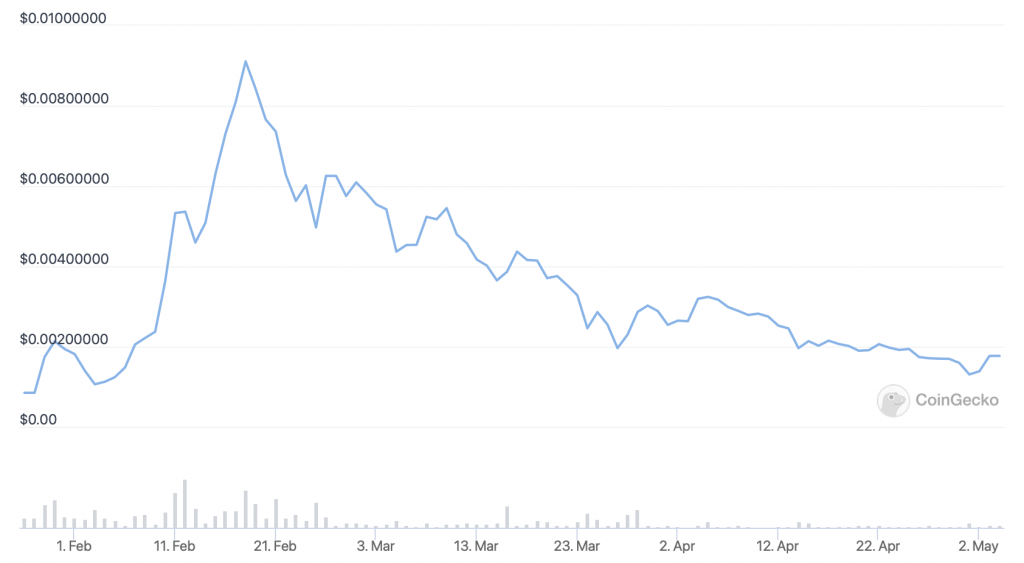 LBLOCK is showing signs that it could be coming back to life after some consistent declines. It's down by 81% against its all-time high of $0.00974554, set in mid-February. This might seem like a discouraging fall, but it's arguable that it gives LBLOCK plenty of room to recover.
Indeed, LBLOCK has strong potential as a new altcoin. It's the native token of the Lucky Block crypto games platform, which runs on the Binance Smart Chain. Lucky Block is due to hold its first prize draw this month, giving people who spend LBLOCK to buy tickets the chance to win 70% of the draw's fund. From this point on, the platform will hold regular draws, with all holders of LBLOCK receiving an equal share of 10% of each draw's jackpot fund.
Lucky Block is very close to launching. Its web app launched on its servers last week, while its iOS and Android apps are going through testing.
4/ This is just the start.

🔸 The web app, we're advised, will be running on our servers by today (Thursday 28th April). We are now much closer to narrowing the mid-May launch window and releasing to the community a firm date.

— Lucky Block 🤞 (@luckyblockcoin) April 28, 2022
Beyond that, the speed with which LBLOCK grew in its first few weeks shows that the market will take to it again once it does begin holding its regular draws. It now boasts 52,000 holders, and in February proclaimed itself the fastest coin to reach a $1 billion market cap.
To all new followers that came here after last night – Lucky Block is the #1 crypto games platform and the fastest-ever crypto to hit $1 billion market cap! 🚀

You can buy our token on pancake swap and LBank, for more information and instructions go to https://t.co/TFNyU8nVVl 🤞

— Lucky Block 🤞 (@luckyblockcoin) April 24, 2022
This growth indicates what is in store for LBLOCK once Lucky Block actually holders its first draw. This is why the altcoin is one of our 5 best cheap cryptocurrency to buy.
2. Algorand (ALGO)
ALGO is another rare big mover today. It has risen by 20% in the past day, to $0.716366. This represents a 1.8% rise in the past week, although the altcoin is down by 20% in the last 30 days.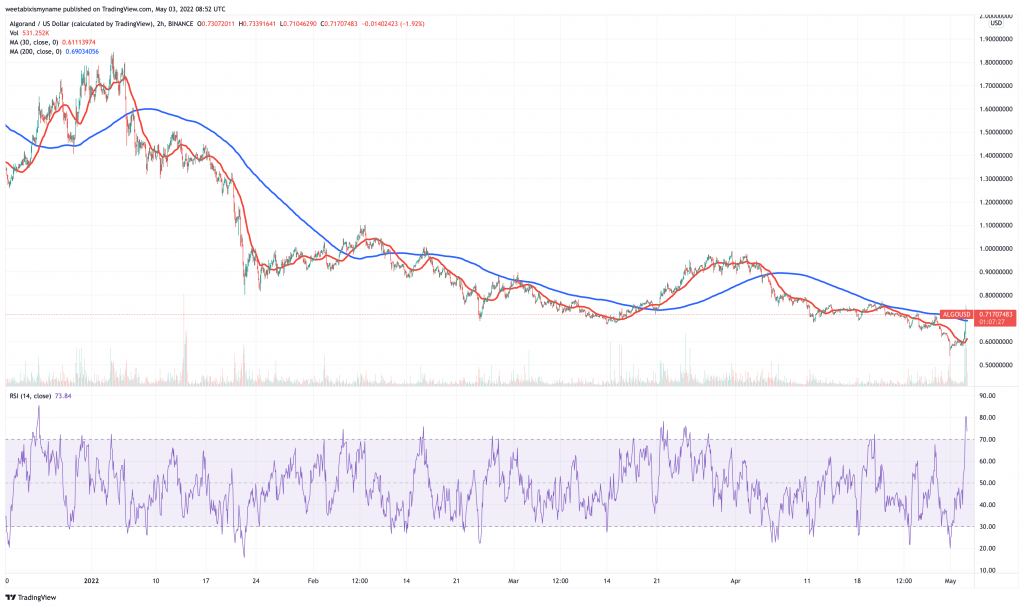 ALGO's indicators suggest a big rally is underway. Its relative strength index (in purple above) has shot up to 80. Meanwhile, its 30-day moving average (in red) has turned upwards, and will likely overtake its 200-day average (in blue). If it does this, the rally could become more than a one- or two-day blip.
Algorand is a proof-of-stake layer-one blockchain that currently has $175 million in total value locked in. It's designed to be more scalable than proof-of-work chains such as Ethereum (although the latter is moving to PoS), and it hosts a variety of DeFi and TradFi (traditional finance) apps.
ALGO is rallying today for one simple reason: Algorand has just announced a partnership with FIFA. The world's governing body for football/soccer has made Algorand its official blockchain partner. Needless to say, this could result in significant usage and adoption of Algorand.
BREAKING: @FIFAcom has announced #Algorand will become the official blockchain of FIFA, empowering the global football community with cutting-edge, sustainable technology. Read more 👉 https://t.co/LTTUqGNLNA @FIFAWorldCup #FIFAWorldCup pic.twitter.com/LuEFTY3WK6

— Algorand (@Algorand) May 2, 2022
It's also worth pointing out that ALGO is 80% below its ATH of $3.56, set back in June 2019. This new partnership could therefore be the catalyst that sends it back to old heights.
3. The Graph (GRT)
At $0.328571, GRT is up by 5% in the past 24 hours. It is, however, down by 8% in the past week, and by 35% in the past month.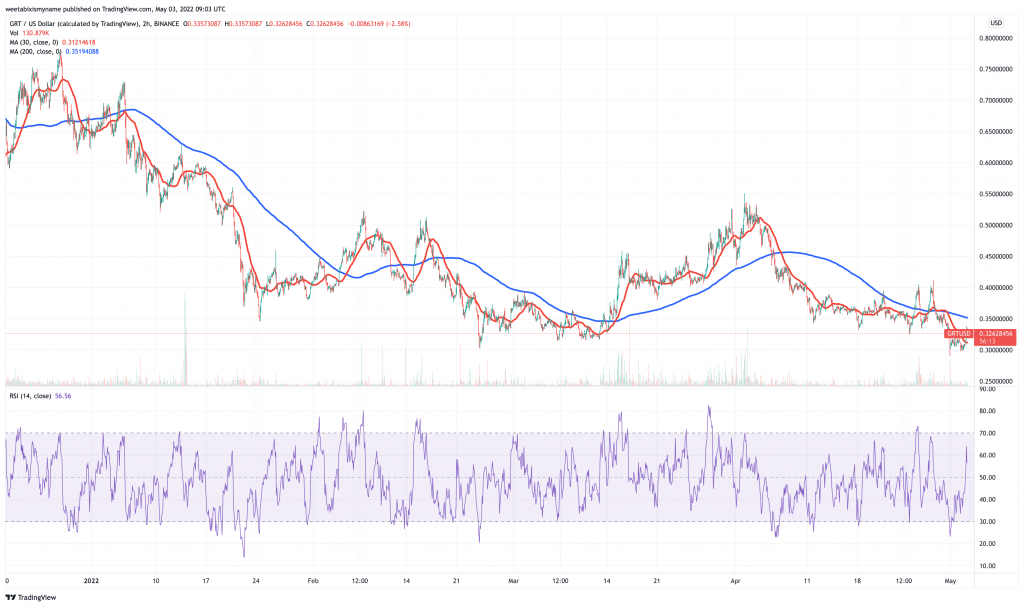 GRT is also showing early signs of an incipient rally. Its RSI has gone from sub-30 to over 60 in a couple of days, while its 30-day moving average is beginning to turn upwards.

GRT is the native token of the Graph, a layer-one blockchain for Web3 applications and data. The Graph has been undertaking a migration of Ethereum-based data to its own network. What this means is that growing quantities of Ethereum blockchain data are now accessible directly via the Graph. This data can be queried by applications and users without having to rely on a centralised service provider, something which is essential if Web3 is to be decentralised.
The Graph ecosystem is championing decentralization as Ethereum subgraphs continue to migrate to The Graph Network 🛸

Here's an update shedding more context on the state of migration, query fees, & resources to help you migrate your subgraph today! https://t.co/Z26rrISXas

— The Graph (@graphprotocol) March 10, 2022
This migration means that more and more dapps have their data live on the Graph's network. This includes the Orca Protocol, which is a platform for building decentralised autonomous organisations (DAOs). It also includes Rocket Pool, which is a decentralised staking protocol for Ethereum (once it switches to proof-of-stake).
A subgraph used by the @Rocket_Pool community is live on The Graph's decentralized network!

Rocket Pool is a decentralized Ethereum staking protocol democratizing access to ETH2 staking. pic.twitter.com/nr3JyAZPPN

— The Graph (@graphprotocol) April 8, 2022
Given growing usage of the Graph, and given increasing hype surrounding Web3, we expect GRT to continue doing well this year. This is why it's one of our 5 best cheap cryptocurrency to buy.
4. Cardano (ADA)
ADA is $0.790007 today, representing a minor 0.3% rise in the past 24 hours. It's also down by 12% in the past week, and by 31% in the past month.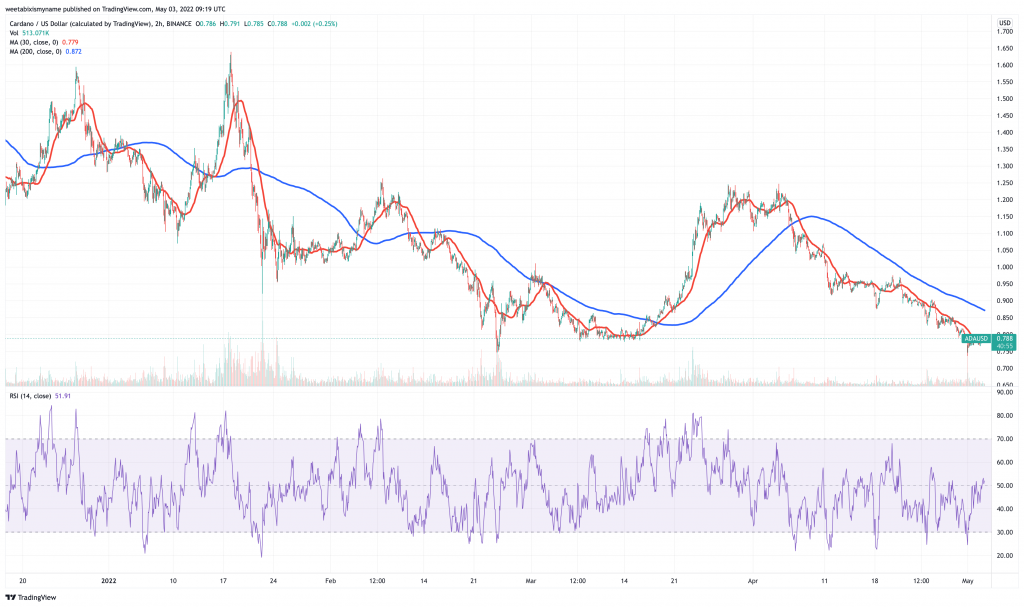 ADA has been down for nearly a whole month now. So if you were going solely by charts and cycles, it's due an upsurge sooner or later. This is reinforced by its RSI and 30-day average, both of which have been down for too long.
Importantly, ADA has good fundamentals. Its total value locked in may be insignificant compared to Ethereum's, but it's growing its future potential steadily. For instance, its ecosystem of dapps now counts some 925 platforms and applications as building on Cardano. Once most of these are live, you would expect demand for ADA to increase proportionately.
🌿The flourishing Cardano #DApp ecosystem continues to grow. Let's have a look at yet another recap of #BuildinOnCardano and review what's happened in #Cardano ecosystem over the last week.

Ready? pic.twitter.com/q6TwSuD5eZ

— Input Output (@InputOutputHK) May 2, 2022
Indeed, Cardano's total transactions increased by three million in April, a rise of around 8.5%. This reinforces the picture of a network that's steadily building out its capacity.
5. Polygon (MATIC)
MATIC is up by 1.5% in the past 24 hours, at $1.10. This is an 18% fall in the past week, and a 33% drop in the last 30 days.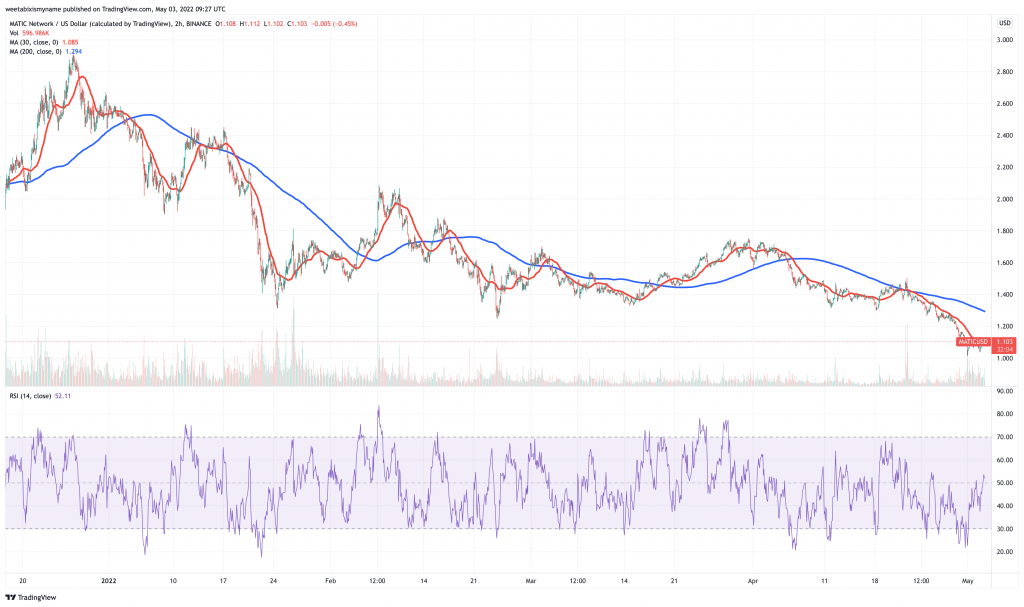 MATIC is also on a downswing that should correct itself soon. Its RSI and 30-day average both look like they're nearing a bottom.
More generally, Polygon is the biggest layer-two scaling solution for Ethereum in the sector. It has $3.6 billion in total value locked in, which is more than many layer-one blockchains. It's this usage that has made Polygon a target of venture capitalist and other big investors.
Widespread Adoption:

"Polygon's ultra focus on cultivating developers was really impressive to us, engineers love to build, and we don't bet against the engineers."

– #TomCheung, a partner with @SoftBank_Group Investment Advisers.

[2/9]

— Polygon – MATIC 💚 (@0xPolygon) April 29, 2022
Polygon is also likely to see growing use even when Ethereum shifts to proof-of-stake. This is because the 'Merge' won't initially do much to make Ethereum much more scalable, while increased demand for Ethereum will by extension increase demand for capacity on Polygon. On top of this, Polygon has increasingly been pivoting to Web3 in recent weeks, something which should also increase its adoption. This is why it's one of our 5 best cheap cryptocurrency to buy right now.
The world is coming to #Web3: @Citi has released a compelling report on #Ethereum, highlighting @SandeepNailwal's belief in mass adoption of Web3 and how #Polygon is making blockchain more accessible for everyone.

Some of the key factors in the report are 👇🧵 [1/6]

— Polygon – MATIC 💚 (@0xPolygon) April 28, 2022
Capital at risk
Read more: