Cryptocurrencies have been the talk of the financial market ecosystem for quite some time; this industry is now close to $2 trillion in market capitalization. While Bitcoin's adoption has been a major part of the growth, crypto launchpads completely changed the game by introducing an avenue for interested prospects to get a piece of the crypto pie.
What is a crypto launchpad? Following the debut of Decentralized Finance (DeFi), crypto innovators have pivoted to decentralized markets in search of capital. Ideally, crypto launchpads are designed as decentralized platforms where blockchain-oriented projects can raise capital through early-stage token sales.
There are several crypto launchpads that have popped up in the past few years to serve the growing demand. That said, not all of them propose a tangible value to newbies looking to become part of the crypto ecosystem. This article takes a deep dive into four of the leading crypto launchpads every crypto native should know.
1.   VENT Finance
Vent Finance is the pioneer full-stack multichain community crowdfunding ecosystem; this platform enables the crypto community to participate in compliant token sales. Built on the principles of decentralization, the Vent Finance launchpad features credible blockchain projects that have gone through a rigorous vetting process. In addition, Web 3.0 projects launching on Vent have to be free of any malicious code.
Image source: Vent's Launchpad
Crypto newbies can access token sales on Vent by acquiring the platform's native token $VENT, currently listed on Pancakeswap, Gate.io and Uniswap. It is also noteworthy that Vent Finance protects IDO participants by holding developers accountable; funds are only released when a particular project hits the agreed milestones. So far, this crypto launchpad has facilitated the launch of over 13 projects, summing up to $3.5 million in total transaction volume.
2.   UpLift DAO
The UpLift DAO is another decentralized crypto launchpad that offers an opportunity for crypto innovators and IDO participants to mutually benefit. Powered by the $LIFT token, this launchpad was designed to enable small pocketed crypto natives to take part in some of the promising token sales. Unlike most of the existing launchpads which require one to stake a significant amount of tokens, the UpLift DAO minimum is only 100 tokens.
Image source: UpLift's DAO
More importantly, this launchpad's offerings are driven by a long-term perspective, meaning that participants can commit to holding their tokens instead of selling early into the open markets. As for the crypto projects seeking to raise capital, UpLift not only provides an avenue but expert support in three phases; pre-launch momentum, official launch and growth acceleration post-launch.
This launchpad won the Best Accelerator and Launchpad of the year in the recently concluded AIBC Summit Dubai 2022.
3.   Polkastarter
Polkastarter is a decentralized multichain crowdfunding platform that enables novel crypto innovations to launch on several blockchains, including Avalanche, Binance Smart Chain (BSC), Ethereum, Celo and Polygon. Crypto newbies can leverage this launchpad to gain early access to some of the projects being launched in the aforementioned ecosystems. This includes both DeFi and NFT innovations.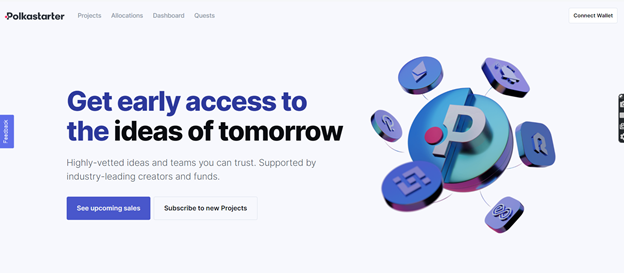 Image source: Polkastarter
At the core, Polkastarter is governed by a utility token dubbed $POLS; this token is also the gateway to the IDOs featured on Polkastarter. To date, the Polkatarter launchpad has supported over 100 projects in raising a cumulative figure of $45 million. A metric that will likely increase, given that the platform also features IDOs from the burgeoning GameFi and metaverse ecosystems.
4.   DAO Maker
The DAO Maker launchpad is a blockchain-focused SaaS provider that allows crypto veterans and newbies to directly participate in IDOs and early-stage token sales. Similar to its counterparts, DAO Maker requires interested participants to stake at least 500 DAO tokens to be eligible for participation. Some of the popular crypto projects that have recently launched through this platform include Orion Protocol, My Neighbor Alice and Infinity Pad.
Image source: DAO Maker
DAO Maker also features additional blockchain advisory services for early-stage startups; crypto projects that launch via this platform are guided through the incubation stage. In the future, DAO Maker is set to debut a flagship product dubbed Venture Bonds, which will allow participants to acquire private startup bonds while operating within decentralized markets. This will not only enable founders to raise money but expose more people to the lucrative startup ecosystem.
Wrap Up
Crypto launchpads might still be a relatively new concept but they have an immense value proposition to the growth of the digital asset market. Going by the current trends, it is likely that most of the upcoming crypto projects will no longer be limited to VC investments. The paradigm shift to decentralized launchpads will set the stage for a new era in the crowdfunding space. Even better, this approach opens up more opportunities for anyone to participate in the growing crypto market.
Image source: DepositPhotos.