The cryptocurrency market is flat today after a mixed week. Its total cap of $1.9 is up by 2.7% in the last two days, but down by 3.5% in the last seven. This is in line with falls for most major coins, with everything from bitcoin (BTC) to ripple (XRP) and zilliqa (ZIL) down across the past week. However, the weekend is here, with most coins having completed what looks like a full downswing, they may be about to swing upwards again. As such, we've put together a list of the best 5 cryptocurrency to see a price boom this weekend.
5 Cryptocurrency to See Price Boom This Weekend
1. Lucky Block (LBLOCK)
LBLOCK is $0.00166018 today, representing a fall of 3% in the past 24 hours. It's also down by 19% in the past week and by 45% in the past month.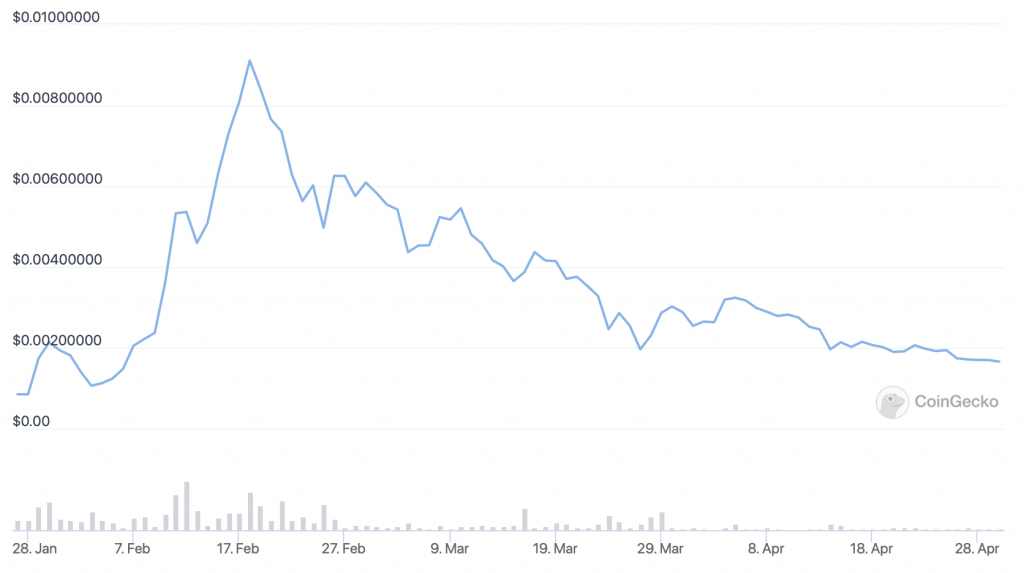 LBLOCK may have fallen by 83% since reaching an all-time high of $0.00974554 on February 17. However, its fundamentals remain promising. That's because it's the native token of the Lucky Block crypto games platform. Based on the Binance Smart Chain, the latter is due to hold its first draw in the coming weeks. Users can enter its prize draws by spending LBLOCK, giving them the opportunity to win 70% of a draw's fund. All holders will also receive an equal share of 10% of each jackpot fund.
While current LBLOCK holders have been waiting patiently for the first main draw to take place, Lucky Block has taken important steps towards launching. Most notably, its web app began running on its servers yesterday, a necessary step in releasing publicly. It's also close to launching full versions of its iOS and Android apps.
4/ This is just the start.

🔸 The web app, we're advised, will be running on our servers by today (Thursday 28th April). We are now much closer to narrowing the mid-May launch window and releasing to the community a firm date.

— Lucky Block 🤞 (@luckyblockcoin) April 28, 2022
Beyond that, the speed with which LBLOCK grew in its first few weeks shows that the market will take to it again once it does begin holding its regular draws. It now has 51,000 holders, and in February proclaimed itself the fastest coin to reach a $1 billion market cap.
To all new followers that came here after last night – Lucky Block is the #1 crypto games platform and the fastest-ever crypto to hit $1 billion market cap! 🚀

You can buy our token on pancake swap and LBank, for more information and instructions go to https://t.co/TFNyU8nVVl 🤞

— Lucky Block 🤞 (@luckyblockcoin) April 24, 2022
Given the interest that traders have shown in it, we expect LBLOCK to rise strongly again once it gets closer to launching and does launch. This is why we've included it in our list 5 cryptocurrency to see price boom this weekend. It can be traded on PancakeSwap and LBANK, and can also be bought on its website.
2. ApeCoin (APE)
APE is up by 13% today, at $22.86. It's also up by 4% in the last hour, 59% in the past week, and 86% in the past fortnight.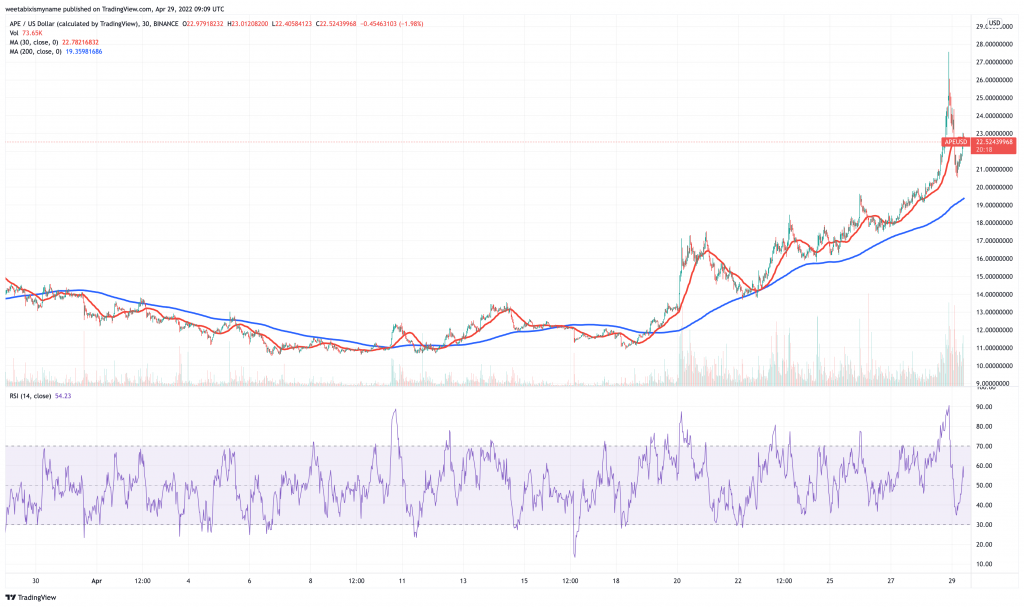 11 hours ago, APE reached its current all-time high of $26.70. It's now 15% down from this ATH, yet as stated above, has risen again strongly in the past hour. As such, it may be resuming its rally, which has continued more or less unbroken over the past week. Its relative strength index (in purple above) indicates renewed momentum.
APE has been rallying largely because of the impending launch of Bored Ape Yacht Club's own metaverse platform, the Otherside. This launch is due to happen on April 30, with an NFT auction due to take place to mark its rollout.
The Otherside adventure will begin on 4/30 at 12pm ET, only on https://t.co/UWRD4dOC9H. The KYC on https://t.co/mbSVzDX9tp was to participate in Saturday's mint — only those who KYCed can participate. More details in the 🧵.

— OthersideMeta (@OthersideMeta) April 25, 2022
As the governance token of the ApeCoin DAO, APE is primed to continue rising in the longer term. Holding APE will enable individuals to vote on proposals put to the ApeCoin DAO, with these proposals determining the future direction and development of the Bored Ape ecosystem.
The community has been hard at work proposing new ideas in the form of AIPs to guide the direction of the DAO. Read below for a quick update on where some AIPs are at in the process and how as a holder of ApeCoin (and therefore a DAO member) you can participate. 🧵(1/5)

— ApeCoin (@apecoin) April 28, 2022
Seeing as how popular — and valuable — Bored Ape NFTs are, we expect demand to continue running high for APE. Traders can buy and sell it on eToro, Coinbase, Binance, Kraken and many other major exchanges.
3. Nexo (NEXO)
NEXO is $2.42 today, meaning it has risen by 11% in the past 24 hours. Its price also represents a 5% rise in the past week, while it's flat in the last 30 days.
NEXO has shot up in the past few hours because of one simple reason: Binance has just listed it.
My second largest holding @Nexo being listed on #Binance today! @cz_binance @AntoniNexo Amazing news!!! #Bitcoin https://t.co/7MAreWgIEk

— cr¥pto🍿 (@crYpt0bags) April 29, 2022
This listing has greatly increased liquidity for NEXO, transforming it into a bigger, more stable market. Looking at its fundamentals, it's also worth pointing out that the Nexo platform has grown in recent weeks. Most notably, the blockchain-based lending platform released its own Nexo Card. What this does is enable users to spend the value of their cryptocurrency holdings without actually having to sell them, with Nexo lending the value of their holdings and using the held crypto as collateral.

The #NexoCard is here!

Welcome the only card that lets you spend the value of your #crypto without selling it!#Hodl while you spend with thе one-of-a-kind Nexo Card linked directly with your Instant Crypto Credit Line!

Get yours now!
1/2https://t.co/saMvEgcgMg

— Nexo (@Nexo) April 13, 2022
With cryptocurrency ownership growing over the past few years, Nexo is likely to witness expanding demand for its crypto-based lending services. So we expect the Binance listing will be the first of many new listings. It can also be found on FTX and Bitstamp.
4. Ethereum (ETH)
ETH is down by 1.4% in the past 24 hours, at $2,894. This price is down by 3% in the last seven days, and by 15% in the last 30.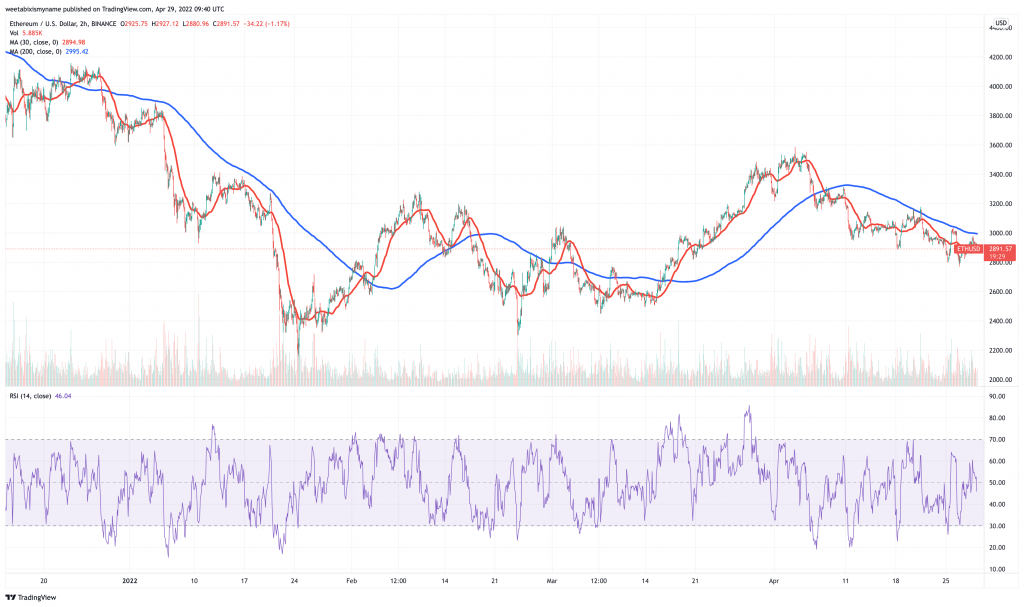 Along with most of the market, ETH isn't having a great time at the moment. Its RSI has remained subdued for most of April, while its 30-day moving average (in red) has hovered below its 200-day (in blue) for most of the month as well. This indicates consistent over-selling from the market.
Despite its sluggish price action, ETH is one of the strong coins in the market from a fundamental perspective. That's not only because Ethereum is the biggest blockchain platform in terms of usage, but also because it's planning a shift to a proof-of-stake consensus mechanism.
Developers have made significant progress towards this shift in recent weeks. For instance, they successfully shadow forked the Ethereum mainnet this past week. This means they tested how the merge will play out once it happens in a few months, with this testing being one of the last steps on the road to the full merge.
Getting ready to shadow-fork the Ethereum mainnet @EFDevconnect.#TestingTheMerge pic.twitter.com/o4Ic9jAMO7

— Ben Edgington (@benjaminion_xyz) April 23, 2022
So despite skepticism, Ethereum is well and truly on the road to becoming a proof-of-stake platform. Once it does, expect demand for ETH to shoot up. More shadow forks are due in the coming days and weeks as Ethereum moves closer to merging, and these in turn should boost confidence in the platform and in ETH. This is why ETH is included in our list of 5 cryptocurrency to see a price boom this weekend.
Traders can buy ETH pretty much everywhere.
5. Bitcoin (BTC)
At $39,252, BTC is down by 1.4% in the past 24 hours and by 3% in a week. It's also down by 17% in the past month.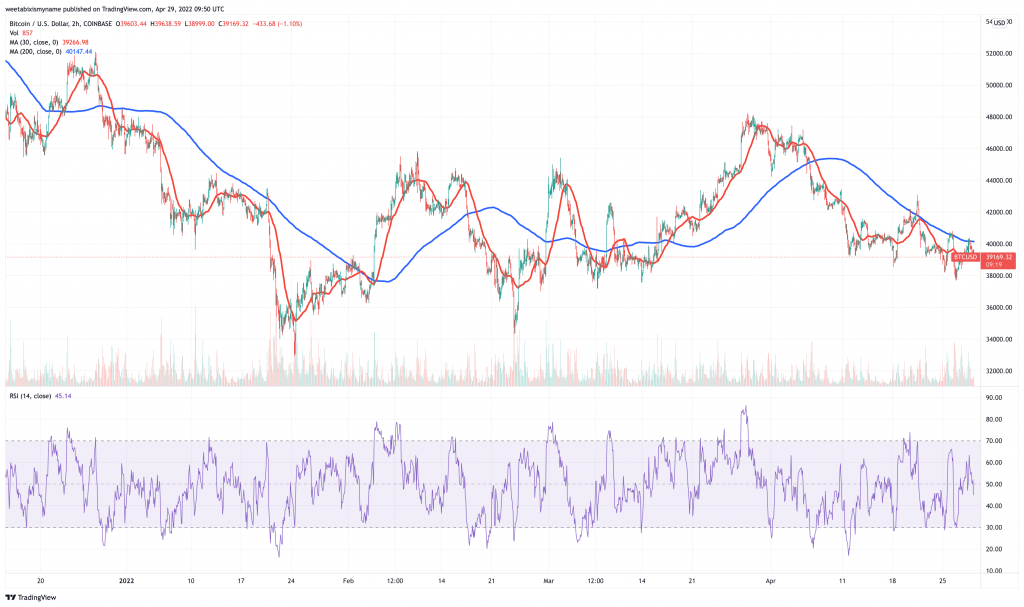 BTC is also going through a bearish market right now. However, bear markets always come to an end, and the more BTC sinks the more it will rise in due course.
And there remains plenty to be optimistic about as far as bitcoin is concerned. For instance, the Central African Republic recently became the second nation in the world to make BTC legal tender. While it's unlikely that day-to-day usage of the cryptocurrency by locals will increase dramatically in the short-term, this move nonetheless helps popularise the idea of bitcoin as an alternative currency and store of value. Following in the footsteps of El Salvador, as well as Russia indicating that it may accept BTC as payment for energy, more nations may begin using BTC in various ways. If they do, it will be only a matter of time before it rises significantly.
Other interesting news is that Goldman Sachs has begun offering bitcoin-backed loans. Again, this shows that more and more institutions are taking BTC seriously. So even if the wider macroeconomic conditions aren't great at the moment for crypto, bitcoin will be the first coin to benefit once the environment becomes more hospitable.
Capital at risk
Read more: